To say we are breaking historical records would be an understatement on many levels in the commodity space. In the last one-and-a-half years, I've devoted all of my time in finding the best opportunities in the commodity space. My energy and enthusiasm usually shifts towards the area where I find the most value. My job is to find the most compelling value opportunities in the market. What you will find is that commodity-related stocks are at historically low levels. Unless we continue to break the history books, things will revert over the next few years.
Evidence #1: Momentum destroyed Value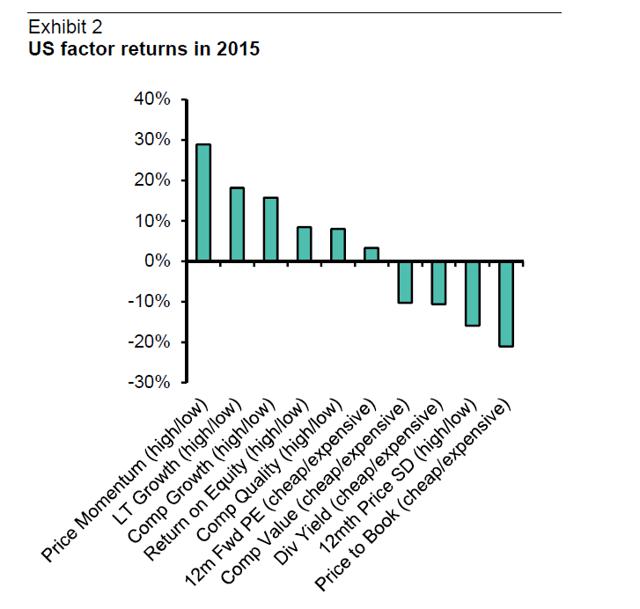 Click to enlarge
The last time there was such an astonishing difference between momentum and value stocks was in the tech bubble of 1997-2000. We all know how that ended. This chart gives perspective on the pain value investors went through in 2015, and the significance of the suffering.
Evidence #2: S&P 500 Vs. GSCI Commodity Index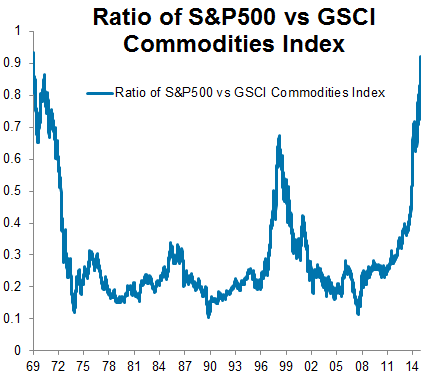 Do you want to see what a bear market looks like? Look no further then, I present you the GSCI Commodities index. Relatively speaking to S&P 500, commodities have NEVER been cheaper since 1960s. If you are a student of history and you look back at historical performance, equity markets massively underperform for the next decade, while commodities massively outperform for the next decade. During this era, legendary investors like Jim Rogers, George Soros, and Commodities Corp. reigned supreme. It was in this era, the term "Death of Equities" were headline news. Inflation spiked to 10%+, and most investors lost hope. What performed well? Commodities and commodity stocks.
Think about that for a second.
Evidence #3: Energy stocks have never been cheaper.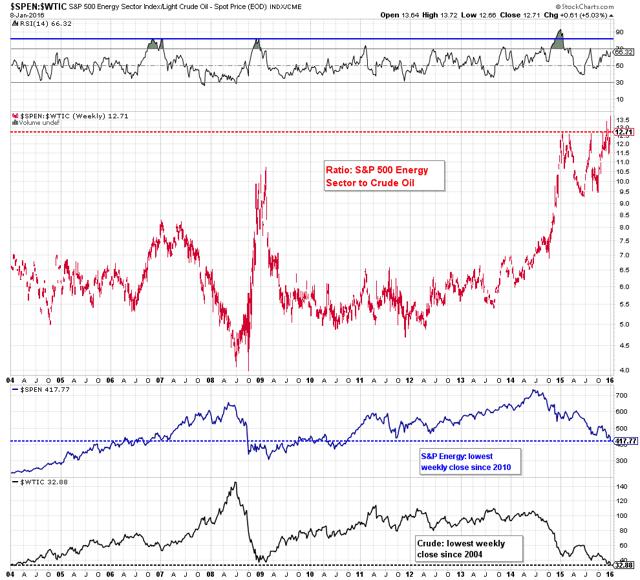 Click to enlarge
(Source)
This is a good chart depicting the cheapness of energy and energy-related equities. In 2008, when oil spiked to $140, energy stocks made an all-time high illustrated by that big drop. Recently, we've made an all-time high indicating historical levels of cheapness. That's astonishing.
Evidence #4: Oil Valuation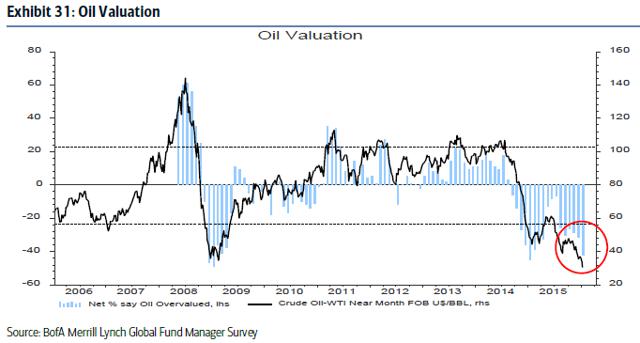 Click to enlarge
In terms of valuation, oil (USO, OIL) is at some of the cheapest valuations in history. While most participants acknowledge that these levels are unsustainable, most people don't know how to bet on this.
Evidence #5: The divergence.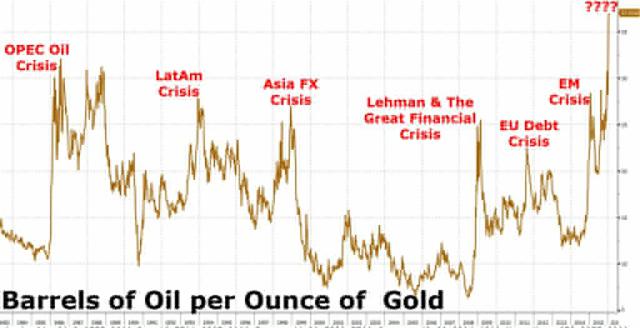 Click to enlarge
We recently broke to an all-time high in the divergence between oil and gold. Unless gold drops to $600, it's fair to assume that oil will revert back to its historical average. This implies a range of $55-$65.
Evidence #6: FANG exceeds the market capitalization of the entire S&P 500 Energy Index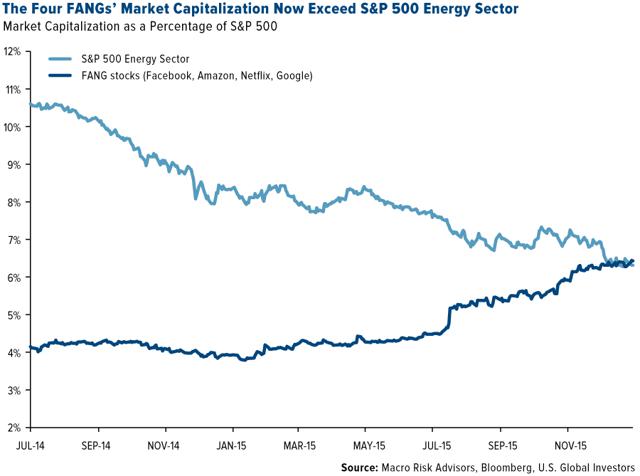 Click to enlarge
This chart is self explanatory. FANG consists of Facebook (NASDAQ:FB), Amazon (NASDAQ:AMZN), Netflix (NASDAQ:NFLX), and Google (NASDAQ:GOOG).
Evidence #7: Energy stocks have NEVER had this bad of an annualized return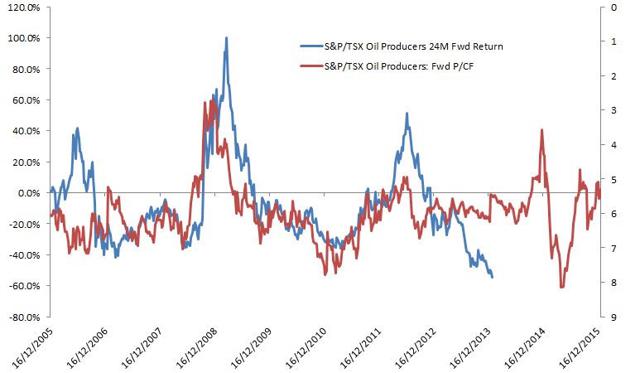 Click to enlarge
This chart tells you that energy returns will revert more back to the mean. P/CF indicates much higher forward returns.
Conclusion:
I hope these charts help you understand that the current sell-off is not only crazy but also record breaking.
Disclosure: I/we have no positions in any stocks mentioned, and no plans to initiate any positions within the next 72 hours.
I wrote this article myself, and it expresses my own opinions. I am not receiving compensation for it (other than from Seeking Alpha). I have no business relationship with any company whose stock is mentioned in this article.