The IMF lowered its global forecast for 2016 and 2017. While they project growth for the US, EU and Japan, the rest of the world will experience weaker prospects. The report highlighted five key risks:
• A sharper-than-expected slowdown in China, which could bring more international spillovers through trade, commodity prices, and waning confidence.
• A further appreciation of the dollar and tighter global financing conditions which could raise vulnerabilities in emerging markets, possibly creating adverse effects on corporate balance sheets and raising funding challenges for those with high dollar exposures.
• A sudden bout of global risk aversion, regardless of the trigger, could lead to sharp further depreciations and possible financial strains in vulnerable emerging market economies.
• An escalation of ongoing geopolitical tensions in a number of regions, which could affect confidence and disrupt global trade, financial flows, and tourism. New economic or political shocks in countries currently in economic distress which could also derail the projected pickup in activity.
Commodity markets pose two-sided risks. On the downside, further declines in commodity prices would worsen the outlook for already-fragile commodity producers, and widening yields on energy sector debt threaten a broader tightening of credit conditions.
The World Bank offered a similar analysis for 2016:
Global growth again fell short of expectations in 2015, decelerating to 2.4 percent from 2.6 percent in 2014 (Chapter 1). The disappointing performance mainly reflected a continued growth deceleration in emerging and developing economies amid post-crisis lows in commodity prices, weaker capital flows and subdued global trade. Global growth is projected to edge up in the coming years, but at a slower pace than envisioned in June 2015, reaching 2.9 percent in 2016 and 3.1 percent in 2017-18.
What's key to both reports is the public acknowledgement that downside risks have increased.
Once again, negative Chinese news started the week, as shown in this screen shot from tradingeconomics.com:

Click to enlarge
Four statistics - Q/Q GDP growth, industrial production, retail sales and fixed asset investment -- were all between .1% and .2% below consensus estimates. Despite the slight misses, there were two bright spots: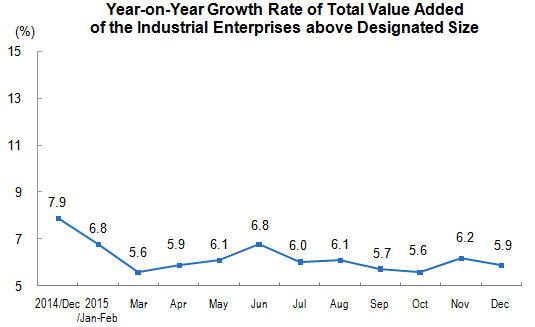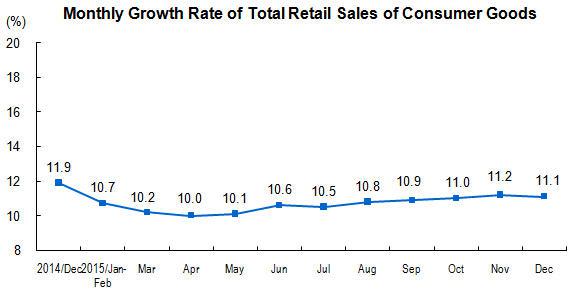 The above charts of industrial production and retail sales show year-long consistency. IP vacillated between Y/Y growth rates of 5.6% and 6.8%, while retail sales growth fluctuated between 10% and 11.2%.
BOE head Carney gave a speech in which he unequivocally stated the BOE would not be raising rates any time soon:
Well the year has turned, and, in my view, the decision proved straightforward: now is not yet the time to raise interest rates. This wasn't a surprise to market participants or the wider public. They observed the renewed collapse in oil prices, the volatility in China, and the moderation in growth and wages here at home since the summer and rightly concluded that not enough cumulative progress had been made to warrant tightening monetary policy.
Carney offers the following general analysis of the UK economy:
The average quarterly growth rate for 2015 of around 0.5% has disappointed compared to the MPC's summer expectations of 0.7%. This shortfall reflects much weaker net trade, the absence of a rebound in housing activity, and less robust consumption growth. Nonetheless, private domestic demand is still solid, and household consumption has been resilient.

Consumption growth accelerated to 3% in the third quarter of 2015 (Chart 6), underpinned by the strongest real income growth since the crisis and highest consumer confidence in a decade. Excluding the understandable weakness in North Sea oil, business investment grew strongly throughout 2015. Surveys suggest investment intentions remain robust and, consistent with a stronger banking system, accommodative monetary policy, and very supportive credit conditions. Such solid private domestic demand growth can be expected to continue.
Weak CPI readings present the bank with their main problem. Carney observed that foreign prices are directly responsible for approximately 1/3 of the UK CPI calculation. The combination of a strong Sterling and weak commodity markets continues slowing the overall pace of CPI. Furthermore, wage gains are weak, indicating the labor market may not be as strong as implied by the 5% unemployment rate.
Carney offers the following conclusions for the Bank's decision:
The world is weaker and UK growth has slowed. Due to the oil price collapse, inflation has fallen further and will likely remain very low for longer. This may mean modestly weaker cost growth through this year, with the likely path for inflation, both headline and core, softer as a result. In short, recent developments suggest that the firming in inflationary pressure we had expected will take longer to materialise.
The ONS released three other data points: a very low unemployment rate (5.1%), a low CPI (.2%), and a mixed retail sales number (+2.6% Y/Y but down 1% M/M).
EU President Draghi offered the following analysis of the EU economy in his Thursday speech:
Let me now explain our assessment in greater detail, starting with the economic analysis. Euro area real GDP growth was confirmed at 0.3%, quarter on quarter, in the third quarter of 2015, supported mainly by private consumption, while being dampened by a negative contribution from net exports. The most recent survey indicators, available up to December, point to ongoing real GDP growth momentum in the fourth quarter of last year.
Since the 4Q13, the EU region's annual growth rate has slowly increased from .6% to 1.6%. The most recent ECB bulletin attributed recent growth to private consumption fueled by rising wages.
Looking ahead, we expect the economic recovery to proceed. Domestic demand should be further supported by our monetary policy measures and their favourable impact on financial conditions, as well as by the earlier progress made with fiscal consolidation and structural reforms. Moreover, the renewed fall in oil prices should provide additional support for households' real disposable income and corporate profitability and, therefore, for private consumption and investment. In addition, the fiscal stance in the euro area is becoming slightly expansionary, reflecting in particular measures in support of refugees.
The Markit index, released on Friday, confirms Draghi's assessment. The composite reading was 53.5, with a manufacturing at 52.3 and service at 53.6. Although both numbers were some of the weakest of the last year, the report concluded:
The cooling in the pace of growth in euro area business activity at the start of 2016 is a disappointment but not surprising given the uncertainty caused by the financial market volatility seen so far this year.

"It would be wrong to get too worried. The survey data are consistent with GDP rising at a steady quarterly rate of 0.3-0.4% at the start of the year. Firms also appear to be looking to brighter times ahead, with business confidence improving, linked in turn to backlogs of work rising at the fastest rate since the spring of 2011. With plenty of orders-in-hand to work through, hiring remained encouragingly resilient at the start of the year.
Finally, Draghi noted risks to the downside had increased:
However, the economic recovery in the euro area continues to be dampened by subdued growth prospects in emerging markets, volatile financial markets, the necessary balance sheet adjustments in a number of sectors and the sluggish pace of implementation of structural reforms.

The risks to the euro area growth outlook remain on the downside and relate in particular to the heightened uncertainties regarding developments in the global economy, as well as to broader geopolitical risks. These risks have the potential to weigh on global growth and foreign demand for euro area exports and on confidence more widely
Finally, Eurostat released their latest inflation report, which was a still very low .2%.
The Bank of Canada maintained interest rates at .5%. Bank Head Poloz offered the following analysis of the Canadian economy in his press conference:
Not coincidentally, the Canadian economy appears to have stalled in the fourth quarter. There were some temporary factors at work for us, too, but the main issue was slower exports to the U.S. We expect growth to pick up to 1 per cent in the first quarter, along with the U.S., and then to move back above 2 per cent for the remainder of the year. Our new annual growth forecast for 2016 is 1.4 per cent; however, much of the downward revision in that figure is because of the weakness we saw in the final quarter of last year. On a fourth-quarter-over-fourth-quarter basis, growth for 2016 is projected to be a more solid 1.9 per cent.

…..

Since our last MPR in October, the magnitude of this shock has clearly grown. Firms are still cutting investment spending, but we had already built most of the downside into our October MPR. The bigger change in our projection comes from the impact of even lower oil prices on Canadian income. As one measure of this change, our base case forecast suggests that it will now take longer to absorb the economy's excess capacity-probably until late 2017, perhaps later. This is a significant setback compared with our October projection. Nevertheless, we expect growth to exceed potential through most of 2016 and 2017, so the gap should be substantially closed by late 2017.
In a speech at the beginning of last year, another bank member stated oil's decline would be a net negative for the economy. This is evident in the technical recession the economy experienced in the 1H15: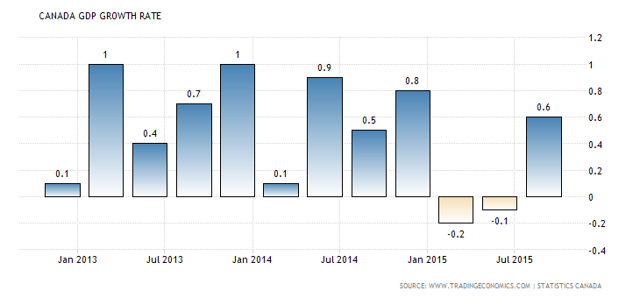 Click to enlarge
The latest Monetary Policy Report argues the Canadian economy is undergoing two fundamental transformations:
The latest Canadian The adjustment has two main channels of transmission, with varying effects, timing and magnitude 1 First, the restructuring of the resource sector was front-loaded relative to other adjustments and immediately began to reduce potential output in that sector. The commodity-producing sector has shrunk rapidly, significantly reducing investment and employment, and the effects of this process on the level of GDP are expected to peak roughly in mid-2016 Data on firm creation illustrate some of these adjustments. While year-over-year growth in the population of firms in the economy has been on a gradual upward trend since late 2012, it has softened in recent quarters, with a notable contraction in mining, quarrying, and oil and gas extraction

The second main channel of the adjustment involves the broader real income effects of the decline in the terms of trade: lower wealth and real domestic income have weighed on household expenditures and investment in non-resource industries. The effect from this channel has been slower to materialize and is expected to peak much later, toward the end of 2017

At the same time, a reallocation of productive resources to the non-resource sector of the economy, facilitated by the depreciation of the exchange rate, is helping to gradually rebuild capacity in the non-resource sector. This source of support to potential output is lagging compared with the negative impact from developments in the resource sector. The timing of the reallocation to the non-resource sector is also more uncertain than that associated with the resource sector. In particular, this adjustment process is expected to be protracted, extending well beyond the projection horizon.
Put in less formal terms, oil sector investment is already declining. But weaker terms of trade are making other economic sectors attractive. The flow into these new are more productive will take more time, probably through the end of next year. Two other Canadian stats came out last week: CPI increased 1.6% and retail sales were up 1.7% M/M.
Finally, the Markit Japanese flash PMI was 52.4%. However, overall industrial production decreased .9% M/M, while increasing 1.7% Y/Y. This important coincident indicator continues moving sideways: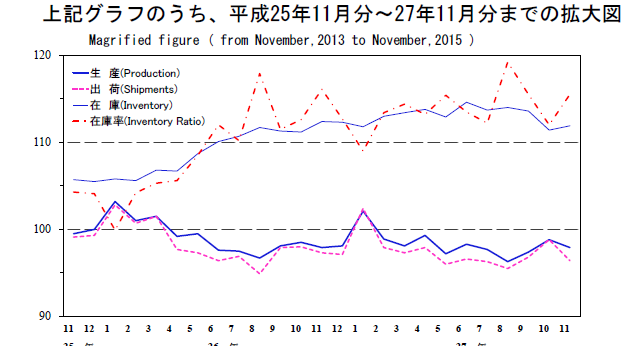 Analysts and market participants are now regularly noting the increase in downside risks. That was the gist of the World Bank's and IMF's statement. Other central bankers have made the same observation in their various statements. And with weakening Chinese numbers, lower trade and oil still extremely volatile, it's no wonder. Downside risks have clearly materialized.