Johnson Controls (NYSE:JCI) and Tyco (NYSE:TYC) are rumored to merge in a deal that could be announced early this week. In this article I'll take a look at the possible implications of such a deal on both companies.
Company Overviews
Johnson Controls is a diversified company which is active in the buildings market, batteries field and which also supplies to automobile manufacturers.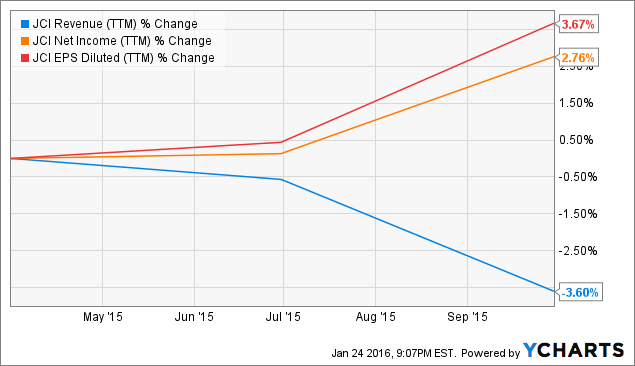 Over the last year Johnson Controls' revenue declined four percent, yet the company was able to grow net income by three percent to $1.6 billion and increased earnings per share by four percent to $2.36. Johnson Controls beat estimates for the bottom line in the last quarter, with earnings per share coming in at $1.04.
Tyco International is active in the fire protection business and offers security solutions to its customers. Tyco is headquartered in Ireland.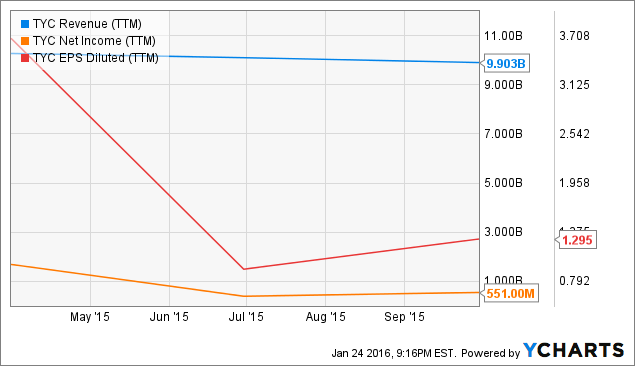 Tyco's revenues declined four percent over the last year -- as did Johnson Controls' -- but the company was not able to grow earnings despite this headwind. Tyco's net income dropped almost seventy percent to $550 million, earnings per share reached $1.30 over the last twelve months. In the last quarter Tyco earned $0.61 per share, which was in line with estimates.
Combined company
After a merger of these two companies the combined one would have trailing revenues of $47.1 billion and net income of about $2.1 billion. The combined market capitalization is $36 billion right now, which means that the company would trade at a trailing earnings ratio of 17, which is higher than the valuation of Johnson Controls (15.0) and lower than the current valuation of Tyco (23.9).
Due to the fact that the merger could come with a premium over Tyco's current valuation (sources see a premium of up to 50 percent, valuing Tyco at $20 billion) the market capitalization of the combined company could be higher. Should Tyco indeed get a valuation of $20 billion, this would mean a combined market capitalization of $43 billion.
Such a move would be highly dilutive for current shareholders of Johnson Controls (when we exclude positive effects such as cost savings through better economics of scale, lower overhead etc.), since this would mean that Tyco's shares would get valued at 36 times earnings in a deal. In other words, shareholders who invest $100 in Johnson Controls right now get earnings of $6.67, whereas someone who held $100 in the combined company would see theoretical earnings of $4.88, which is almost thirty percent less than they get right now.
Of course this calculation does not include cost savings through synergies (which would likely increase the combined earnings power above the trailing $2.1 billion number), and the calculation does not include another fact that could turn out as a huge positive: Since Tyco is headquartered in Ireland, a merger of the two companies could mean a so called tax inversion: Ireland is a country with very low corporate taxes, whereas corporate taxes in the US are among the highest of industrial nations. By relocating the combined company to Ireland -- which would theoretically be possible after a merger -- the company would lower its tax expenses dramatically. Ireland's 12.5 percent tax rate is substantially lower than the tax rate Johnson Controls' is paying: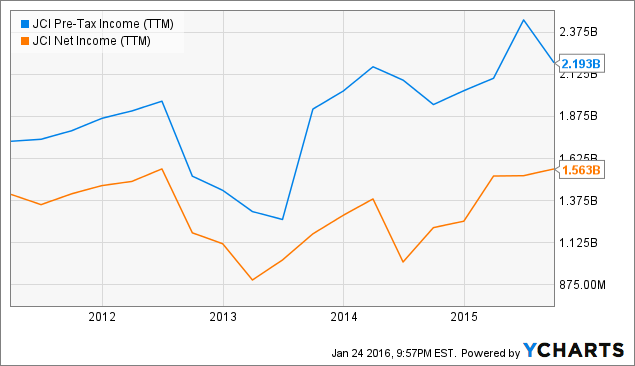 For the last twelve months the company's corporate tax rate was 29 percent -- Johnson Controls paid more than twice the amount the company would pay if taxed in Ireland. The tax savings would be substantial -- when using flat pre tax income of $2.2 billion and a corporate tax rate of 12.5 percent, we get to net income of $1.9 billion, which is about $350 million higher than the company's reported net income.
We can thus say that despite the fact that Tyco would be valued at a steep premium over Johnson Controls, this could still be a beneficial move for the company. In addition to other cost savings the company's tax savings could amount to a substantial $300 to $400 million a year.
Implications for the share price
It is hard to determine how Johnson Controls' share price would react to a merger announcement. On one hand the possible cost savings could excite investors, on the other hand investors might be worried about possible dilution (depending on the premium Tyco shareholders get) and the possibility of a lower dividend (since Johnson Controls' yield is a lot higher than the yield of Tyco).
If a deal is announced, Tyco's shares will very likely jump, if the rumors about a $20 billion valuation for the company turn out true Tyco's shareholders could see a 50 percent jump this week.
Takeaway
A combined company would be among the bigger industrial players, with revenues of $47 billion and net earnings of more than $2 billion. A deal would be dilutive for Johnson Controls' investors, but tax savings and other cost cutting could lead to additional net income growth over the next years.
Tyco shareholders will likely see a huge gain, since the company would be valued at a premium to the current share price in any deal.
Disclosure: I/we have no positions in any stocks mentioned, and no plans to initiate any positions within the next 72 hours.
I wrote this article myself, and it expresses my own opinions. I am not receiving compensation for it (other than from Seeking Alpha). I have no business relationship with any company whose stock is mentioned in this article.