A great weight was levied against gold over the past several years, with only short-lived periods of strength mostly on geopolitical concerns. But gold is finally finding a favorable shift in the fundamental factors underlying its value. Various questions are being posed today about the U.S. economy, securities markets and the dollar that in the recent past had been taboo. As this fundamental shift is increasingly recognized by investors, gold should draw capital investment and its value should increase.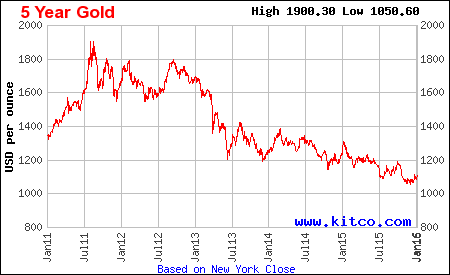 5-Year Chart of Spot Gold Price at Kitco.com
Fundamental Disfavor in Recent Years
Recent times have been tough for gold, as this chart of the last five years illustrates. Gold has clearly been depreciating in value for the last three years. The decline was off a tremendous peak that climaxed as the Fed went all-in on extraordinary easing measures following the financial crisis and Great Recession. However, as demand for U.S. assets resumed, capital left the safe haven asset for riskier investments. Later, as investors anticipated the shift in Fed monetary policy toward tightening, the dollar began an appreciation trend that accelerated as central banks in Europe and Japan entered into extraordinary easing. Those developments furthered the downward drive against gold priced in U.S. dollars. But things are changing now.
Signs of Change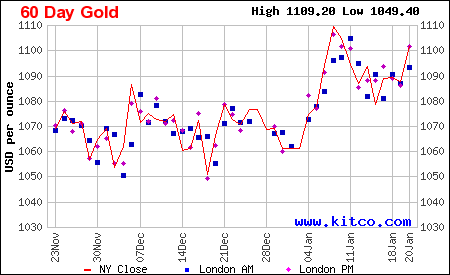 I noted gold had stabilized in some of my most recent work on the asset class, thanks to a stabilized dollar and intensified geopolitical risk. Even technical analysts cannot make a case against gold's activity purely on the past 60 days. The period has produced higher highs and higher lows for the precious metal, especially since the turn of the year ushered in crisis for riskier assets.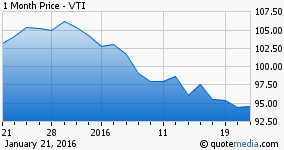 1-Month Chart of VTI at Seeking Alpha
Equities Proving a Less Attractive Option in 2016
Stocks have been selling off since late December on China concerns and dramatic declines in oil prices. You can see that broadly in the chart of the Vanguard Total Stock Market (NYSE: VTI) above.
| | |
| --- | --- |
| Sector Security | YTD Thru January 21 |
| SPDR S&P 500 (NYSE: SPY) | -8.4% |
| SPDR Dow Jones (NYSE: DIA) | -8.8% |
| PowerShares QQQ (NASDAQ: QQQ) | -9.8% |
| iShares Russell 2000 (NYSE: IWM) | -12.1% |
| iShares Europe (NYSE: IEV) | -9.4% |
| iShares China Large-Cap (NYSE: FXI) | -16% |
| iPath S&P GSCI Crude Oil (NYSE: OIL) | -27% |
2016 will likely be defined by volatility, rather than by bull or bear market monikers. While equities may be stabilized at current levels and could rebound in my opinion over the next two weeks, I believe it is becoming clear to investors that the days of easy capital gains in stocks are over. With the U.S. Federal Reserve engaged in a tightening regime, valuations are being tested more critically now. This means that capital that had been fully deployed in risky assets will increasingly find its way into other security sectors, especially old safe haven favorites like gold.
Economic Uncertainty
The U.S. Fed is engaged in monetary tightening because of its view of a healthy U.S. economy. However, equity investors are not as sure about that as the Federal Open Market Committee (FOMC). Economic uncertainty in Europe, China and other emerging markets have raised concern of contagion to the U.S. Contagion has been a rumor until recently, but economic data has raised some question about its validity.
A recession has already been underway in the energy sector thanks to the decline in oil prices. We have also seen a recession in the manufacturing sector, due to its ties to energy and also to the impact of the strong dollar on U.S. exporters. But investors had always assumed the U.S. consumer was okay, given she should be a significant beneficiary of much lower gasoline prices.
Retail sales data last week indicated otherwise, showing a 0.1% month-over-month decrease in December and no change when excluding auto and gasoline sales. While consumers are benefiting from lower gas prices and while employment is improved, wages are not increasing and many of the jobs categorizing people as employed are still for part-time work.
The ISM Manufacturing Index has indicated the sector has been in recession for some time now, and the last reading of the manufacturing data-point showed it fell further by four-tenths to a mark of 48.2. It's the second consecutive month of economic contraction for manufacturing, according to sector purchasing managers.
Manufacturing only represents a small portion of our economy, with services accounting for the great majority. But I wasn't perfectly content with what I last saw for services either. ISM's Non-Manufacturing Index, which measures the service sector, fell by six-tenths to 55.3 in December. Though, it is notable that the business activity and new order components of the index increased. Also, the measure still represents good expansion while well-above 50.0.
Labor and other data do not indicate the U.S. economy is in recession, but a self-fulfilling prophecy is a possibility. American investors concerned about the prospect of a higher cost of capital thanks to the shift in Fed policy are more critically valuing companies now. The decrease in equity markets impacts Americans' sense of their own wealth, and it is obviously tangible as well to Americans viewing recent changes to their portfolio values. If that impacts their spending and investment habits, then the economy is impacted. An impaired U.S. economy in turn perpetuates a viscous cycle, discounting stocks further and softening the dollar, which means a richer value for gold and increased demand for it.
Speaking of the Dollar
Dollar relative strength has been a key block against gold over the last two years. That's how long investors have anticipated the shift in Fed monetary policy, and tightening has effectively been underway since quantitative easing began coming off over a year ago.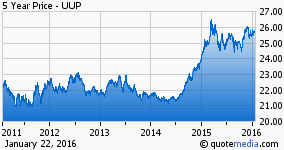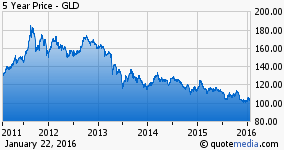 5-Year Charts of UUP & GLD at Seeking Alpha
As the Fed began to shift its monetary policy, or to normalize it, the central banks of Europe and Japan were just getting started with extraordinary easing measures. Those conflicting directions have caused a great appreciation for the dollar versus the euro and other currencies.
The chart of the SPDR Gold Trust (NYSE: GLD) here shows that after gold had stabilized, in mid-2014 it began another leg lower. The chart of the PowerShares DB US Dollar Bullish (NYSE: UUP) shows that the second move lower for gold coincides with severe dollar appreciation from the middle of 2014, which is something I've been pointing out to followers for some time.
The Fed's economic projections and famed dot-plots showed in December Fed members' consensus expectation for four-rate hikes in 2016. That fact along with other issues, have presented an important block for stocks this year and have kept the dollar elevated. But if the latest questions about economic contagion and security market turmoil impact Fed decision making, and we see a less hawkish rate projection when the Fed next publishes them in March, then dollar strength is undermined. Just as important, this week, if the Fed notes global economic uncertainty and U.S. relative risks, and reminds of its data dependence when it publishes its monetary policy, then the dollar is likewise undermined. As the perspective changes about the Fed's plans, it impacts the dollar, and I believe there is likelihood for a softened tone. Gold should begin to appreciate immediately, and I believe its appreciation last week was in anticipation of this event.
| | |
| --- | --- |
| Gold & Silver Relative Securities | Last Week's Change |
| SPDR Gold Trust | +0.9% |
| iShares Gold Trust (NYSE: IAU) | +0.8% |
| Market Vectors Gold Miners (NYSE: GDX) | -0.5% |
| Market Vectors Junior Gold Miners (NYSE: GDXJ) | -1.4% |
| Direxion Daily Gold Miners Bull 3X (NYSE: NUGT) | -3.1% |
| iShares Silver Trust (NYSE: SLV) | +1.1% |
| Goldcorp (NYSE: GG) | -1.7% |
| Newmont Mining (NYSE: NEM) | -5.8% |
| Silver Wheaton (NYSE: SLW) | -5.1% |
Securities tracking the price of the metals, like the GLD & SLV securities, appreciated last week. Other factors weighed for other relative securities.
International Capital Flow
Investors overseas have sought safe haven in U.S. assets, namely in treasuries. But with nascent U.S. equity market volatility and new economic questions about the U.S., foreign capital is likely to increasingly look for other safe spots. I believe that leads capital increasingly into gold as well.
Conclusion
These critical fundamental factors for gold appear to have shifted or are in the process of shifting in gold's favor. U.S. economic health is in question, and the Federal Reserve could soon tone down its projections and rhetoric about rate expectations for this year. The U.S. dollar could weaken from its latest great heights as a result. U.S. equities offer a less attractive option for both U.S. and foreign investors. Thus, investors recognizing these shifts in fundamentals and investing in them and gold and silver now should benefit significantly from the inflection point they imply for precious metals currently. I cover the precious metals asset class closely and invite relative interests to follow my column here at Seeking Alpha.
Disclosure: I/we have no positions in any stocks mentioned, but may initiate a long position in GLD, GDX over the next 72 hours.
I wrote this article myself, and it expresses my own opinions. I am not receiving compensation for it (other than from Seeking Alpha). I have no business relationship with any company whose stock is mentioned in this article.