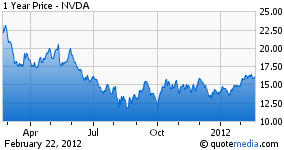 Last year Nvidia did very well in taking the predominate share of Android Tablets with its dual core Tegra 2 processor, but remains relatively weak with smart phone penetration. The problem was Android Tablets did not do all that well and the real volume is in smart phones. A smart phone hit like the HTC Thunderbolt and HTC EVO can easily sell 15M units worldwide.
This year Nvidia apparently has the right application processor for smart phones in the Quad Core Tegra 3. Sure Apple (NASDAQ:AAPL) is No. 1 and they design their own chips, and Samsung is No. 2 and they almost always use their own chips. That leaves Qualcomm (NASDAQ:QCOM), Texas Instruments (NYSE:TXN) and Nvidia (NASDAQ:NVDA) fighting for the remainder of the market. But with worldwide smart phone sales forecast to rise to 630M units in 2012, there will be plenty of non-Apple and non-Samsung sockets up for grabs.
So far announcements and rumors have placed the quad core Tegra 3 processor in phones from many Top 10 smart phone producers such as HTC, LG, Motorola, ZTE, Huawei and ASUS-New.
The Mobile World Conference in Barcelona starting Feb. 27th is typically the venue for formal announcements of new smart phones. If only 50% of the reported rumors turn out to be true, Nvidia should easily hit its goal of increasing Tegra sales 50% to $540M this year from smart phones alone ... using an ASP of $15 and 36M smart phone application processors. Tablet sales using Tegra 3 from the ASUS transformer and other tablets should be an addition but in much lower volume. Apparently Nvidia is concentrating on smart phones where the real volume is.
Another catalyst going forward for Nvidia is the scheduled 28nm shrink of its graphic processor chips due to be released in the March/April time frame and its near total dominance in high margin pro graphic processors Quadro/Tesla. Plus later in the year Windows 8 on ARM should boast the sockets for Tegra processors in tablets and possibly lower powered laptops.
Longer term is the entry into the market for baseband chips made by ICERA, the company it purchased in May 2011. Standalone software modem chips will appear in a ZTE mainstream smart phone with a Tegra 2 processor in Q2. At the last conference call Nvidia's CEO stated that they are working on integrating the modem chips into Tegra processors and expect shipments by the end of 2012. These standalone ICERA modem chips and integration with the application processor open up another very large market for Nvidia.
In my opinion Nvidia is worth a look for starting a long position. Nothing is for certain, but with $3.13B in cash ($5.12/share), no debt and proven engineering excellence Nvidia has the wherewithal to become a significant player in smart phone chips in 2012.
Disclosure: I am long NVDA.