This Briefing last opined on Thursday, suggesting that the "bottom is in." Now that the market has rallied much further, we can move from concerning ourselves about that spate of market volatility and instead on the more forward outlook. Can this rally continue, or is it just a proverbial dead cat bounce?
Some people reacted to that article, suggesting I was endangering investors with what came off as wild bullishness. Let's be clear here. I'm not greatly optimistic on the market. I think this bull market is nearing its expiration date.
I'm skeptical of the market's outlook in 2016 largely for the reasons that were so loudly and widely discussed in the media last week (along with other less appreciated risks such as the ongoing collapse of the Brazilian economy).
However, the clamor to declare a new bear market was simply so strong that one felt almost compelled to take the other side of the trade. There was far more dubbing of a "new bear market" on this roughly 12% decline than even during the almost bear market 20% decline in 2011. Some of the difference can be explained by the market's inability to make a new nominal high on the S&P 500 recently, but still, the panic witnessed over the last week seemed extreme given the situation.
All that said, I'm no permabull, and there's little reason to expect stocks to go roaring higher in 2016. I continue to expect one more nominal high on the S&P 500 (NYSEARCA:SPY) before we get another steep selloff. This selloff will likely be driven by a new catalyst, not oil or China - which have already been fretted about excessively over the past quarter.
For this to be more than a corrective bounce - for the market to reach a new high above 2135 - the market needs a couple of things to happen. Oil (NYSEARCA:USO) needs to stabilize. It doesn't need to rally sharply. However, it needs to stop falling, so that people have fewer dark thoughts about contagion and bank writeoffs.
Friday's violent 9% spasm higher on oil is not likely to be sustainable. The short squeeze rally may carry on awhile, but 9% moves - higher or lower - are indicative of an unhealthy market. For broader market bulls, you want to see volatility start to level off for oil. If a price above $30/barrel can be maintained on falling volatility and dropping investor interest, that would be a huge boost for broader risk sentiment.
Oil is not the only thing to watch. The Fed is on deck with another rate decision. It's widely expected that they will defer a hike until the next meeting. However, the question, as it often is, will be whether the Fed signals a change in direction. Will there be a move away from aggressive 4-hike schedule it has discussed previously?
There's a range of outcomes possible. Spanning the spectrum, from most bearish, there's the idea that the Fed will continue to see economic strength that far exceeds the market's view. While I'm no bear on the economy - I don't see a recession in 2016 as so many others suddenly did last week - I also see the Fed's economic outlook as far too rosy. However, should the Fed reiterate its strong view on the economy, markets would slump.
At the other end of the spectrum, the Fed could admit it came on too strong, and greatly reduce the speed and trajectory of the rate hiking schedule. This seems unlikely to me, as the Fed seems more interested in boosting their "credibility" with the market than engaging in sound policy. For them to appear credible, they seem to be under the impression that they must keep up a hawkish appearance regardless of economic conditions.
I expect the Fed to try to play to both sides, hinting that they will slightly slow the rate of interest rate hikes, note additional international weakness, but reemphasize the ongoing strength of the domestic economy. Such a result would likely lead to short-term volatility without greatly moving the market on net.
One thing to watch closely is the US Dollar (NYSEARCA:UUP). After the thunderous rally in 2014, the dollar spent most of 2015 in a slumber, building a narrow trading base. The dollar has been gradually ticking higher again over the past quarter, with the Fed's contractionary-policy rhetoric looking increasingly likely to actually occur.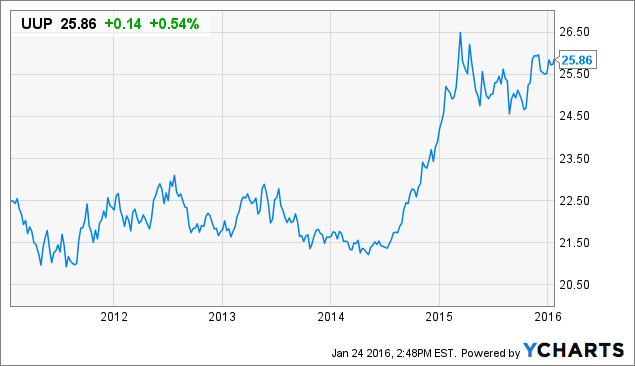 UUP data by YCharts
If the dollar breaks out of this range and goes significantly higher, you will see a massive deflationary effect on the world economy. The US dollar is the oxygen that powers the global credit market. With global markets already seizing up badly, a move up in the dollar would cause many faintly flickering candles to be extinguished. In other words, goodbye Petrobras (NYSE:PBR).
Needless to say, a stronger dollar would be a very difficult development for the international economy. The panic generated by the Euro (NYSEARCA:FXE) falling under the $1.00 level alone would be substantial. It would also harm US multinationals, who are already suffering from an uncompetitive market position competing against European and Asian rivals. This earnings season isn't exactly going great, just imagine how it'd be if the dollar were up another 10%.
If the Fed pulls back their rhetoric even a little, the dollar will likely weaken, at least heading back toward the bottom of the recent trading range. To be constructive on the stock market, you really need to see a weaker dollar. It's almost, arguably, more important than oil. Watch the dollar closely over the coming week, as the Fed's latest move is analyzed.
I don't see a great bull case for the economy, the Fed remains meddlesome, the strong dollar is a hazard, and more shoes are likely to drop in the emerging world. Don't misread my call for nominal new highs as some great bullishness. If this correction really hurt you, please use the ensuing rally to lighten up on your positions and move toward a more conservative outlook.
The current bull market has been going for almost seven years now. It's asking a lot for many more gains to be made without a 20%+ down move occurring first. This is not the point to go for huge gains. Play smart, don't bet the farm, and be prepared to be wrong and have contingency plans in place.
For long-term investors in the accumulation phase, such as myself, drops such as what we got in January are attractive for deploying capital. Could stocks get (a lot) cheaper? Sure. A move to as low as 1,400 on the S&P 500 would be entirely reasonable based on valuations and the depth of past corrections/bear markets. But the prices on offer, particularly in industrials and cyclicals of late is offering a good spot to build positions at fair valuations.
To take just one example during last week's selloff, United Technologies (NYSE:UTX) at a 13 PE and 3% yield was a perfectly reasonable deal. Is it going to make you rich at that price? It certainly won't overnight. But for a diversified conglomerate with a significant portion of the business being defensive, you could fare a whole lot worse.
Shares are back to where they traded at the 2011 peak - that's four years of business evolution that you get without paying a premium.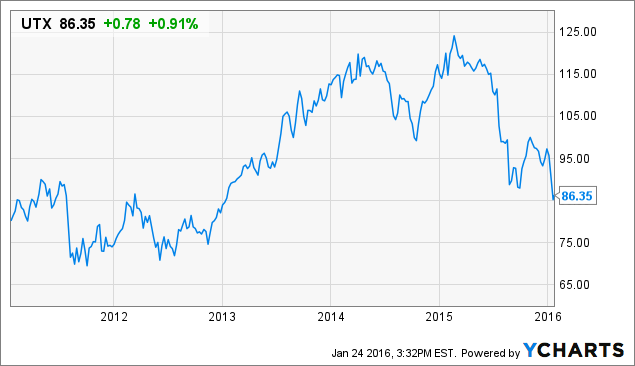 UTX data by YCharts
Shares are down steeply off the recent high at $120. Despite the recent spill in shares, the company has seen strong operating performance. The company has compounded book value at 9% a year over the past 10 years. Similarly, the dividend, which is starting at a reasonable 3% yield and 40% payout ratio, has also compounded at 9% growth over the past five years.
This stock is not a crazy cheap value at current prices, but neither is it expensive. This is a great company selling at a perfectly acceptable price. A buyer here will almost certainly make money with a holding period of 5 years or longer. Every dip has been a great buying opportunity historically.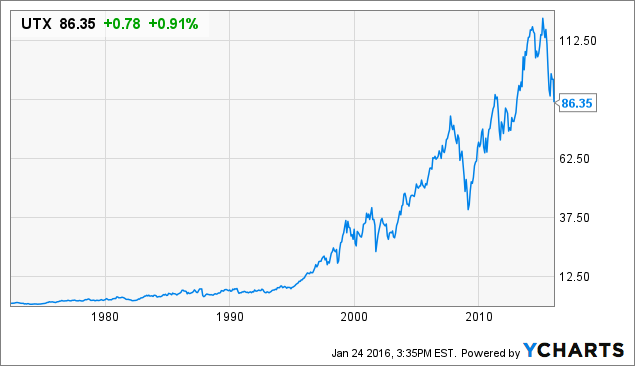 UTX data by YCharts
If you view 15 as a fair value for an average blue chip S&P 500 company, and assign United Technologies a small discount for being a conglomerate, the current 13 PE is a solid price and offers investors a good chance of compounding their capital at an 8-10% rate for the long term.
In 2015, many people complained (with good reason) that just about everything (in the US) was overvalued. The recent selloff has changed that for many companies. I could point to many examples like United Technologies - companies that have great long-term track records, reasonable dividend yields, and are now selling at fair to slightly cheap valuations after dropping 25% or more in recent quarters.
It's easy to argue that the market should pause, and perhaps drop a little more sharply over the next year or two. I don't disagree in fact. But more and more stocks are trading at reasonably fair valuations. For those people calling for a huge bear market - let's call it 40% or more - you need some sort of big catalyst that would crunch earnings badly and send the US economy into a serious tailspin.
For people calling for another 2008 style huge market selloff, you need a strong catalyst. Valuation alone isn't going to cut it. And oil/emerging markets are not generally sufficient to cause huge busts in the US.
If you are accumulating stocks with a long-term time horizon, this is a time to be cautious, but not to forego investing entirely. While hiding in cash might offer you another huge bear market decline to buy into, there's also the possibility that markets trade in a broad range for a while, allowing earnings to fully catch up to current market valuations. In that case, your opportunity cost for not investing in quality names at fair prices could be sizable.
Disclosure: I am/we are long UTX.
I wrote this article myself, and it expresses my own opinions. I am not receiving compensation for it (other than from Seeking Alpha). I have no business relationship with any company whose stock is mentioned in this article.