Click to enlarge
The Samarco disaster occurred only some 10 weeks ago and yet again mining giant Vale (NYSE:VALE) is hit by another negative event in its Brazilian operations. A local court ordered temporary closure of its huge Tubarao port. The port was closed due to environmental issues. According to the World Maritime News:
The ruling comes on back of a police investigation into the matter that found air and water pollution in the surrounding areas of Vale's coal and iron docks.
The Tubarao closure is an indirect consequence of the Samarco disaster. Samarco is a 50/50 joint-venture owned by Vale and BHP Billiton (NYSE:BHP). In early November, dam failure at Samarco's iron ore operations near the town of Bento Rodrigues resulted in the death of several people, the destruction of Bento Rodrigues and huge pollution of the Rio Doce river. As a result, Samarco, Vale and BHP have been sued for $5.3 billion and Vale's operations are under closer oversight of the regulatory organs. The operations at Tubarao probably wouldn't have been suspended if there was no Samarco dam failure.
Tubarao is extremely important for Vale, as Vale exports more than 1/3 of its iron ore production through this port. During the first 9 months of 2015, Vale exported 82.5 million tonnes of iron ore through Tubarao. The port is used also for transportation of coal and soybeans. According to Vale, 800 million BRL ($194 million) have been invested in environmental control at Tubarao since 2007 and other measures to limit the level of pollution are underway. Vale also stated that it is surprised by the court decision and that it will use all appropriate legal measures needed to restart the operations of the port.
It is yet unknown how long Tubarao will be idled but the longer it is closed, the more negatively Vale will be impacted. The company has to face huge issues on several fronts. The Brazilian economy is in bad shape. The GDP should decline by almost 3% in 2016 while the inflation rate should be around 7%. Moreover China, the biggest consumer of Vale's production, faces severe problems. The Chinese GDP growth rate keeps on declining, its stock market is falling and its demand for commodities keeps on falling as well. As a result, industrial metal prices are at multi-year lows.
Vale is the world's biggest iron ore producer and it is also one of the biggest nickel and copper producers. The problem is that the price of iron ore declined by more than 40%, nickel by more than 45% and copper by nearly 30% in 2015. The decline continues in 2016 and the metals are down by 5.6%, 1.85% and 6.18% respectively. Vale's strategy to survive the commodity bear market is to produce and sell as much of iron ore as possible, while pushing the iron ore production costs as low as possible. The first part of the plan has been successful, as Vale pushed its Q3 2015 C1 cash costs to $12.7 per tonne of iron ore and became the lowest cost iron ore producer in the world. After the closure of the Tubarao port, the second part of the plan is in danger.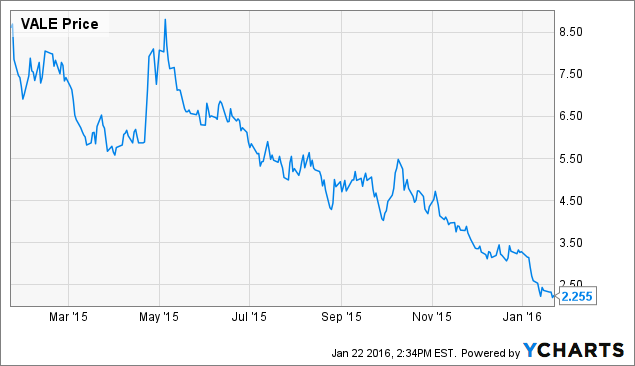 The stock market didn't panic after the recent bad news was released. The reason is that Vale is down by approximately 75% compared to January 2015 and it managed to lose a whopping 30% over the first three weeks of 2016. It seems like Vale investors got used to bad news. Moreover it is expected that if the Tubarao port suspension lasts more than a couple of weeks, it may help to balance the iron ore market that is oversupplied right now. The problem is that even if the price of iron ore increases, it is hard to expect that it will be able to increase by enough to compensate for the lower volume of sales, as more than 1/3 of Vale's iron ore production is exported through Tubarao.
If the operations at the Tubarao port resume by the end of January or in early February, Vale probably will be able to fill the gap by increased shipping activity in February and March. But if the suspension lasts for more than 2 or 3 weeks, Vale's Q1 2016 results will be hit hard. Vale recorded net loss of $3.56 billion over the first three quarters of 2015. As of September 30, it had cash and cash equivalents worth $4.462 billion and net debt of $24.213 billion. Now the uncertainty and potential multi-billion-dollar Samarco-related losses darken Vale's situation considerably.
Conclusion
Back in October 2014, I expected that Vale has reached the bottom. But the situation has worsened significantly. The metals prices declined to levels that were hard to imagine back in autumn 2014 and to make things even worse, the Samarco disaster and the Tubarao port closure are pushing Vale to the edge of a cliff. I don't think that we have seen the bottom yet. On the other hand I believe that Vale will be able to deal with the problems and survive. The company has a lot of world-class assets and the low commodity prices won't last forever. Vale's stock price will probably decline below the $2 level and if the Tubarao port suspension lasts for a prolonged time period, I wouldn't be surprised to see it hit the $1.50 level. However, in this scenario, a speculative long position should be considered.
Disclosure: I/we have no positions in any stocks mentioned, and no plans to initiate any positions within the next 72 hours.
I wrote this article myself, and it expresses my own opinions. I am not receiving compensation for it (other than from Seeking Alpha). I have no business relationship with any company whose stock is mentioned in this article.