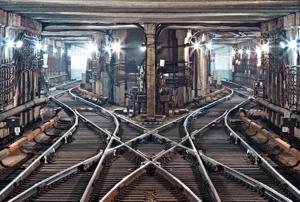 By and large, I think investors do well to stay away from binary investment outcomes where the stock is liable to be a big winner or a big loser, with not much ground in between. That may be an unfair assessment of Spain's Talgo (TLGO.MC), but the success of the company (and its shares) rests upon securing multiple high value rail bids, bids that Alstom (OTCPK:ALSMY), Bombardier (OTCQX:BDRBF), CAF, CRRC, and Siemens (OTCPK:SIEGY) will be competing for as well. Talgo certainly has some technology in its favor, but companies like Alstom, Bombardier, and Siemens didn't build multibillion-dollar order books on the basis of blatantly inferior offerings.
I've tried to value Talgo on weight scenario basis that incorporates high win-rate, low win-rate, and moderate win-rate scenarios. Altogether, I come up with a fair value of EUR 6.70 per share today, and most of my bearish scenarios produce fair values in the EUR 3 to EUR 4 range, versus a current share price of EUR 4.50.
Readers should note that there is no ADR available for Talgo, so any investors who wish to purchase these shares will have to do so on the Madrid Stock Exchange (Bolsa de Madrid). Most of the larger brokers can and will handle these trades, but investors certainly need to ask themselves whether the added risk and hassle is worth it.
Trying To Replicate A Good History In Spain
Talgo is a rolling stock company specializing in high-speed and very high-speed trains (HS/VHS), but is also trying to expand into commuter markets. Relative to Alstom, Bombardier, CAF, CRRC, and Siemens, Talgo is relatively limited - the company has no presence in light rail, metro, or monorail rolling stock, nor any presence in signaling or train control. Despite these limitations, Talgo has leveraged some proprietary technology into nearly 50% share in the HS/VHS market in Spain, as well as around 60% share of the intercity market.
Spain has been a very good market for high-speed rail, with more km/person of high-speed rail than anywhere else. Given the inherent limits of Spain, Talgo knows that it must expand beyond this market to continue to grow. This is where the story gets tricky.
Talgo has won contracts in both Saudi Arabia and Kazakhstan, and these two deals represent around two-thirds of the company's backlog at present. Unfortunately, winning a contract doesn't always ensure full realization of the proposed value; Saudi Arabia canceled a previously awarded contract (Riyadh-Damann) and prolonged weakness in oil prices could lead to delays or worse.
On a positive note, Talgo does have a respectable tender pipeline. Spain will be awarding a contract in 2016 that should be worth about EUR 2.6 billion, but there will be competition from both CAF and Alstom. Turkey could tender for 90 trains worth over EUR 2 billion in 2016, and additional tenders in Malaysia and Kazakhstan in 2016 could be worth about EUR 1.2 billion more. While Talgo has a 70% historical success rate in tenders, it hasn't bid for very many awards outside of Spain, so that historical success rate is of limited predictive value in my mind.
Looking at the order book as it stands today, if Talgo doesn't announce some significant wins in 2016, there is a good chance that revenue will start to drop off significantly in 2017.
Technology Should Help
Talgo isn't going into these bids empty-handed, nor is the company looking to compete on the lowest common denominator of price. Talgo also offers a collection of technologies and innovations that offer some meaningful performance advantages.
Talgo's trains come with variable gauge systems, which means they can run on different types of track without modification. Talgo's technology also leads to meaningfully lower weight (about 20%), which reduces wear & tear and maintenance costs, as well as operating costs. Because Talgo's trains don't use conventional bogies, the floors are lower and that makes the trains more accessible and faster to load (Talgo estimates a 20% reduction in stopping times at stations). Talgo's trains are wider, allowing almost a third more passengers per car albeit at the expense of passenger comfort to some extent. Last and not least, Talgo's trains have a natural tilting system that increases train speed around curves by about 20-25%; Alstom and Bombardier have active tilting systems that actually allow for greater speeds, but they require track detection devices and other infrastructure that increase the overall cost.
Now, Talgo's advantages don't come without some costs. I already mentioned the comfort issue. Talgo's trains are articulated and operated as single unit; it is generally impractical to add or remove cars (to accommodate varying passenger volumes) and a problem with one car could theoretically disable an entire train.
All told, Talgo believes that its trains offer lower operating costs for rail system operators and lower lifetime costs with little or no compromise in train speeds. Factoring in the added capacity of Talgo's cars, it sounds like a compelling cost-benefit argument for clients.
An Advantaged Cost Base?
For a company that is quite a bit smaller than its primary competitors, Talgo has an attractive margin profile. The company generated better than 20% reported EBIT margins in the third quarter on a revenue base of less than EUR 150 million. Talgo is helped in part by a low-cost base, as labor costs in Spain are lower. It also doesn't hurt that the company generates about a third of its revenue from aftermarket maintenance and services. Whether the company can maintain this is a good question - price competition in rail has heated up and the company's decision to enter the commuter market will pressure margins, as these units generally carry lower margins for the industry.
Can M&A Offer An Easier Exit?
Although Talgo has been around for a while (about 75 years), it IPO'ed back in May of 2015. None of that means that it will be around indefinitely. There has been M&A in the rail space, with Alstom buying General Electric's (NYSE:GE) signaling business and Hitachi buying Ansaldo in 2015, and further M&A could be on the way.
China's CNR and CSR combined to form CRRC and this company, which has dominating share in China, wants to expand into the European market. Buying Talgo could perhaps be seen as a way of facilitating that process, but it managed to win a $1.6 billion contract in Hungary without help. Bombardier could probably benefit from Talgo's technology, but has recently reached out for financial assistance from the Canadian government, so isn't likely in a position to be paying up for a Spanish train business. I could see Alstom or Siemens having some interest, as it would be a means of acquiring technology that could make either company's offerings more competitive.
Estimating The Value
I estimate that Talgo's addressable markets will see a growth rate over the next decade of around 4% to 5%. I expect the growth rate in Europe, a mature market, will be lower, while emerging markets offer a higher growth rate. The trouble with emerging markets is that many of them are commodity-dependent and weak commodity prices are pressuring state budgets right now.
In a baseline bearish scenario, I expect to see Talgo experience a single-digit annualized contraction in revenue. This scenario assumes some ongoing wins, based in part on the company's strong base of business in Spain and its existing contracts in Saudi Arabia and Kazakhstan. A truly dire scenario could see double-digit declines in revenue, but that would require an unprecedented run of tender failures. A high-end bullish scenario could see the company win over EUR 6 billion in orders over the next two years, fueling double-digit annualized revenue growth across the next ten years.
My weighted-average estimate works out to 8% annual revenue growth, which works out to around 50% win rates on tenders. Although I think Talgo could generate FCF margins above 20% in a very bullish scenario, factoring in the bearish scenarios and the expansion into commuter rail leads me to an averaged assumption of low-to-mid teens FCF margins. Discounted back, that supports a fair value of EUR 6.70 today, or almost 50% upside.
The Bottom Line
This is a hard stock to recommend, as Talgo is facing very capable competitors like CRRC, Alstom, Bombardier, CAF, and Siemens and its prime would-be clients are dealing with serious pressures on their state budgets. If Talgo wins a large share of these tenders, the stock will do very well and likewise the shares will underperform if the tenders go to others. Comparing the technologies and reading through industry journals can establish some confidence in Talgo's outlook, but it is ultimately the clients who decide and it's difficult to handicap these awards.
Disclosure: I/we have no positions in any stocks mentioned, and no plans to initiate any positions within the next 72 hours.
I wrote this article myself, and it expresses my own opinions. I am not receiving compensation for it (other than from Seeking Alpha). I have no business relationship with any company whose stock is mentioned in this article.
Editor's Note: This article covers one or more stocks trading at less than $1 per share and/or with less than a $100 million market cap. Please be aware of the risks associated with these stocks.