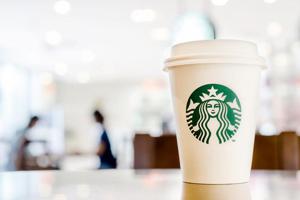 I'm a believer in Starbucks (NASDAQ:SBUX) as long as Howard Schultz is at the helm. No one knows his or her company better than Schultz. No one has pricing power like he does. No one but him can manage a brand to industry-leading comps in the face of competitors who would kill for half of the company's same-store sales.
When Schultz speaks, it's worth your while to listen. Those who have bet against him in times of doubt have been wrong time and time again. In the last five years there have been three major instances in which Schultz calmed investors' worries. The ones who listened were rewarded with a fantastic appreciation in the value of Starbucks shares. But those who jumped ship had to learn to trust Schultz the hard way.
The first point of concern for Starbucks shareholders came in the form of a Eurozone financial crisis in 2012. While investors were panicking, Schultz advised them not to worry. He saw this slowdown as a minor hiccup and promised that the company's earnings would return to normal faster than most expected. And they did.
In 2014 the price of coffee soared, giving shareholders yet another scare regarding Starbucks' bottom line. But Schultz wasn't worried. He told investors that his company was well hedged against the commodity and that the price increase wouldn't make it to the bottom line like most thought. Looking back on this situation, who was right: the investors or Schultz?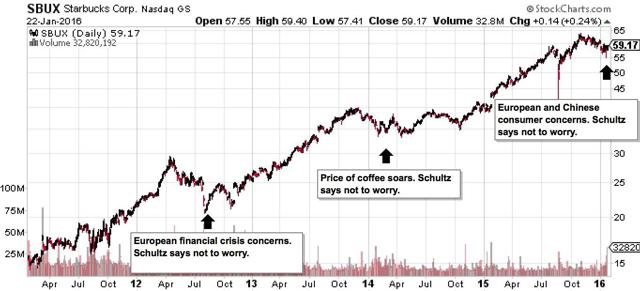 Click to enlarge
And now investors are faced with a similar situation. On Thursday, January 21, Starbucks reported Q1 earnings. The company earned 46 cents per share, beating estimates of 45 cents. However, the company's reported revenue of $5.37 fell just shy of the $5.39 billion estimate. Despite the earnings beat and pretty much in-line sales, shares of Starbucks sold off after hours.
The selloff was due to lackluster same-store sales growth in Starbucks' Europe and China/Asia Pacific divisions. The company's growth in the former region was 1%, 3.5% below consensus. More, Starbucks delivered same-store sales growth of 5% in China, which was below the forecasted 6% growth.
On the company's conference call, Schultz traced the lackluster European sales growth to the Paris terrorist attacks in November. Though the cause of a slowing in traffic, the company said that it has "quite recently begun to see the effects of [the European region's] resilience and a recovery." But investors must remember that the bounce-back in traffic didn't materialize in its entirety in Q1.
We won't find out until the company's Q2 earnings report whether traffic will return to normal. However, I think that it's almost a given that it will. In my eyes, a terrorist attack is akin to a dog bite. The bite hurts for a little while and can even leave a permanent scar. However, the reality is that most will not stop loving their dog because of it; the dog will still get fed in the morning. And this analogy goes hand-in-hand with traffic at Starbucks.
There comes a point at which people who used to avoid a certain area -- Paris, in this case -- begin to look at it and say, "that's where the attacks took place." For this reason, I believe the company when it says that they've seen signs of a bounce-back. This should not be a point of concern for shareholders going forward. And neither should China.
In a CNBC interview, Schultz remarked "our business in China is at record levels" and explained that Starbucks never gave guidance regarding same-store sales in China. So was 5% comps in China really a miss if the company never gave anything to compare it to? Does it even matter? Yes and no. Given the numbers, investors certainly have reason to believe that China, a country in which Starbucks plans to open 500 new stores every year until 2021 and one that will surely become a leading market for the company, is not the great opportunity that many bought into.
But I would not be an investor who subscribes to this negative outlook. When asked about the Chinese market, Schultz said that the Starbucks brand has "never been more relevant" and that the company's expansion into China is "a long term story." If you have a longer term outlook, you would be remiss not to buy into Schultz's outlook. Starbucks has a long runway ahead. As many are worried about what's to come, you should put faith into Schultz's words -- the words that have quelled fears in the past -- and pounce on the current opportunity.
But I understand if it's the valuation that's still keeping you from initiating a position. Starbucks' price to earnings ratio is 31x 2016 full-year estimates. Shares aren't cheap. In my eyes, though, you get what you pay for; premium management deserves a premium price tag.
But the stock actually looks like a bargain to me when I look at the out-years (the years beyond the current fiscal year). Even if we assume multiple compression to a less-lofty 25x, with its five year EPS growth rate of 17.5% Starbucks would be trading at $77 per share in three years, excluding dividends. This represents a 30% increase from where shares currently trade. (And remember that this is with multiple compression, which would most-likely only occur due to issues that are not specific to the company, such as a recession).
With this said, if you keep an even longer term horizon,like Schultz, history indicates that you will be rewarded well beyond 30%. So don't sweat the near term turbulence or moan about the valuation. 10 to 15 years from now, it won't matter whether you bought Starbucks at $50 or $60; at a P/E of 26.5x or 31x. Dips in Starbucks' share price are gifts and, with Schultz giving the all-clear, you should accept them with open arms.
Disclosure: I/we have no positions in any stocks mentioned, and no plans to initiate any positions within the next 72 hours.
I wrote this article myself, and it expresses my own opinions. I am not receiving compensation for it (other than from Seeking Alpha). I have no business relationship with any company whose stock is mentioned in this article.