The oil price rout has turned the start of 2016 into a real mess for stock investors, and Oil companies are not exactly favorites of investors with crude oil crashing below $30 earlier this year. Other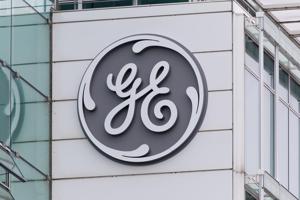 companies with some exposure to the oil patch have done a little better than stocks of big oil companies, but not by much. General Electric (NYSE:GE), for instance, is down ~9% this year.
General Electric has captivated the Street last year when it announced it would sell $200 billion of financial assets and become a pure industrial play with a focus on its industrial segments including power, oil and gas, aviation, transportation, renewable energy, and healthcare. Investors quickly ate the story up, pushing shares to a new 52-week high of $31.49 at the end of last year.
The energy price crisis and market correction of 2016, however, made General Electric quite a bit cheaper, and opened up a buying window.
Oil price rout hurt General Electric's business in Q4
Since oil prices slumped throughout the fourth quarter, GE was unlikely to report a stellar quarter for its oil and gas business. Other segments did better for General Electric in Q4-15, but weak oil prices continued to be a drag on General Electric's oil and gas segment.
GE's total industrial segment Q4-15 revenues contracted 1% Y/Y to $31.35 billion whereas segment profits slumped 8% Y/Y to $5.52 billion.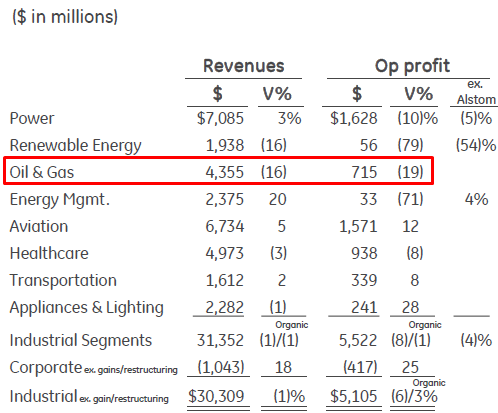 Source: General Electric
It's hard to determine how much of General Electric's share price decline can be linked to its energy business. Throughout 2015 GE felt the cutback of equipment spending in its oil and gas business, and with crude oil prices plummeting towards $30 per barrel, the environment remains challenging in the short haul.
Hence, it doesn't come as a surprise that GE's oil and gas business wasn't doing all that well in the fourth quarter: It reported revenues of $4.36 billion, 16% lower than a year ago, or 6% lower on an organic basis. General Electric's oil and gas segment profit slumped 19% Y/Y to $715 million, or 7% organically. General Electric also guided for a weak 2016, given the depressing market environment. For 2016, General Electric forecasts organic revenues to consolidate ~10-15%, while GE will push for more cost cuts in reaction to the oil price slump.
Strong free cash flow and cash returns in 2016
Notwithstanding the headwinds in the oil patch, little has changed when it comes to GE's restructuring story and the flood of cash that is going to hit shareholders in 2016.
For the current year, General Electric expects to return ~$26 billion in cash, maybe even more if the remaining asset sales can be completed at competitive prices.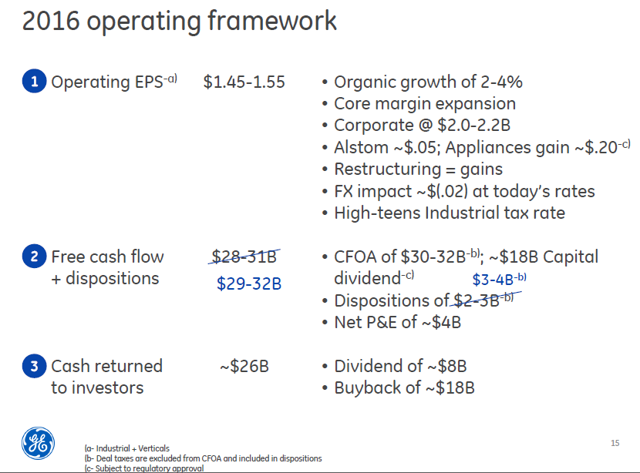 Click to enlarge
Source: General Electric
Your Takeaway
GE slipped in line with the broader market, and the slump looks like a good opportunity to buy the stock. The oil price rout has made many stocks a lot cheaper in the first three weeks of the year, including General Electric. Crude oil prices will continue to determine the headlines in the next couple of months, but at this point in time negative oil price news are already priced into GE's stock. GE sells for 18.7x 2016e earnings, which isn't too expensive considering the flood of cash coming shareholders' way this year. Buy the dip for income and capital growth.
Disclosure: I am/we are long GE.
I wrote this article myself, and it expresses my own opinions. I am not receiving compensation for it (other than from Seeking Alpha). I have no business relationship with any company whose stock is mentioned in this article.