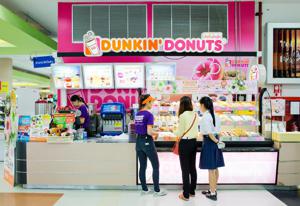 If you live in the eastern half of the United States you are more than likely very familiar with Dunkin' Donuts (NASDAQ:DNKN). The coffee seller has only been publicly traded since 2011 but has provided investors with steady capital appreciation and starting in 2012 a respectable and growing dividend. They've embarked on a bold expansion program and when you consider the growing revenues and untapped market in the western half of the United States there is a strong case to invest in DNKN for the long-term.
The financial growth of the company can be seen in their year over year reports. Their TTM revenue sits at $800M, a $51M increase from 2014 and $223M over 2012. Their impressive operating income margin of 47.5% shows an incredibly efficient company that generated $100.6M in operating income in the last quarter for a 6.6% year over year increase. Their cash on hand has increased by $173M year over year as well and sits at $325M. The long-term debt of $2.5B was refinanced last January and appears to be beneficial to the company giving them plenty of time to pay it with a low rate just under 4% for the largest portion of it. They currently have no bonds issued which leaves another option for them to raise money should they require it. Since 2011 Dunkin' has increased their EPS from just $.32 to TTM of $1.69 and with their steady share buybacks and growing revenues that trend will continue going forward. Being almost 100% franchised has given Dunkin' Donuts a 6.1% increase in royalty income year over year along with an 8.2% increase in franchise fees. Those franchisees have also turned in over $100M more in sales compared to last year for a 5.7% increase. Baskin-Robbins attributed domestic growth numbers despite closing stores but internationally they were a drag on the bottom line. It is clear on their last quarterly report that the Dunkin' Donuts locations are providing the most growth while it seems Baskin-Robbins is stalled. A total of 18 Baskin-Robbins stores were closed during the quarter compared to the addition of 108 Dunkin' Donuts stores. Overall though the business is growing at a steady and sustainable rate and is turning in great numbers.
With such a young dividend it is tough to trust it entirely but their BOD has so far done a great job. Right now their shareholders get $.265 each quarter but the next announcement should bring an increase. The last increase was good for $.035 each quarter which was just half a penny under their previous increases of $.04 each. The annual dividend of $1.06 gives us a 2.7% yield. Should Dunkin' increase the dividend by another $.035 a quarter that would give us just over 3% for the yield at the current market price. The dividend is at a safe level as well with a 63% payout ratio based on the TTM EPS. Dunkin' has also done a great job of reducing the outstanding shares, after repurchasing 126,000 shares in the third quarter the amount is now under 100M, 7M fewer than this time last year. With such a substantial buyback program both dividends and EPS growth are buoyed against potential turmoil. With a growing business and increasing revenues there is little reason to expect the dividend not to increase and remain at a safe level.
Dunkin' Brands is ripe for growth in the United States and internationally. Dunkin' currently operates over 19,000 stores in over 60 countries. In FY15 they forecast adding between 410-440 Dunkin' Donuts locations in the United States with 5-10 Baskin-Robbins. Internationally they target opening between 200-300 restaurants between the two names. The United States is where their most aggressive growth will take place for Dunkin' Donuts. Currently there are over 8,000 stores in 41 states.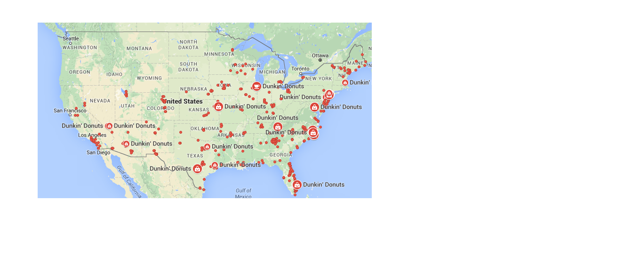 As you can see the East Coast is where their largest presence is with spotty store locations going west and nothing in the Pacific Northwest where Starbucks has a stranglehold on the market, and for good reason. The franchise model allows Dunkin' to expand with little risk to their bottom line and more rapidly compared to if they were opening up corporate-operated locations. The brand is incredibly popular, even in areas where there are few stores, and will continue to grow in popularity as they carve out their space in the coffee sector.
Currently it appears that the overall drop in the market has given us a rather safe entry point. Trading closely to their 52 week low of $36.44 they're 32% below their high of $56.79. They're approaching undervalued territory trading around $38.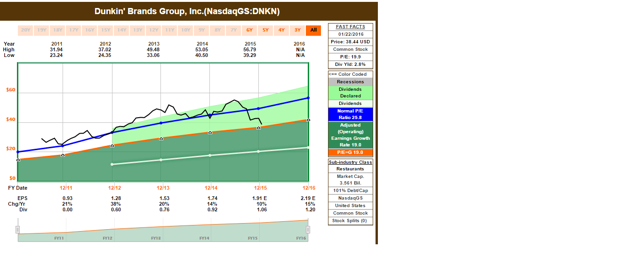 Typically it appears the DNKN trades at the higher side of their valuation. With rising estimated earnings and a rising dividend this is currently a very fair value with potential for great upside. Should the yield crest 3% it will become a more popular dividend growth stock as many income seekers screen for that amount.
In conclusion it appears that the story of Dunkin' is just beginning and that it will continue to improve on the strong foundation. With a rising yield, improving fundamentals and margins, and steady store growth both domestically and internationally this should prove to be a strong long-term investment. I will be starting my position this coming week and will count it among my more speculative positions but have every intention of being long. It should fit nicely in my portfolio as a growth stock next to my stalwart dividend payers and blue-chips. Thank you for reading and I look forward to the conversation in the comments. As always good luck to you all!
Disclosure: I/we have no positions in any stocks mentioned, but may initiate a long position in DNKN over the next 72 hours.
I wrote this article myself, and it expresses my own opinions. I am not receiving compensation for it (other than from Seeking Alpha). I have no business relationship with any company whose stock is mentioned in this article.