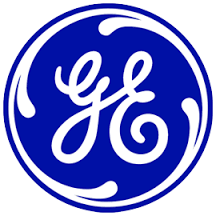 General Electric (NYSE:GE) has been quite the story in the US stock market in the past year or so as it has grappled with its SIFI status and the fact that it is simultaneously trying to shed that status through asset divestitures. GE has done an enormous amount of work to achieve its goal of no longer being on the Fed's watch list and it is certainly progressing nicely. With GE looking to get rid of its SIFI status relatively soon and a new appliance business deal in addition to Q4 earnings, there is a lot to talk about. I've been pretty vocal since GE announced its plan to sell GE Capital off in pieces that I was not happy with the decision and back in early December I even said GE was a nice short at $31. The stock has moved down in the high single digits since then and is nearing major support so in this article, I'll reexamine my bearishness to see if that is the prudent position going forward.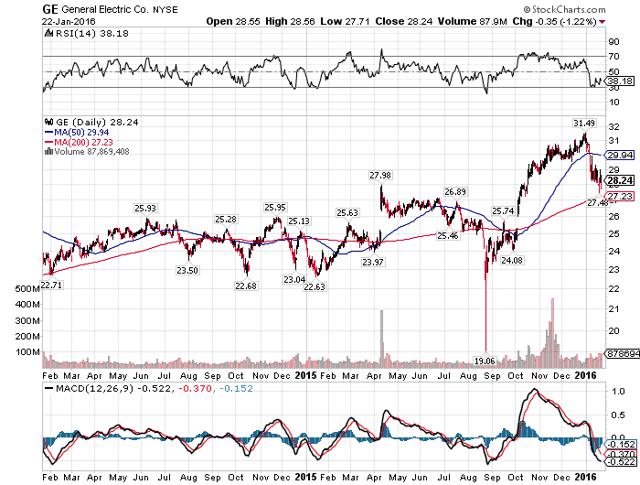 Click to enlarge
To begin, I am willing to admit when I'm wrong and I was wrong about GE's appliance business. I said that when the Electrolux deal fell through that finding another buyer would be next to impossible but obviously, that is not the case. GE found one (or more) in very short order and to boot, with a terrific price tag. This removes a significant overhang that I felt would hold the stock down in 2016 as GE not only rids itself of a terrible business with razor thin margins, but it gets a nice payday and EPS boost in 2016 from the purchase price. The deal to sell the appliances business to Haier really couldn't be better for GE and that is a significant positive going forward.
GE's Q4 earnings were mixed as total revenue fell and EPS beat expectations. I won't go through the press release because you can read the details but there are a couple of things I'd like to point out that I think could impact GE long term. We all know that GE's industrial business is going to produce lots of revenue each year given its diversification and the backlog which is now over $300 billion. But what has been moving a lot is the company's margins as its mix of business changes and Immelt makes it his personal goal to grow industrial margins. The appliance business sale is certainly part of this effort and with it seemingly gone before 2016 ends, we should see meaningful improvement there.
Q4 saw total industrial operating margins move up 80bps to 18.3% as GE continues its transformation from an old world widget maker to a highly advanced services business. This transformation is going to be the biggest source of upside in the stock going forward and after the Electrolux deal fell through, I was certainly skeptical this work could continue. However, GE surprised me and now that it is clear the company can continue to unload its undesirable assets, that is a huge positive. I suspect that with the appliances business out the door GE can see 20% industrial operating margins in the near future, perhaps even next year. That kind of operating margin is really quite extraordinary and with the anchor of the appliances business gone, it certainly looks achievable.
At $28, GE is a much better value than it was last time I took a look at it and called it a short. GE is no longer a short and given the significant progress it continues to make towards its goals of divesting assets, boosting industrial margins and returning capital to shareholders, I think the bias is clearly to the upside from here. At 15.8 times forward earnings and a 3.2% yield, GE certainly has the pieces in place to attract value investors and income seekers alike. And with asset sales continuing and cash generation strong, it will be able to continue to buy back lots of stock and pay a hefty dividend. The pieces are all in place; GE just has to execute now.
The combination of GE's progress towards building its industrial margins and the new appliance deal are enough to make me flip bullish on GE at $28. At this price I think the market is failing to price in the eventuality of 20% industrial operating margins and the massive amount of capital GE can return over the next couple of years. And given that it is nearing support at the 200DMA - which is still rising - I think buyers are going to step in here. The stock yields well in excess of 3% for income seekers and it is cheap on a forward PE basis. There are still a lot of variables that need to be solved for including more asset sales and just how much capital GE can build while returning so much to shareholders but recent news and the lower price mean that I think most of the downside potential in those variables has been priced in. I'm flipping bullish on GE much more quickly than I ever thought I would as the company is progressing towards its goals quickly. I was wrong about GE in the latter half of 2015 and now I'm looking to get on board before the train leaves the station. GE's margins should pick up appreciably in 2016 and 2017 and that should drive upside for the stock.
Disclosure: I/we have no positions in any stocks mentioned, but may initiate a long position in GE over the next 72 hours.
I wrote this article myself, and it expresses my own opinions. I am not receiving compensation for it (other than from Seeking Alpha). I have no business relationship with any company whose stock is mentioned in this article.