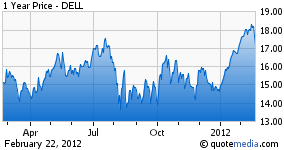 It seems as technology continues to evolve, evaluating the long term prospects of a company such as Dell (NASDAQ:DELL) and its ability to remain relevant throughout all the changes, gets progressively more challenging, if not impossible. Because as much as I want to rule out Dell's long term sustainability, but then I turn to a company such as IBM (NYSE:IBM) and realize that one should never underestimate a company's will and drive to re-invent itself when faced with considerable odds. But then again, I appreciate that during IBM's makeover, it did have to deal head-on with a behemoth such as Apple (NASDAQ:AAPL) - a company that has (by itself) taken down an entire PC market. It's a bit of an exaggeration, I know - but one that I'm willing to stand by.
This is a reality that even Dell itself appreciates and to that end the company have been actively investigating ways to run its business more effectively. By taking a page out of a book from rival Cisco (NASDAQ:CSCO), Dell has been working extremely hard over the past several quarters to trim the unprofitable parts of its business. But on Tuesday, upon the release of its Q4 fiscal 2012 earnings report, the company showed that all of its hard work is part of a process and it's not yet where it wants to be.
The Quarter That Was
The company reported Q4 earnings that drew little to no applause from Wall Street as it fell short of estimates. It seems that although the company did show considerably better numbers from its corporate business unit, that solid performance was offset by weakness in the division that caters to public businesses. Net income for the quarter fell 18%, to $764 million, or 43 cents a share, compared with $927 million, or 48 cents a share, in the year-ago period. Excluding one-time items, it earned 51 cents a share, 1 cent short of the 52 cents analysts were expecting. Revenue rose 2%, to $16 billion, in line with the average analyst estimate of $15.96 billion.
Dell's large-enterprise business held up well, increasing sales 5% in the quarter, to $4.9 billion, as corporations continued to upgrade aging hardware. Dell's gross margin rose to 21.1%, from 20% a year earlier. The company's CFO, Brian T. Gladden, said profit margins for the quarter were hurt by a combination of weakness in public spending in the United States, discounting of the leftover inventory of its previous generation phones and the lingering impact of the Thailand flood on its product mix - the same issue that impacted Microsoft (NASDAQ:MSFT) one month ago that prompted me to warn investors that Dell would also suffer as a result as well as its chief rival Hewlett Packard (NYSE:HPQ) as a result of the flood. Mr. Gladden also described the results as follows:
"We just didn't get the mix of drives that we wanted, and it really forced us to sell less configured lower-end systems and prevented us from accessing higher-margin, more highly configured systems."
While suggesting that he expected the disk drive issues to continue throughout the rest of the year, he went on to note that he expected business spending in the company's enterprise unit to continue to be strong this quarter. The company's public business generated revenue of $3.9 billion, which was down 1% from a year ago because of weakness in the United States and Western Europe, while its sales to consumers also fell 2%.
2012 Outlook
As far as guidance goes, the company did not offer a lot to be excited about. It offered an outlook that for Q1 revenue that was below Wall Street's expectations. This has caused many to worry that its PC business and the PC industry as a whole had not fully emerged from its downturn. The company projected sales would be down 7% during the current quarter when compared to the quarter that just ended when it posted revenue of $16 billion. That translates into about $14.9 billion, below the average forecast for about $15.2 billion.
Summary
I think investors that are disappointed by these results and the guidance have a legitimate gripe. But I can't help but wonder if we expected a tad too much from what the company was realistically able to produce. The company has indeed been working hard, but it's going to take considerably more time than investors would like.
As far as the stock is concerned, the company is trading at 9 times 2011 earnings. In addition, it is sitting on over $8 per share in cash. Since it generates pretty much as much capital as it needs, it is fair to say that its stock might just trade for less than 9 times earnings. This makes the stock a buy but with "considerable" amounts of patience.