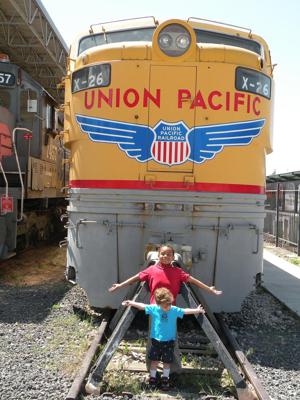 Union Pacific (UNP) reported dismal results for the final quarter of 2015. The company saw rapid declines in volumes, as a result of the reversal in commodity prices, the energy sector at large, and the impact of a strong dollar on the industrial economy.
While revenues are falling given these volume declines and lower fuel surcharges, margins remain very strong on the back of the lower fuel costs. That means that earnings are still holding up pretty well, at least in comparison to the share price, creating lower earnings multiples at the moment.
This makes shares look attractive, but appeal is only evident if margins can continue to expand into the future, or be maintained at current levels. I personally believe that margins are historically high, and therefore require a great pullback before taking a position.
A Look At The Worsening Momentum
Union Pacific reported a 15% drop in its fourth quarter revenues, as sales plunged to just $5.21 billion. The fall has been driven by a 9% plunge in volumes. The remainder of the fall can be explained by lower pricing, but this relates to lower fuel surcharges rather than actual price declines.
The volume trends have been particularly poor. Coal volumes were down 22% which is not really a surprise. Perhaps more important is the 16% fall in industrial volumes which confirms that the US might find itself in an ¨industrial recession¨. The only positive outlier was a 8% increase in automotive revenues. It seems quite likely that this momentum will not be maintained into 2016 given that we have heard some bad news out of that industry in recent weeks.
The company managed to reduce its costs by 13% at a time when revenues were down 15%. While this looks impressive, a great deal of the cost reductions can be explained by the fact that the fuel bill has been cut in half. Corrected for the decline in fuel prices, costs were down by just 3% which is much less than the 9% declines in volumes of course.
This margin compression and topline sales declines have been key drivers behind a 22% fall in earnings which fell to $1.12 billion. Modest buybacks have limited the fall in earnings per share towards 19%, as earnings came in at $1.31 per share.
The closely watched operating ratio increased by 180 basis points to 63.2% of revenues in the final quarter. While this marks a decline in margins, these are still very strong margins of course.
The All Important Valuation
Union Pacific has increased its leverage a bit in 2015 following the continuation of share buybacks. The company now holds $1.4 billion in cash and equivalents, as the net debt load has increased by nearly $3 billion to $12.8 billion.
The trouble is that full year earnings were down 8% to $4.8 billion as earnings momentum is accelerating for the worse in the final quarter. Based on the latest trends, earnings currently trend at $4-$4.5 billion a year.
The good thing is that EBITDA still trends at roughly $9.5 billion, which means that leverage is very manageable. The company reports a leverage ratio of 1.7 times EBITDA on a trailing basis. While leverage will increase a bit as earnings are likely to come under pressure, Union Pacific is cutting capital expenditures and is reducing the pace of buyback activity into 2016.
It is a bit of a shame to cut back on share buyback activity as the share price comes under pressure. During 2015, Union Pacific bought back roughly 35 million shares at a cost of $3.5 billion. In other words, could have saved a billion if it were to buy back shares at today´s levels.
Following the buyback activity, Union Pacific has 854 million shares outstanding which value equity in the business at $60 billion, given that shares trade around the $70 mark. Based on the latest earnings trends, the forward multiple is seen around 13-15 times.
Looking Back At The Railroad Boom
Shares of Union Pacific have tripled over the past decade, even as the share price has nearly been cut in half compared to last year´s peak. This boom has been built on increased transportation of energy related items as well as strong pricing and margin gains.
The company has increased sales from $14 billion in 2005 to a peak of $24 billion in 2014. This 70% growth translates into a compounded annual growth rate of 6% per year. But how sustainable is this growth, as it is entirely driven by pricing?
The reality is that Union Pacific is quite similar from an operating stance of view compared to 2005. The company´s network of 32,000 miles is actually 2% smaller compared to a decade ago. This network transported 9.5 million carloads in 2005, and this number was essentially the same at 9.6 million carloads in 2014. Given the poor current momentum, carload volumes currently trend at just 9 million a year.
This tells me that the entire revenue growth is driven by pricing as average revenues per carload have risen from $1,358 in 2005 towards $2,344 in 2014. This price hikes have been the key driver behind a huge increase in margins. Operating margins have risen from just 13% of sales in 2005 towards 36% in 2014. This has resulted in a 5 times increase in net earnings.
It should be stressed that while these price hikes appear excessive, part of this can be explained by improved efficiency of the business and better service. Union Pacific has increased average train speeds and it has reduced terminal dwell times, allowing it to quicker deliver goods to clients and thereby as higher prices.
From a cost point of view, the company has made advancements as well. Between 2005 and 2014, the business has shed some 5% of its workforce while volumes were up 1%. Other gains relate to improved fuel efficiency. Union Pacific has reduced its fuel consumption by some 15%, corrected for the actual volume trends. This suggests that it saves roughly 150 million gallons of fuel per year in comparison to the situation in 2005.
Valuations Are Somewhere In The Middle
Back in the year 2005, equity of Union Pacific was trading at $21 billion. This corresponded to a 20 times earnings multiple and a valuation at 1.5 times the book value.
When the shares peaked at $120 in 2014, the valuation had risen to roughly $110 billion. While this resulted in a 20 times earnings multiple as well, the price-to-book multiple had increased to 5 times at that point. At current levels in the $70s the multiples look much more reasonable. Shares now trade at 12-13 times trailing earnings and 13-15 times forward earnings, equivalent to 3 times the book value.
So while earnings multiples look appealing, valuations are still reasonably high from a book value point of view. This tells me that current levels only offer appeal if margins can be maintained at current high levels, as actual volume growth has been non-existing over the past decade.
Final Thoughts, Its All About Future Margins
Currently operating margins come in at peak levels of 37%. While sales are trending at an annual pace of $20 billion a year, I can easily envision revenues of $25 billion by 2020, assuming a modest recovery in fuel prices and volumes.
If the company can deliver on operating profits of 40%, as it is targeting for 2019, operating profits could hit $10 billion that year. That corresponds to peak operating profits of $8.8 billion in 2014 and could result in after-tax earnings of $6 billion, or $7 per share.
I do not think that this is very likely as price hikes have potentially already benefited substitution from trucking and pipelines. As such, I think it is quite likely that margins will fall to 30% in the medium term, levels last seen in 2012. If that would happen, profits are seen at little over $5.3 billion, or roughly $5.50 per share.
If margins would fall even further and hit 20% by 2020, earnings are seen at just $3 per share. While this looks very unrealistic, note that operating margins ranged at 12-20% for most of the period 2000-2007 when economic conditions have generally been favorable.
In case margins indeed come in at 30% by 2020, profits of $5.50 per share look realistic. Including modest buybacks, earnings per share might come in at $6.00 per share, comparing to peak profits of $5.75 per share in 2014. That would support a $100 valuation, even if margins would trend downwards to 30%. Of course that means that 2014´s peak of $120 is not likely to be re-tested anytime soon.
If a $100 valuation looks realistic for 2020, investors can look forward to +40% cumulative returns in the coming 4 years, translating into returns of 9% per annum before taking into account the +3% dividend yield. As I would like to see total return potential of 15% per annum, or 12% from capital gains, I would like to see shares hit a range of $60-$65 before hitting the buy button.
Disclosure: I/we have no positions in any stocks mentioned, and no plans to initiate any positions within the next 72 hours.
I wrote this article myself, and it expresses my own opinions. I am not receiving compensation for it (other than from Seeking Alpha). I have no business relationship with any company whose stock is mentioned in this article.