By Parke Shall
Ford (NYSE:F) is a company that we have been watching for the better part of the last year. We have continued to make the bull case over and over that the company is going to be able to ramp up its bottom line after it begins to successfully complete some of its international expansion efforts.
The company has spent the last few years making serious efforts to expand into places like Europe, China, and India, which are largely populous areas where the company can produce the volume necessary to turn a nice profit.
In places like China, not only is Ford investing in factories and infrastructure, but they are also pouring money into investments for the next line of smart vehicles, including a commitment of over $1 billion made in 2015 for this purpose.
In places like India, Ford is simply working on creating a low cost smaller vehicle at a lower price that you can use to penetrate India's automobile market. China wants high class, luxury, and technology in their vehicles, and India just wants a method of transportation for the lowest possible cost. Ford has been tailoring their advertising and product, especially in China, to reach the target markets and appeal to each country's citizens.
Here in the United States, Ford is a well-known American automaker. They are known for being in operation over 110 years, they are known for their signature F series trucks and Mustangs, and most recently, they are known as being the only auto manufacturer that did not take money from the bail out in 2008.
International expansion is extremely important. It's one of the only ways that we think the company's going to be able to boost its bottom line.
We think the company has nice saturation domestically in the United States and that sales in the US continue to act as a great backbone for the company that is trying to spread itself further across the globe.
What this told us is that the company's moves outside of the United States are going to directly predicate whether or not the company can be a more profitable entity than it is now. Ford shareholders have been waiting for a long time to see the stock move out of the $12-$17 range, but Ford has been unable to do what's necessary to make this happen and, in what seemed like an act of semi futility regarding the stock, they issued a special dividend recently.
This was just after we commended the company for conserving capital and spending it on investing in itself.
Regardless, it was in the news this morning that Ford is moving out of Japan and Indonesia. Many on social media were quick to point out that this looks like a very negative headline that was indicative of Ford contracting globally. We think that this is anything but.
When it comes down to it, the amount being spent in these two countries versus the resultant sales that were being generated made it obvious that the automaker was going to have to make some tough decisions. This Reuters article lays out the inefficiencies,
Ford will exit all areas of business, including shuttering dealerships and stopping sales and imports of Ford and Lincoln vehicles, according to an email from Asia Pacific President Dave Schoch to all employees in the region viewed by Reuters. Product development carried out in Japan will be shifted elsewhere.

"Unfortunately, this also means that our team members based in Japan and Indonesia will no longer work for Ford Japan or Ford Indonesia following the closures," Schoch wrote in an email regarding the decision that was sent to employees on Monday.

Ford, one of Detroit's "big three" automakers, follows in the footsteps of General Motors Co (GM.N), which last year decided to stop making GM-branded cars in Indonesia - with the loss of 500 jobs - amid intense competition from Japanese rivals.

Ford began operating in Japan in 1974 and has 52 dealerships in the country, employing 292 people. Last year, it sold around 5,000 vehicles in Japan and held a share of around 1.5 percent of the imported new car market.

In Indonesia, where it entered the market in 2002, Ford has a staff of 35 and sells through 44 franchised dealerships. Last year, it sold around 6,000 vehicles, taking a 0.6 percent share of the total new car market in a country struggling from economic slowdown.

"In Indonesia, without local manufacturing ... there's just really no way that automakers can compete in that market, and we do not have local manufacturing," said a Ford spokeswoman based in Shanghai, confirming the content of the email.
What are the three most important things in becoming a global profitable automaker? Location, location, location.
Cutting the outside fat off of Ford's international operations is one of the most important things the company can manage while trying to expand into other geographies. We definitely don't see this as the end of the company expanding globally, but we do see it as a strategic shift for the company to focus on the geographies that are going to make it the most money. Again, this means renewed focus on China, India, and Europe.
There are more than enough opportunities in each of these three markets to help Ford continue to be a international powerhouse. Spending associated with these locales should start to finally tail off in the coming quarters, as promised investments are made and delivered and the outlook for these geographies should simply be on production and sales.
We said in a previous article that we were not too worried about China's stock market collapse affecting sales afford vehicles. Many of the indications we got so far this earnings season, from people like Howard Schultz at Starbucks (NASDAQ:SBUX), are that the Chinese middle class consumer is in better shape than the stock market makes it look. We continue to listen to earnings commentary and have not found anything yet overtly negative about the Chinese consumer that will give us worry in China.
Not to mention that Ford's performance in both China and Europe have both been decent. You can look at our last few articles on Ford here, where we have laid out some recent sales metrics that the company has posted to end 2015.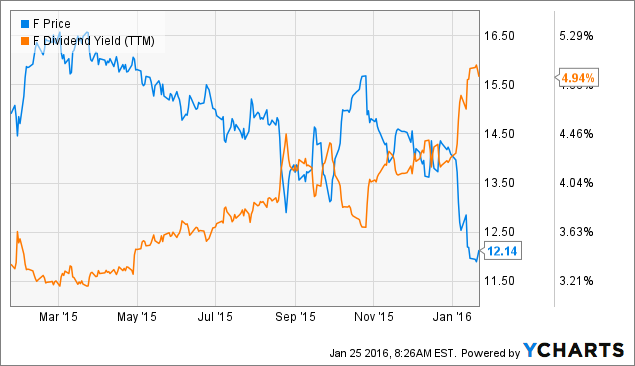 F data by YCharts
At today's levels, we would be happily reinvesting our dividends from purchases made at a higher cost basis. We said in our last article that we would be looking to add shares of Ford once again to our portfolio, and we may do that as soon as this week.
The yield is safe and continues to look attractive and we think Ford stock will see an upswing again. Until that time, we have no problem reinvesting are dividends and gobbling up shares at lower prices.
Ford made it through 2008, and we are confident that they will make it through this correction we are having to start 2016.
Disclosure: I/we have no positions in any stocks mentioned, but may initiate a long position in F over the next 72 hours.
I wrote this article myself, and it expresses my own opinions. I am not receiving compensation for it (other than from Seeking Alpha). I have no business relationship with any company whose stock is mentioned in this article.