I have written two Seeking Alpha articles on Cannabix Technologies, Inc. (OTCPK:BLOZF), a stock I continue to hold. They are located here and here. I remain long and have added a bit to my original position. I may add a bit more. 2016 should "tell the tale" as to whether this long-term investment decision was a good one or a poor one.
The Business Summary for Cannabix, and from Yahoo!Finance, follows:
Cannabix Technologies Inc. develops patent pending Cannabix Marijuana Breathalyzer for law enforcement and the work place in North America. Its Cannabix Marijuana Breathalyzer drug-impairment recognition system is based on breath testing technology to test individuals for recent consumption of the Tetrahydrocannabinol component of marijuana. The company offers its products to enable law enforcement personnel to use the technology to enhance detection of marijuana impaired driving offences on roads.
The Marijuana Breathalyzer "Players":
Cannabix is not the only firm working on a roadside test for marijuana impairment. Hound Labs, Inc. appears to be making very significant progress, Lifeloc Technologies, Inc. is working on a device, and a Washington State University project is in progress:
| | | |
| --- | --- | --- |
| Ticker | Firm Name | Research University Affiliation |
| [BLOZF] | Cannabix Technologies Inc | |
| | Lifeloc Technologies Inc | |
| Venture Capital | Hound Labs Inc | University of California - Berkley |
| NA | NA | |
Cannabix

A mid-November 2015 article reported that the Cannabix roadside marijuana breathalyzer has achieved an accuracy rate of 80%:
Malhi said right now they're getting accurate readings about 80 per cent of the time and the team is working to refine the system to reach 100 per cent accuracy.
However, this news appears to have had little or no positive impact on the firm's stock price, since the November 13, 2015, publication date, and the stock price has actually declined: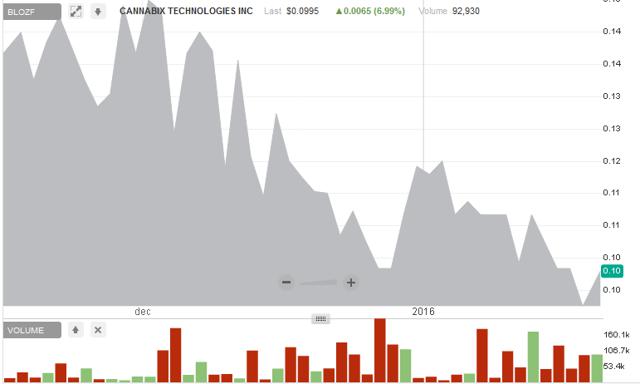 Click to enlarge
Source: OTCMarkets
There is a tiny bit of a bounce, likely to be "January effect"-based or related (see above and below), as tax loss selling pressures subsided after the 2015 calendar year end. However, the decline in the stock price proceeds. A 1-year chart follows: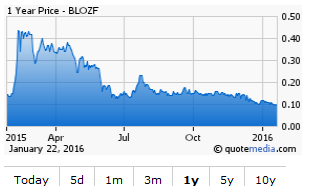 While Cannabix has been featured by many news outlets, management does a very poor job of keeping investors informed with respect to progress on their hand held marijuana breathalyzer device. This could be a positive, and the firm is, clearly, not "pumping" the stock and there is no evidence of any activity that could be characterized as a "pump and dump."
Lifeloc

Lifeloc's stock price is also in decline. A 1-year chart follows: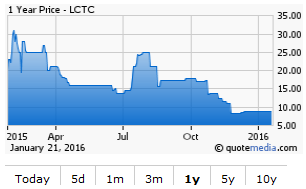 Lifeloc announced that they received a $250,000 grant from the state of Colorado to develop a breathalyzer for pot. This announcement was in October 2014. As recently as January 21, 2016, the new/incoming CEO has promised renewed efforts to produce the marijuana breathalyzer device.
Lifeloc already has the leading and/or a significant market position in the alcohol testing segment or sector: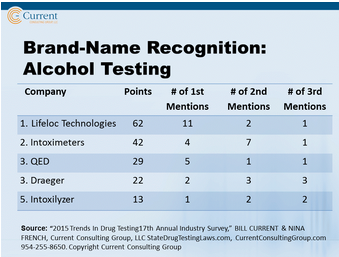 Hound Labs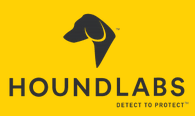 From the firm's website:
Using cutting edge science and technology, Hound Labs, Inc. can detect and measure THC in breath. Using only one or two breaths, the patent-pending science and technology detects THC and through an extraction process, measures THC to levels well below 500 picograms. The Company's scientific breakthrough was specifically developed to be miniaturized and is currently being optimized for a handheld device at a price practical for use by law enforcement at the roadside.
If the stock was available, I would buy some. Press releases have appeared in GIZMODO, Toronto Sun, Popular Science, The Washington Times, sfist, San Francisco Chronicle, Fortune, U.S. News & World Report, Daily Mail, Daily Californian, CBS News, The Washington Post, The Atlantic, National Journal, C, The Denver Post, philly.com, and the motley fool - all, since early December 2015…and all since they first reported a "major breakthrough" on December 2, 2015.
The firm has a LinkedIn (NYSE:LNKD) site. A Professor Dan Fletcher, of the Fletcher Lab, is on their team, as is a Professor Matthew B. Francis, of the Francis Research Group.
Summary
Cannabix appears to be the only publicly traded "pure play" in the hand held, roadside marijuana breathalyzer or detector device sector. They, like Hound Labs, are affiliated with a major research university. They do not, however, have the capitalization or brand recognition that Lifeloc has, and Lifeloc could parlay their already established position in the alcohol testing arena if and when they perfect their marijuana testing technology.
Disclosure: I am/we are long BLOZF.
I wrote this article myself, and it expresses my own opinions. I am not receiving compensation for it (other than from Seeking Alpha). I have no business relationship with any company whose stock is mentioned in this article.
Editor's Note: This article covers one or more stocks trading at less than $1 per share and/or with less than a $100 million market cap. Please be aware of the risks associated with these stocks.