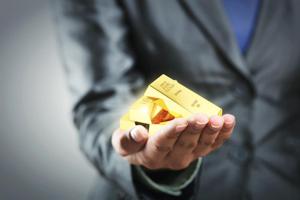 Not long ago, people appeared to have completely forgotten how precious gold is. This was awkward especially given the fact that from an investing perspective, it is clearly placed under precious metals category and the fact it is clearly in a long-term bull market since 1,999.
However, everyone now appears to be getting back to their senses, thanks to a decent run of form in recent trading sessions, which have seen the price of the yellow metal rally to trade at around $1,100 an ounce.
One major thing of note is that gold's recent resurgence in price has surprised many. This is worrying because after analyzing the markets over the past 12-18 months, the key drivers to the rally witnessed in the equities markets appeared to come in the form of investor optimism. There was no substance in it simply because the rest of the world, but the U.S., was struggling economically.
It is normal for investors to overreact based on the promise of a better future, and that's what clearly happened over the last 18 months. And the U.S. Federal Reserve, though cautiously, it did play its part. The interest hike campaign ran for a good 2-year period if not more. Investors had been expecting it a year before the final round of the quantitative easing, though they clearly knew it was going to take some time before they see an increment.
Nonetheless, that did not peg their optimism. They remained bullish in the market with the view that in a year or two, a rate hike would come and they would be the ones to celebrate, because income generating assets flourish in high yielding economies.
However, when the hike eventually came on December 16, 2015, nothing really changed according to market expectations. There was a jump in equity prices with the three major U.S. Indices gaining while gold remained pretty much unchanged.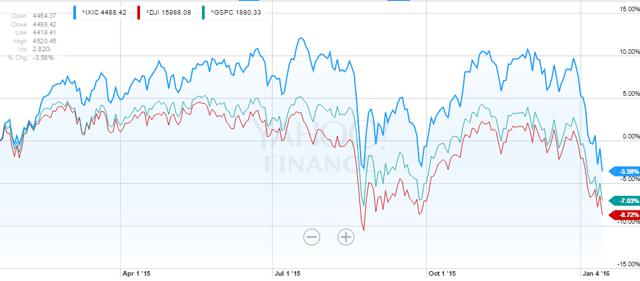 Click to enlarge
But then everyone would have expected that--a shaky post interest rate hike. Though no one really had any idea how long it would last. Unexpectedly, it was shorter than most people would have imagined. Since the beginning of the year, the markets have been most unpredictable. A lot of the downward movement has been attributed to the shaky Chinese economy, which has caused the Asian superpower's stock market to plunge.
Then again, if your retrace a couple of months back, when investors were buoyed by the promise set by the U.S. economy, you would have thought that U.S. equities were completely isolated from the rest of the world-that they wouldn't fret to the global economic slowdown that has been taking place over the last two years. Or did we really ever recover from the global economic crises of 2008/2009? On paper, we are nowhere near the economic levels reached in 2007. Even the IMF does not seem so certain that the economy can meet prior projections.
So I guess we are all on a recovery trail. Some have managed to pick up pace early, like the U.S. while others are taking baby steps, like the Euro Zone--they keep on falling at every obstacle they come across on the way. Or are we forgetting what happened to Cyprus, Greece etc.? Even France, Italy and Germany have had problems of their own to content.
Let's face it, we want to believe that the global economy is on course to recover fully in the near future, but this could be a perilous assumption that could set investors towards a path that only the gold bulls would be happy to witness.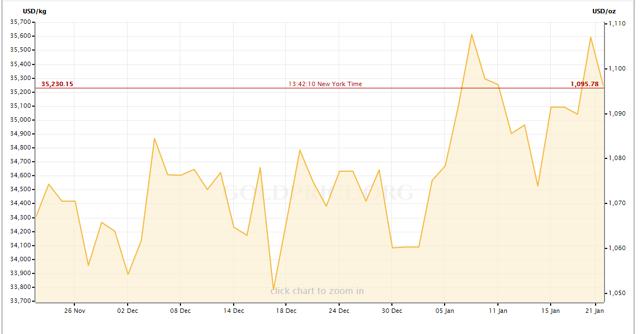 Click to enlarge
Chart via GoldPrice.org
Gold thrives when economies are struggling. The evidence to this statement can be pulled from the historical charts of the yellow metal dating back to a hundred years. The most recent occurrence of such a scenario came in 2011 when the price of gold traded at an all-time high of about $1,950.
As at the time of this writing, the price of gold was just hovering below the $1,090 mark. Given the recent highs, it would be ideal to say that it remains within a touching distance of the $1,100 mark.
Now, with gold finally showing its true color, institutional investors will be ready to pounce, as will some individual investors. They will be doing this to hedge their investments in the risky credit markets. Investing in gold now can be done by everyone. It is no longer a reserve of the rich. Platforms like Bitgold are making it possible for retail investors like you and me to take the opportunity and hedge against potential losses in the balance sheet of the Federal Reserve over the last five years.
Gold has for thousands of years been the world's preferred and proven store of value. This is not going to change any time soon. For a moment, it looked as if investors were convinced the yellow metal's better days were over. In fact, there was strong belief that the price of gold was destined to trade at below the $1,000 mark this year. Doing Some technical analysis on the charts now looks to have changed, with reports indicating a possible rally back to the $1,200 mark.
There are genuine factors that could drive the price of gold even beyond these levels in the next few quarters. Firstly, we can all admit that the global economy is far from full recovery. In fact, analysts are already predicting another recession if governments and markets do not take the right steps to avoid another crisis in the next couple of years.
Secondly, the U.S. economy along with the USD, which appeared to play a major role towards the decline of the price of gold in the last 12-18 months must proof to the market that the economic recovery was real and not just a mirage that kept on piling optimism amongst equity investors. We are dealing with a collapse in confidence in the public sector. Every day is more clear that QE has failed to improve the economy even with interest rates at zero, so what bullets are left? Is this time around a problem on the public sector?
Third, it would be unwise to ignore the fact that geopolitical instabilities in the Middle East and many parts of the world are creating trade difficulties between economies. This is going to cause further slowdowns in global economic growth thereby increasing uncertainties in equity investing. The problem with this would be the inability to even try to reduce deficit spending, making the debt problem situation worst. As such, investors will have to continue reducing their positions in equities while adding to safer investment vehicles like gold bullion and government securities.
Conclusion
In summary, gold is still the best store of value. The USD has certainly proved to be a capable alternative over the last few years, but when we take a bigger timescale, the yellow metal trumps the green buck.
Investors are finally realizing this again after a period where they showed tepid interest in gold investments. The yellow metal will always provide a safe haven for investors to run to when they are in trouble.
Disclosure: I/we have no positions in any stocks mentioned, and no plans to initiate any positions within the next 72 hours.
I wrote this article myself, and it expresses my own opinions. I am not receiving compensation for it (other than from Seeking Alpha). I have no business relationship with any company whose stock is mentioned in this article.