Well, I'm buried under a couple feet of snow, so finally I have time to get to work on my 2016 Nick's Picks series. This is the second installment of my short series — the first piece is published here. That piece was an introduction to my 2016 mindset, which, in a nutshell, goes as such: I'm still worried about the markets; I expect the volatility that we saw late last year to continue (as is has thus far in January), and because of this, I am focusing on beaten-down, value-oriented companies offering investors atypically high dividend yields, which should help ease any pain moving forward.
In this series, I am making picks for the entire year - I won't be trading in and out of them. In my actual portfolio, I manage my holdings regularly. Though this doesn't mean I buy and sell in and out of them, it does mean I never buy a stock with an exact holding period in mind. Like Buffett said, "forever" is the best holding period; even so, I keep a close eye on fundamentals. If they change to the point where I no longer feel comfortable holding the stock, I have no qualms about selling and moving on to greener pastures. I've raised a lot of cash recently in my personal portfolio, and I hope to be putting that to use again shortly. I'm beginning to see deals that are hard to pass up. No matter what, I will move slowly, cautiously increasing my exposure to equities. I say all this because I want to make it clear that this series is not suggesting anyone buy any of the companies I choose. I am highlighting what I believe to be attractive value opportunities here; you should do whatever you see fit with this information. For me personally, it is nothing more than a fun exercise in stock-picking. I plan on doing a recap in late December and starting the whole process again in 2017.
In the second installment of the 2016 Nick's Picks, I will be moving away from my core positions and into the transportation sector. This sector of the market has been experiencing weakness for some time now, and I'm starting to feel as if the selling is overdone. Here I will cover five more companies that will be added to my Nick's Picks portfolio: Union Pacific (NYSE:UNP), CSX Corp (NYSE:CSX), Berkshire Hathaway (NYSE:BRK.B), Norfolk Southern (NYSE:NSC), and Boeing (NYSE:BA).
I don't really subscribe to the "efficient market" theory; if I did, I would simply buy ETFs and be done with it. I say this because I think individual investors can do well for themselves over the long term by identifying opportunities to capitalize on the market's irrational pricing of companies. I do believe that, for the most part, when things are cheap, they're cheap for a reason. The market may not be efficient or 100% rational, but it isn't dumb — just ruled primarily by fear and greed. This fear can sometimes enable investors, especially those focused on income, to pick up shares of wonderful companies trading with wide margins of safety due to valuation gaps created by negative sentiment. However, when looking at weakness and attempting to pick stocks, a major conundrum comes into play for investors: We have to figure out whether or not the reasons for weakness are isolated and likely to be short-lived, or if they are systematic and long-lasting. It's difficult to catch a falling knife — oftentimes you get cut. But once the cut heals, the pain will be quickly forgotten - and strong dividend yields seem to make managing the pain in the meantime much more tolerable.
When it comes to the rails, the major issue is falling volumes across several business segments with a large focus on energy shipments and specifically coal, which has been in the legislative crosshairs as of late, and domestic oil/gas, whose production is waning due to a supply glut and pricing pressures. These volume issues create revenue issues and in today's market where a premium is placed on increasing revenues, this wreaks havoc on stocks within this industry. Aside from falling volumes, there is also speculative fears of competition coming from new competition in the market, namely a cheaper and more flexible automated truck force. A slowing economy won't bode well for the rails in the short term either, and macro fears have played a role in recent weakness as whispers (and sometimes shouts) of recession have penetrated U.S. markets. But, headwinds abound, the rails still have their redeeming qualities. Many will argue that the game is outdated in a 21st century economy, but there is no coincidence that rail roads play a large role in one's ability to win a game of monopoly - today investors must ask themselves, a good time to buy?
Bulls will point towards the fact that rail roads are more easily and cheaply maintained than highway systems. Trains are much more fuel efficient than trucks and planes on a load basis. Pipelines, another form of competition for rail, have recently ran into legislative issues and are becoming notoriously hard to build/expand. This bodes well for rails, which would benefit from oil/gas shipping should production increase again. And, with only 7 class 1 railroads, this industry has proven that barriers are extremely high and consolidation is much more likely than increased competition from the outside.
Bears on the other hand will bring up issues like the potential for driver-less trucks which could become more efficient meaning that the lower input costs of personnel (or the lack there of) and lower fuel costs with oil priced at bargain barrel prices makes this method (which can be much more flexible with regard to intermodal freight) more feasible. The widening of the Panama Canal and the potential opening of northern passage ways for extended periods of time as sea ice melts also exist as a headwind for this industry, making it easier for goods to travel from the far east to the populous eastern sea board without having to cross land at all. Some see the rails trading like utilities moving forward due to the high level of regulations that they have to deal with. Others continue to see them as a tracking metric for the general health of the U.S. economy, and right now, as mentioned above, the general health outlook is rather pessimistic.
Looking at all these variables, it is difficult for me to make up my mind when it comes to the future of the rails, at least in the short term. I don't see them becoming obsolete due to their relative fuel efficiency, though I do worry about volumes continue to fall, especially if these companies can't find replacements for coal shipments. Though, I admit, that these volume fears may be a bit overdone because even in the face of falling volume these companies have proven their abilities to continue to grow their bottom lines with price increases and cost cutting measures leading to higher margins. Although this isn't an apples to apples comparison (because the services that the rail companies offer aren't addictive), but due to the high barriers to entry into this space and a lack of acceptable alternatives, I like to relate the rails to the tobacco industry in terms of pricing power in the face of falling volumes. It's also worth noting that automation won't be happening just in the trucking industry - rail car depots and loading bays will likely also be automatic as technology improves, meaning that some costs should go down for the rail companies as well.
In my personal portfolio, I have a hard time buying shares of a company when its revenue picture moving forward is so unclear. Earnings growth is great, especially for dividend sustainability, but over the long-term I like to see revenues increasing as well; to me, this means that the business is healthy and that there is strong demand for products and services offered. I'd love to see a bottoming out of the current volume trend before initiating positions; however, with yields rising - now exceeding 3% across the industry - I am becoming more and more interested in investing in the space as the income proposition improves. I may very well regret waiting to buy with many analysts calling the companies in the industry cheap today; however, even what appear to be highly sustainable 3% yields aren't enough to really get my excited in the face of falling revenues. However, I don't have the luxury of sitting on cash and waiting for clarity when making 2016 picks. In this project, I'm making picks in the present, looking for the best value that I can find in today's market, and I believe that the beaten down transports shine, relatively, in this regard.
So, without further adieu, we'll move onto the individual companies that I'll be selecting for my 2016 picks…
The railroads have been beaten down in 2015 and they're beginning to look cheap to me. Right now my only exposure to the rails in my actual portfolio is through Berkshire Hathaway with BNSF. I like Union Pacific and Berkshire, which have the strongest positions west of the Mississippi with exposure to western ports and Mexico. I like CSX and Norfolk Southern operating in the east. I know it's a little cheap to simply pick all of the major players here, but the way I see it, they're all beaten down and I don't see any outstanding reason to pick any one over the other. The entire industry is hurting and I imagine when things turn around for the rails, due to the nature of the highly consolidated space, each of the major players will be benefactors of the shift.
We'll start out west (where the weather is likely more pleasant right now).
UNP has been on my personal radar for some time now. I view it was a best in breed type company, and a pure play on rails in the west (obviously, Berkshire is much more than Burlington Northern Santa Fe). However, this top dog status hasn't made it immune from issues that the entire industry is facing. UNP is down nearly 44% from its 52 week high set in February of last year. I thought the 3% yield threshold might serve as support for the stock, but it traded down past that fairly easily after a disappointing Q4 earnings release, right now the stock yields 3.14%. Speaking of dividends, UNP has the most impressive income related metrics within the industry, highlighted by a 27.42% 5 year DGR. UNP's payout ratio is only 30.2, meaning that even with recent headwinds and a down earnings year in 2015, the company can continue to reward shareholders with sustainable dividend increases until the commodities markets sort themselves out.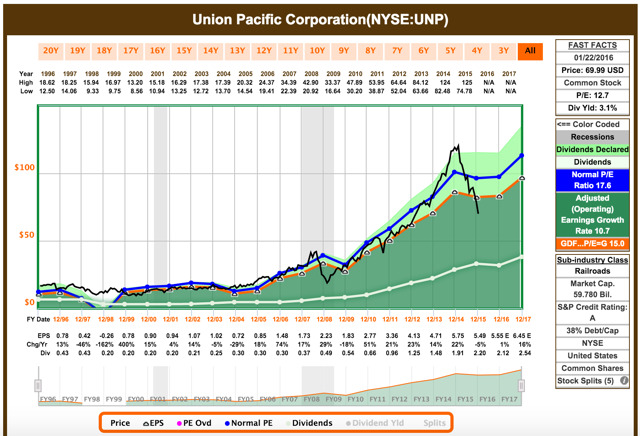 Source: This image, and all others in this article, are from F.A.S.T. Graphs.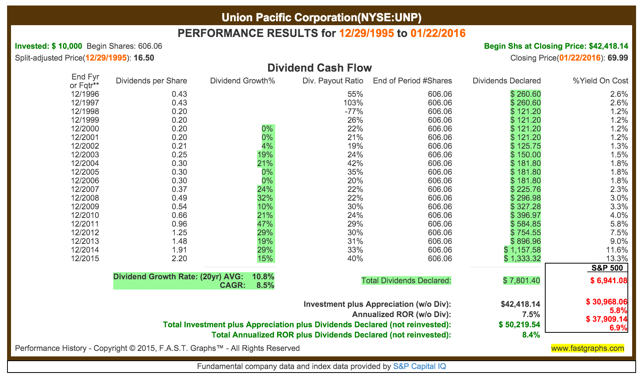 Click to enlarge
I could go on and on about Berkshire here, but I won't. I will simply say that I've chosen BRK.B for Nick's Picks 2016 because I believe shares of the conglomerate are undervalued. I know people like to focus on the fact that several of the firm's largest holdings aren't performing (American Express and IBM come to mind), but it's important to remember that the investment portfolio at BRK is just a portion of the overall operation. What's more, I'll echo sentiment here that I've read written by other bullish Berkshire investors: in a volatile, potentially down market year, I'm happy to leave my money with Buffett and crew. I expect that when the time is right, they will continue to make accretive deals, pushing book value/share higher. Even after its massive $32b Precision Castparts acquisition, which I'm assuming will go through, the company maintains a war chest of cash and I'm excited to see what they do with it (because no matter how much I'd personally enjoy a Berkshire dividend, I don't see that happening, at least not while Buffett is alive). I think their exposure to the rails with BNSF has helped to drive the share price down. Berkshire mentioned in 2015 that their capex for the railroad would increase, at least in the short term - this probably doesn't help sway the opinion of someone who is negative on the rails already. However, for the long-haul, I'm happy putting money into BRK.B and I expect that patient investors here will be rewarded.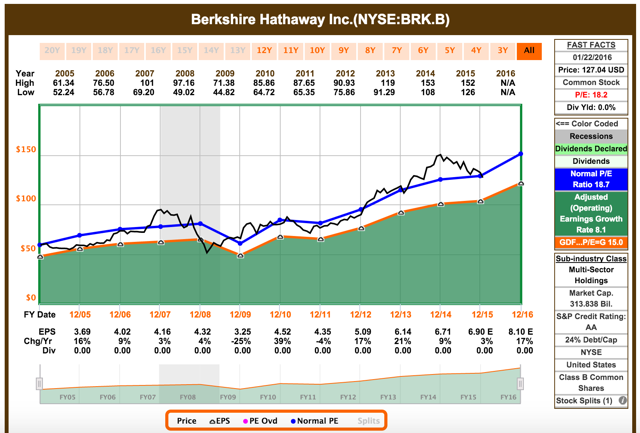 Click to enlarge
And now we move back East.
The companies in the east have historically been more reliant on coal, which is scary. I think coal is a dying empire due to environmental reasons, though I also like the idea of nation wide exposure. If and when consolidation does occur in the industry, with the possibility of a true trans-continental railroad being created, I want to make sure that I have exposure in my portfolio by covering all of my bases before hand. I don't know how regulators will view future offers made in this space but if new technologies create legitimate competition for the rails I wouldn't be surprised to see the 7 class 1 rails become 2 or 3 power players. I know that recently the upper management of several of the prominent players in the industry have said that consolidation wouldn't be in the industry's best interests; however, I imagine that as market caps fall, if the price is right, a deal will get done forcing the hands of competitors to follow suit. Obviously there is a lot of forward speculation involved here, but these are the things I have to think about with a very long-term investment horizon.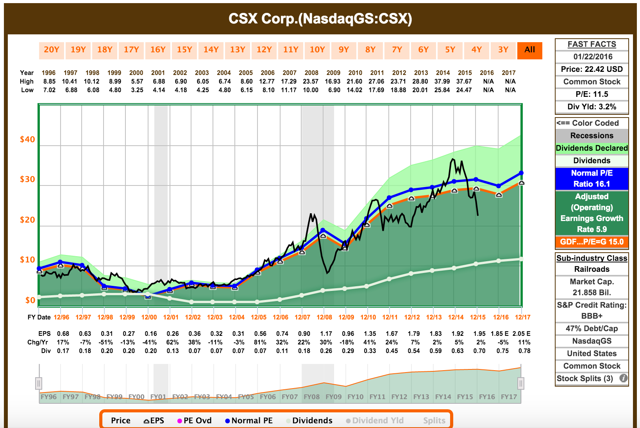 Click to enlarge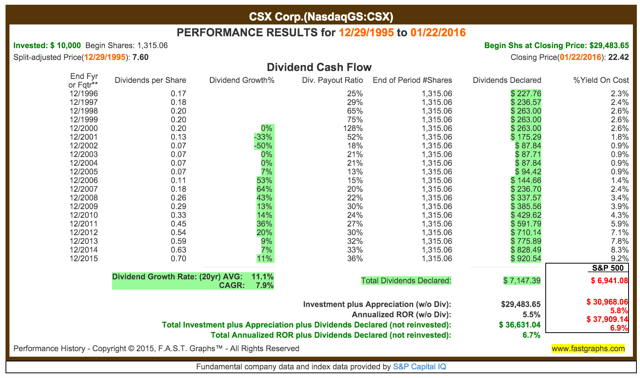 Click to enlarge
But, enough speculation, we'll get back to the fundamentals. CSX looks cheaper than Norfolk Southern right now, whose price has been elevated a bit as of late due to M&A chatter, though not by much. CSX is trading at 11.3x ttm earnings while Norfolk Southern trades at 12.9x ttm earnings. CSX's ttm P/E figure is the cheapest among all of the major rail players. CSX has a slight higher debt/cap ratio, 45.98% compared to NSC's 41.83%, but the company's 5 year DGR is significantly higher than NSC's; 16.52% compared to 10.30%. Morning star rates CSX a 5 star buy, while S&P Capital IQ gives the company 3 stars and a hold rating. Both analyst groups give CSX a fair value calculation that is significantly higher than the current share price. NSC is rated a 4 star buy and a 3 star hold by Morningstar and S&P Capital IQ respectively. Analysts like CSX slightly more in a comparative sense, though NSC's current dividend yield of 3.44% is a touch higher than CSX's 3.21%. All in all, both of these companies have pros and cons when compared to one another, but like I said before, I'd rather own all the dominant players than attempt to shoot fish in a barrel. Both are badly beaten up, with CSX trading 40.48% below its 52 week high and NSC trading 38.79% below its 52 week high water mark. This is a long-term bet on the rail domestic rail industry as a whole…and I'm happy to collect dividends with these juicy yields while I wait for the turnaround to happen.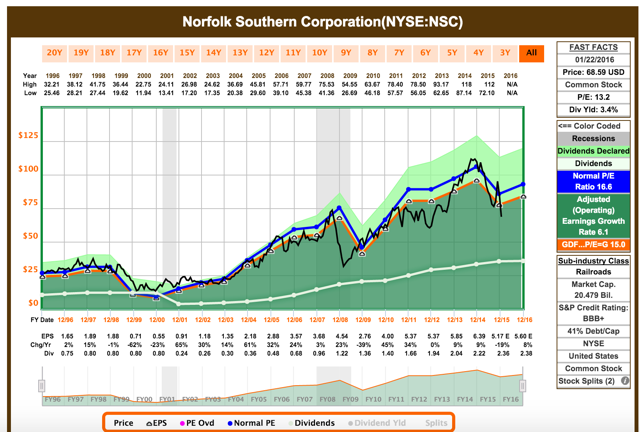 Click to enlarge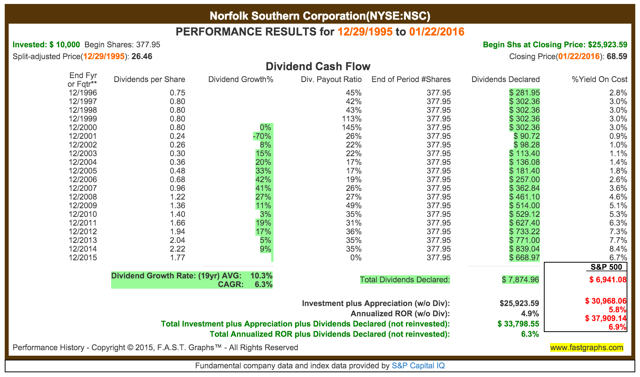 Click to enlarge
Up, Up, and Away: Moving On To Boeing.
As previously stated, I'm a little worried about the general health of the market; however, spotting blue chip companies offering wide margins of safety is a recipe for outsized returns in most market conditions and I'm getting to the point where I'll be willing to look past my cautious stance in the market and increase my equity exposure via these beaten down picks. With Boeing, I think investors have the chance to capitalize on one of these opportunities now that the stock has pulled back. In my mind, for investors looking to put money to work in today's market environment BA is a near no-brainer at these prices. The company is trading a 15x 2016 earnings estimates. This doesn't represent tremendous value; however, I think this is more than fair considering the extremely high barriers to entry and wide moat that BA stock offers. Getting regulatory approval of an air plane is no simple task. It takes years of R&D, billions of dollars, advanced supply chain management, and a large force of skilled engineers and manufacturers. What's more, even if a company were to come to market with an approved alternative, they wouldn't come close to matching the switching costs that are associated with the Boeing fleet and management incentives. This moat is why I like BA so much. BA operates in a duopoly with Airbus. This is the only company with an operation vast enough to compete with BA in terms of switching costs. Airbus is a worthy competitor for sure - some believe that BA has to Airbus in terms of their most recent generation of planes. Maybe so, Airbus is receiving more orders. But, I'm not fretting much; BA still has a record backlog and is executing on its orders.
Before I harped for awhile on rising revenues. Well, with Boeing you have this. And, I expect this trend to continue over the long term because of two very powerful macro trends that Boeing is the beneficiary of: Globalization and Urbanization. People are expected to continue their current migration to cities for their relative efficiency and ease of life. But, just because people congregate in densely populated urban areas doesn't mean they don't need to travel. Globalization has made the world a much smaller place, yet it still takes time and energy to traverse the space between jobs, interests, passions, loved ones, etc, and this is where air travel, and more specifically, Boeing comes into play. I expect demand for air travel, both commercial and industrial to increase moving forward. Because of this expectation, I am happy to own shares of Boeing in my personal portfolio and include it on my Nick's Picks 2016 list.
And, what's more, is that not only are investors getting exposure to a blue chip company with massive long-term growth tailwinds, but they're also getting a 3.5% dividend yield. BA's 5 year DGR is 13.03%. A 18.5 Chowder number is nothing to scoff at. This is double digit performance is very respectable, but even more so than that, is the company's more recent dividend growth figures: 50.5% increase for 2014 and 24.7% increase for 2015. After these two very generous increases the company's payout ratio is still a conservative 44.7. I expect this dividend to continue to increase in the double digits annual moving forward.
Sure, there are risks here. Lower fuel costs mean that airlines don't have to worry so much about fuel efficiency to turn a profit. This hurts the sales of some of BA's newer models, which were engineered with fuel efficiency in mind, with prices much higher than they are today. There are no major federal guidelines for commercial air craft when it comes to fuel efficiency; however, I wouldn't be surprised to see this change. Also, there are fears that companies will simply buy used air craft rather than upgrade their fleets with new ones. Depending on pricing and availability, this is a threat to earnings moving forward; however, I think the overall demand for air travel will continue to increase at a pace that will require airlines to continually upgrade their fleets. All in all, I feel very good about Boeing priced where it is for 2016. This is a company that I am strongly consider adding shares to in my personal portfolio right now as well, regardless of my macro sentiment, because of my confidence in the company long-term.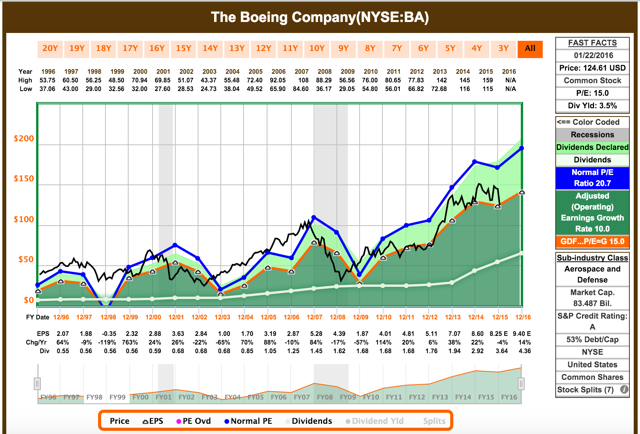 Click to enlarge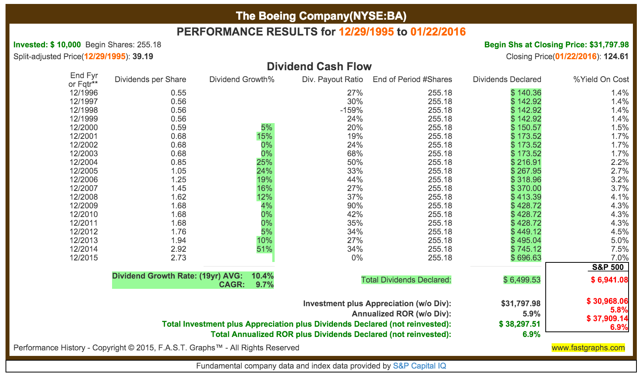 Click to enlarge
Conclusion
So, here's how the breakdown for these 5 companies will play out in the Nick's Picks portfolio (remember, this is a $100,000.00 theoretical portfolio that I am building to track Nick's Picks performance). Boeing will receive a 5% weighting. This means as of the market close on Friday, Jan. 22, I now "own" 40 shares of Boeing at $124.61. As for the rails, I will give the group of pure plays an equally weighting of 10%, meaning that I now own 48 shares of UNP at 69.99, 149 shares of CSX at 22.42, and 48 shares of NSC at 68.59. BRK.B will receive a 5% weighting on its own, which means I will be adding 39 shares at 127.04.
So, quick recap, the portfolio consists of 9 companies at these weightings right now:
Apple (NASDAQ:AAPL): 10%
Johnson and Johnson (NYSE:JNJ): 10%
Disney (NYSE:DIS): 10%
Netflix (NASDAQ:NFLX): 3%
Boeing: 5%
Berkshire Hathaway: 5%
CSX Corp.: 3.33%
Norfolk Southern Corp.: 3.33%
Union Pacific Corp.: 3.33%
Up next: Happily Overweight In Healthcare.
Disclosure: I am/we are long JNJ, AAPL, DIS, BRK.B, BA.
I wrote this article myself, and it expresses my own opinions. I am not receiving compensation for it (other than from Seeking Alpha). I have no business relationship with any company whose stock is mentioned in this article.