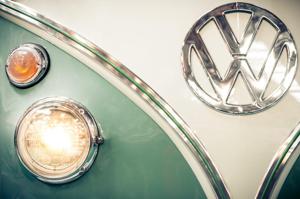 Volkswagen's (OTCPK:VLKAY) (OTCPK:VLKAF) December and full year 2015 sales both declined on a year-on-year basis, but this isn't necessarily due to the diesel scandal that went public in September. In this article, I take a closer look.
In December, Volkswagen sold 835,000 vehicles (cars and trucks) globally, which means a decline of five percent in comparison to December 2014. Looking at the full-year number (9.93 million cars and trucks sold), we see a year-on-year decline as well, albeit lower than the December number (minus two percent).
The Volkswagen brand saw sales drop 7.9 percent in December and 4.8 percent for the full year, Audi saw its sales grow 5.6 percent in December and 3.6 percent in 2015. Skoda, the brand with the third highest sales, saw its volumes grow 1.8 percent in 2015, while Porsche was the fastest growing brand with a 19 percent growth rate for the full year.
At first sight, these numbers look bad: Lower overall sales in December as well as for the whole year, and the Volkswagen brand is leading the decline - it looks as if the diesel scandal has a significant impact on Volkswagen's sales.
Yet, when we look at the geographical makeup of these sales numbers, we are lead to a different conclusion: Volkswagen has two markets where its sales are deteriorating, but these two were not affected by the diesel scandal - the sales declines have other reasons. In the two markets where the public outrage over the diesel scandal was the biggest - North America and Western Europe - Volkswagen's sales kept increasing for the month of December as well as for the full year.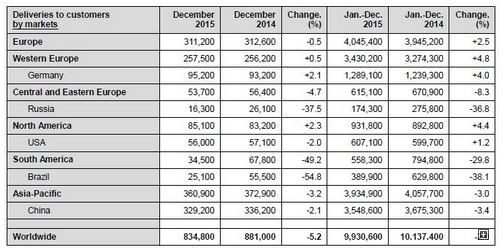 Source: Volkswagen Investor Relations
The two countries where Volkswagen's sales declines originated are Brazil and Russia, two countries which, as part of the BRIC group, have been doing well economically in the last decade. Over the last year, though, economic conditions turned bad in both countries: GDP in Brazil is shrinking (-4.5 percent in the last quarter), unemployment is rising, inflation is high and the Brazil real is crashing: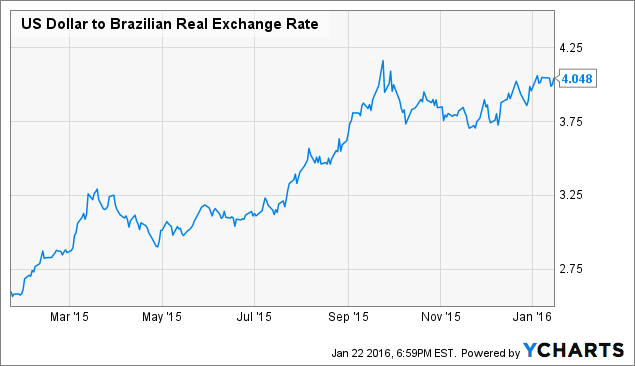 The Brazil real declined from 2.6 [per dollar] to 4.1 [per dollar] over the last twelve months. With economic headwinds like that, it is not surprising that the automobile market in the country is in very bad shape as well: In October, new car sales plunged 37 percent; in November, car sales declined 32 percent; and in December, car sales dropped 37 percent, marking new multi-year lows each month. Volkswagen's sales in Brazil declined 55 percent in December and are down 38 percent in 2015.
The other country where Volkswagen faced rough headwinds was Russia due to rather similar reasons: The oil price decline hurts Russia's economy (and thus also its consumers), and currency issues are a problem here as well: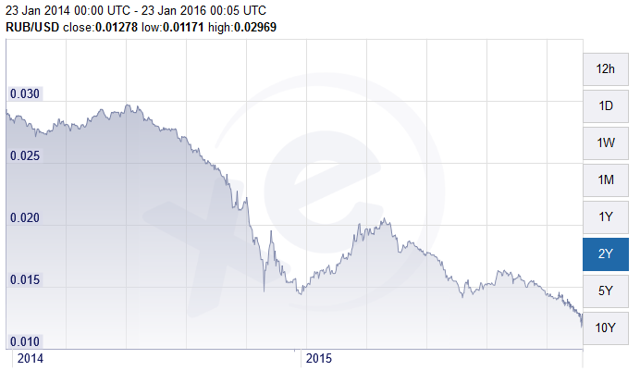 Click to enlarge
Source: xe.com
Over the last two years, the Russian ruble has dropped more than fifty percent, or, in other words, imported goods (e.g. cars) cost more than twice the amount they cost two years ago in the local currency. It is thus not surprising that Volkswagen's sales in the country are dropping at a fast pace; in December, sales declined 38 percent, full-year sales dropped 37 percent in the country.
Sales in these two countries have been declining over the whole year, and other manufacturers face rough headwinds in Brazil and Russia as well, we can thus say that this is not about the diesel issues.
On the other hand, the markets where public outrage and media coverage were the highest, Western Europe and North America, saw higher sales in both December and the whole year: Western Europe sales grew five percent for the year and one percent in December, North America sales grew two percent in December and four percent for the year. It thus looks like the diesel scandal does not have a significant impact on Volkswagen's sales performance (it will have a significant impact on earnings, though, due to recalls and fines).
As another positive, the fact that Audi and Porsche are both growing sales on an absolute number (and their market share inside the group) should have a positive impact on average selling prices of the company as well as on the company's margins.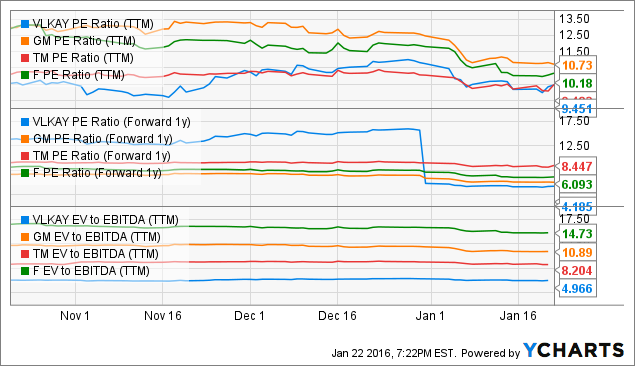 Looking at the valuation of Volkswagen, we see that the automobile manufacturer is trading at a discount to its (already inexpensive) peers by any metric: Volkswagen's trailing earnings multiple is 9.5, which is the lowest among the companies, General Motors (NYSE:GM), Toyota (NYSE:TM) and Ford (NYSE:F). Volkswagen's forward earnings multiple is 4.2 versus a peer average of 6.5 and Volkswagen's EV to EBITDA multiple is 5 versus a peer average of 11.3 - a discount of more than fifty percent. The broad market is trading at a very high premium to Volkswagen as well, with a trailing P/E ratio of 20 and an EV to EBITDA multiple of 12.
Takeaway
Will Volkswagen be negatively affected by the diesel scandal? Definitely, fines, recalls and other legal costs will total billions. Does the diesel scandal break Volkswagen as a brand and does it lead to deteriorating sales? Not at all, in the two markets where the public impact was the highest (WR and NA), sales are growing.
Does Volkswagen deserve a discount valuation relative to its peers? I think so, the uncertainty is higher. Does it deserve a discount of fifty percent, based on EV to EBITDA and forward earnings estimates? I don't think so, but everyone should assess this themselves after looking at the facts.
Disclosure: I/we have no positions in any stocks mentioned, but may initiate a long position in VLKAY over the next 72 hours.
I wrote this article myself, and it expresses my own opinions. I am not receiving compensation for it (other than from Seeking Alpha). I have no business relationship with any company whose stock is mentioned in this article.
Editor's Note: This article discusses one or more securities that do not trade on a major U.S. exchange. Please be aware of the risks associated with these stocks.