"The entire pursuit of value investing requires you to see where the crowd is wrong so that you can profit from their misperceptions…"
-- Guy Spier, Aquamarine Fund
Last July 21, I wrote an SA article on Churchill Downs, Inc. (NASDAQ:CHDN) questioning its valuation at the then price of $131 a share. I laid out the case as to why I thought this good company was vastly overvalued relative to its peers and its performance. In my view, that valuation sprang more from a misperception about the company than its very respectable numbers. Churchill now trades around $132(at writing) - more than holding its own in the current market swoon. Its 52-week range has moved from $92 to a high of $152, against the tidal decline of its industry peers which have dipped anywhere from the 30% to 50% range.
That's all changed now. The value chasm between Churchill and its peers has so widened that it shouts short me now if you have the risk profile.
Even stating the case for what I then, and continue to believe, was a crazy valuation, I did not extend my skepticism to recommend shorting it last July. I realized then, and continue to believe now, that making calls on a short play is a tricky business. It's a strategy usually best left to the big money guys who employ bearded quant geniuses who concoct esoteric algorithms between shooting Nerf ball baskets at a hoop fastened to the wall of their cubicles. And when they're right, their clients get to drive to Shake Shack in their Bentleys. When they're wrong, their clients, just suck up the losses and shrug, confident the next play will be a grand slam homer. It's the secret sauce of hedge funds that their clients keep the faith in a lot of dog and overpriced stocks among their portfolio winners because the memory of those fat 25% return years tends to linger while the crap outs fade. Call it human nature.
Churchill has lingered far too long at its empyrean heights. Apart from any jitters or profit taking arising from the current maelstrom in the general market, I have now come to believe there's a short play here.
Why now? Because the price gap between Churchill's shares and its industry peers has yawned so wide since my last article, that it has stretched in size from a gentle valley to the Grand Canyon. And while I have no idea what the quants think - I do know what my gut tells me as a gaming professional.
Three steps down
Given its strong institutional ownership profile, good numbers and a conservative, cost conscious management, I believe it will take some time for the market to really come to understand flaws in valuation of this really fine company. For that reason, my sense of the short play here moves in three phases.
My valuation number: I see this as a nice $65 to $75 stock, with a P/E multiple in the more sensible area of 30x at best as against its current 53.
And this assumes earnings come in flat or a miss y/o/y 2014 (Churchill is scheduled to release its numbers at the end of next month).
The short play here assumes earnings going forward will begin to go from beats, to flat to misses as the engines that have driven the shares begin to splutter when hedge funds decide it's time to start taking chips off the table.
However, our strategy is three-step based on the apparent disinclination thus far of its institutional holders moving quickly if there is a miss.
Last November, Churchill privately repurchased an entire block of the Duchossois Group, Inc.'s (pronounced DUCH-AH-SWAH) shares at the aggregate price of $138 million, sopping up all but $9 million of its then authorized share repurchase program. The group is controlled by the family that originally sold Churchill Arlington Park Racetrack in Illinois in 1983.
The deal was done at $143 a share based on the average 20-day trailing closing price of the shares as of November 18th. The rationale for the sale was family and tax implications. Though, I think it's fair conjecture whether the Duchossois family interests also had other motivations based on a sense that the stock was getting too toppy to hold much longer. Personally, the family will continue its strong bonds to the company and the racing industry as horse owners, a heritage from its founder Richard L. Duchossois, a Midwest industrialist.
Here's our 3 step short strategy:
Step One: My immediate play would be to buy the puts on the theory that the earnings release next month could be anywhere between a flat to a miss. That comes from the thinking that a lot of the strong propulsion initially coming out of the Big Fish acquisition could be starting to slow. I think that if it is a miss, the stock could move south by 5 to 7 points on profit taking. If a beat, it might inch up a temporarily but overall continue to slosh in its current trading range in the low to mid $130s going forward.
Step Two: Within the next two quarters, I see no galvanizing event that could move the stock dramatically up as have several last year. I will discuss the business matrix of the company later in this article. In that case, I think the shares can drift another 10 to 15 points south going forward toward Q2.
Step Three: Religion is found. I believe some time after a Q3 earnings release this year, there will be widespread recognition by the market that this stock has benefited for many years from the perception that one of its divisions, namely the Big Fish online casual gaming business, can only continue so long to be the igniting engine for an even greater upside. It assumes its casual online game business trends continue strongly northward ad infinitum. That takes strong conviction about its game portfolio as it now exists. To me, it's a question mark. So I believe the shares can move down to a more sensible resting place in the $65 to $75 range - unless of course, management finds another acquisition in a sexy space of online gaming to excite the market again. That could happen so it would be wise to hedge the put backed with a call strategy.
So the question of the day on this stock is this: What's your risk profile in the short sale of a highly vaunted, respected, company with an 66% institutional ownership profile? Now that the true believer Duchossois Fund has waved bye-bye, could it suggest that other big holders may take it as a sign that the fat lady is in the wings, practicing her scales and getting ready to sing?
Do your own research and if you come to share my gut level sense of this company (SA contributor Vince Martin has agreed with me), you could short the stock now, and if your gamble is right, it could produce a 50% return before year's end as it trades down and loses its avid fans. Remember this is a long-term short strategy not a quick trade based on a single event.
From my perspective as a gaming industry professional (I am not a CFA), there are five basic reasons to short a stock:
1. Bad management. Not the case here. Although three of its top officers are GE Capital alumni with mostly financial, but not gaming, backgrounds, I believe they have been good stewards of the company and infused a strong culture of cost controls throughout their system. Yet, in my view, they lack the imaginative ignition to grow the business organically without overpaying for acquisitions like Big Fish. (They paid $885 million, by any measure a fat premium, but fair is fair - it probably injected new life into the company).
2. Dumb acquisitions and market entries. Not the case here, per se. Churchill has made some good ones like Big Fish. But it has also moved into what I like to characterize as Dead End Street buys. This is especially true in its casino sector. Its small casino/racino portfolio lies in essentially flat markets and don't have the propulsion of Big Fish.
3. Overvalued performance numbers. The answer here is a qualified yes. Nearly all the sex appeal of its revenue and EBITDA numbers can be attributed to its single acquisition of Big Fish. Its business units are clearly over-weighted in legacy, racing related markets:
Revenue percentage by unit
Live racing: 22%
Online horse racing: 18%
(Total horse racing businesses comprise 40% of all revenue and 30% of total EBITDA as of Q3 this year.)
Casinos: 30% (Churchill casinos are located in Mississippi, Maine, Louisiana, and a 50% owned property in Ohio.)
Big Fish: 28%
4. Inability to deal with industry challenges. The horse racing sector has been demographically challenged for decades and it's getting worse. Its TwinSpires online wagering platform is among the best of breed but again, whether live or online, its growth depends on a total universe of horse racing fans. That demo is literally dying faster than being replaced by newer, younger bettors in large numbers. Even an extension into sports betting, which would be great for the company if ever legalized, is currently more like a dream than a possible imminent reality. Its long-term potential is no reason to be in the stock at its current trading range awaiting that manna to drop from the sky. And even if it does, Churchill will be immediately surrounded by dozens of deep pocketed competitors from the professional sports leagues waiting to spring. And never count out Amazon (NASDAQ:AMZN) in that space either. Sports betting is distant, but perceived as a fat piñata.
5. The market for the stock is blinded because it's fallen in love with a fixed idea: The company's casual game technology is on the leading edge of something gigantic. Shades of the dotcom madness of 2000. Here's where the ghost premium on Churchill finds its warmest, fuzziest growth assumptions: Namely, that its Big Fish unit faces a period of red-hot growth in its sector going far into the out years.
On the surface, what we see is a company with a pristine, iconic brand name and reputation, recognizing its need to diversify out of horse racing making investments heavily focused on online businesses. High marks for it. However, when we compare the trading range of the stock to industry peers, we see the market price has gone off the rails:
Peer comparisons are never perfect of course - but those used in this comparative are as close as you can reasonably get.
Churchill Downs vs. US regional gaming companies at writing: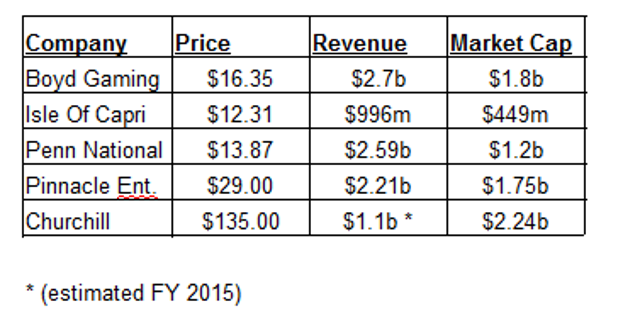 Caesars (NASDAQ:CZR): Note, though the largest US regional casino operator, its current situation in bankruptcy presents unworkable comparatives and is not included here, even though it operates casinos and does have a division in online casual gaming as well as real money casino play online in New Jersey.
What these very basic numbers show is that the market is valuing Churchill anywhere from 5x to 12x higher than companies in its peer group. With comparable revenues to Isle of Capri (NASDAQ:ISLE), for example, a first class operator of 15 casinos, its market cap is 5x larger. Boyd Gaming (NYSE:BYD) another strong regional operator which generates more than double Churchill's revenues, and trades at nearly 8 times less.
These are all full bore casino operators who neither have pure racing businesses per se (some do run racino racing cards) nor online social gaming units. It should be noted that through its 50% owned Borgata Atlantic City unit, Boyd does run a legal online casino site in New Jersey that leads the small pack in revenues.
I rate all the managements of the above companies easily as high as that of Churchill's, with their top people being battle-tested casino veterans rather than financial types. So let's try to point out what we see as the strengths and weaknesses of Churchill in terms of the logic supporting its lofty price.
Horse Racing
Of all forms of legal gaming, horse racing has the oldest demo with an average age of 51. But there is a devil in the details here that is most telling. It's widely believed that horse racing bettors are a fixed group of people merely aging out over the last four decades. Not true exactly. The fact is that horse racing has always been a game with an older demo, even during its glory days in the 1940s and 1950s.
What has happened is that subsequent generations, baby boomers, Gen Xers and beyond have yawned at it, moved on to casinos, poker, and lotteries. Racing fandom is thinning out and not being replaced at a rapid pace. Demos are the core of all gaming patron preferences. Even millennials are now challenging casinos with their big ho-hums at slot machines. This has ignited a dash for gaming equipment makers to create and introduce skill-based games. Don't bet on those as being a savior there either. What's important here is that casinos have leaned ever heavier on non-gaming assets to produce revenues for younger demos. But today middle-aged and middle class is where the bulk of the casino business base still resides. So other than Big Fish, Churchill, along with many of its peers, operates in the age challenged demo.
In brief, even last year's spectacular Triple Crown win, evoking soaring hopes and predictions that it could lead to a rebirth of horse racing did not materialize beyond tiny up blips in handle experienced by some racetracks.
So how do you value live racing as a component of Churchill's share price?
Comprising 22% of company revenue, would you be comfortable translating that into a similar percentage of its share price? In other words, would you pay $16 a share for a live horse racing business? I don't think so. Okay, let's get our technology vibes going. The company derives 18% of its net revenue from its excellent TwinSpires online horse race wagering site. Would you pay $24 a share for that segment as an ongoing company, nearly $7 a share more than you'd pay for the entire Boyd Gaming company? But whether live or online, a horse player is a horse player. TwinSpires may skew a bit younger but hardly enough to get one's juices going as an investor in racing.
Churchill runs 6 casinos that produce 30% of its revenues. At $135 a share, it translates to a stand alone business price of $40 a share. In other words, you are valuing its six properties at nearly 6x the price of Isle of Capri, nearly 75% of Pinnacle, etc., operators with up to 15 properties.
Together then, is the market is telling us they think that all together the business units above are worth $80 a share?
Of course not. Clearly, what the market is saying is this: Well, those legacy businesses are okay, they make a positive contribution to EBITDA, and while they don't dominate in hot growth industries, they're just there to give some balance to the corporate portfolio. And racing runs very deep in the DNA of Churchill. Fair enough, but that leaves us with Big Fish. With $80 of value in legacy, low to no growth businesses, tells us the market is saying: We think, at least, that Big Fish is worth $55 a share, generating 28% of Churchill's revenue and probably growing.
Here's where we part company with the market.
We think what the market is really saying is that Big Fish is worth $135 a share or more. It's a bit analogous to the Yahoo price where some analysts have valued that company's core online businesses at zero and tell us that the entire Yahoo share price of $28 is built off the share value of its Alibaba (NYSE:BABA) and Yahoo Japan holdings.
Of course, to many investors the only metrics that count are earnings and multiples and how they are or are not recognized by the market. Uncovering their true value before anyone else is how you make money in the stock market. Totally correct - but it's one way. And we plead guilty here for not going into the kind of chart-heavy deep dive analysis of performance numbers on this stock to support our case. If you need that kind of assurance, we understand there's plenty of info out there for you to chew over. What we're saying here is that on a business value basis, we see a considerable disconnect between what the market now says Churchill is worth and what we believe its worth, as a gambling enterprise-a good one-but an overvalued one.
And Yahoo is not the case here at all. Churchill is run by pros, Yahoo by mumblers and fumblers. We do believe Churchill's core and legacy businesses have definite value but not anywhere near $80 a share. So what we come down to is this:
Valuing the Big Fish business going forward.
Big Fish and its industry
Newzoo, the research company that follows the casual and social gaming businesses, forecasted that global revenues in the space would hit $92 billion in 2015. Of that, it believes over $30 billion will come out of the mobile sector representing the fastest growing segment of the market.
For context, a PWC report last year put global casino revenues alone as reaching over $245 billion by 2020. So the switch to mobile from desktop and tablet is what's getting investors giddy about social and casual gaming sites which reflect this growth. Big Fish is one among many reflecting that transition.
From recent earnings calls transcripts and corporate financial presentations, we can get some insight into what Big Fish represents in the mindset of Churchill's management.
It gets the lion's share of attention in corporate presentations.
It gets the biggest chunk of time of all divisions in earnings calls.
Presenters cite the switch to mobile as a growth engine for EBITDA.
Yes, the global casual online gaming sector is a vibrant, fast growing worldwide business. Totally true, but it is also an immensely crowded and bound to get more crowded business.
The US casual/social gaming space is near or totally saturated. Even Big Fish's flagship casino games are starting to move into a pattern of slow declines. Its other biggies like GummyDrop! are doing fine. But the industry writ large literally hangs by its capability of producing an ever new flow of blockbuster games like Angry Birds, etc., Candy Crush, and other big free to play winners from other hit making companies like Google, Zynga, etc.
We think Big Fish, a terrific performer, has captured the imagination of many institutional analysts well beyond its real world potential and thus produced a highly overvalued security in its parent.
In a recent earnings call, an analyst asked a company official about the fact that Big Fish, in its 12 years of successful operation, has as yet never had a blockbuster game. The official's reply, which was straightforward and sensible, was that management was happy with that state of affairs. That its game portfolio indicated stability, longevity of customer retention and all those good things you associate with a stable, well managed business. But leaps and bounds in revenues and earning still come from blockbusters in this space and will continue to do so.
However, facts are facts: And the fact is that without a blockbuster, you'd be hard pressed to see Big Fish exploding into a revenue bonanza that would begin to justify a premium price for Churchill shares. Its growth will be nice, steady with a viable flow of new games from its inventive studio. It will remain a solid contributor. Unlike the rest of Churchill's business, it will continue to grow to a degree.
Here's more food for thought, NewZoo research also indicates that over 86% of ALL growth in the online casual gaming business is now coming from the Asia/Pacific region. That confirms what we believe about the US and European markets slowing into saturation. Big Fish currently operates in 140 countries. It certainly has a footprint there. But as new competitors from Asia itself enter the fray to harvest their share, Big Fish will need to accelerate its marketing dramatically to keep up its growth.
Our takeaway: We believe that regardless of what the earnings release late next month tells us about Churchill's 2015 performance, it remains overpriced entirely based on its prospects as a growth stock. It's just too deeply rooted in legacy businesses and its Big Fish division, a solid performer, could face headwinds in a rapidly crowding marketplace populated by lots of big established companies and new entrants from Asia.
The takeaway: Even though Churchill is a diversified, well-managed gaming enterprise, we think its share price is too much perception and not enough reality.
Our endgame: Short it with hedged puts. Or out and out short it if you have the risk profile and the patience for a six- to nine-month play.
About the author Howard Jay Klein is a 25 year veteran c-level executive of major casino companies. He is a consultant to that industry and the author of Mastering the Art of Casino Management. His views are not standard security analysis but attempt to present a 360 view of companies and the value of their shares.
Disclosure: I/we have no positions in any stocks mentioned, and no plans to initiate any positions within the next 72 hours.
I wrote this article myself, and it expresses my own opinions. I am not receiving compensation for it (other than from Seeking Alpha). I have no business relationship with any company whose stock is mentioned in this article.