There is no denying that the dry bulk shipping industry is currently experiencing significant difficulties, and has been for many years. Specifically, for public dry bulk shippers like Safe Bulkers (SB), DryShips (DRYS), Navios Maritime Holdings (NM), and Eagle Bulk Shipping (EGLE), equities have fallen over 90% in a little over 5 years. This has occurred in light of weak spot rates and time charters amidst a significant industry oversupply. The situation has also been exacerbated given the extended downturn in the normal business cycle, a condition that has only been lengthened by the strong decline in commodity prices.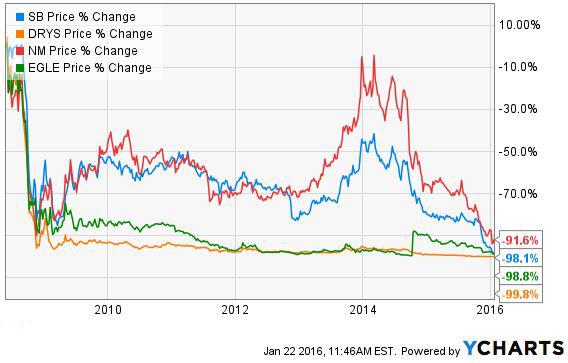 Yet while common sense would suggest that investors should look away from this industry, there are some unique niches that are actually starting to look opportunistic under these present circumstances. For that matter we turn towards Navios Maritime Holdings, and more specifically towards its preferred shares which are now trading at a significant discount. Navios Maritime Holdings currently has two series of preferred shares found in its Series G 8.75% Cumulative, Redeemable Preferred shares (NM-PG) and its Series H 8.625% Cumulative, Redeemable Preferred shares (NM-PH).
| | | | | | |
| --- | --- | --- | --- | --- | --- |
| Ticker | Last Price | Call Price | Earliest Call Date | Coupon Rate | Current Yield |
| NM-PG | $5.22 | $25.00 | 01/28/2019 | 8.750% | 41.9% |
| NM-PH | $4.73 | $25.00 | 07/08/2019 | 8.625% | 45.6% |
For investors unfamiliar with preferred shares, these equities trade like common stock (albeit with significantly less volume) but have more characteristics in common with bonds. For example, the preferred shares have a call price in which the company has the option of redeeming the shares any time after a specified date. They also carry a coupon rate providing yield, and shareholders take precedence over common shares if a company ever has to face liquidation. As such, preferred shares are primarily sought for their income component and general stability as their capital gains can often be limited by the declared call price.
A look at Navios Maritime's Series G preferred shares, for example, currently shows a significantly distressed equity. As of the closing price on January 22, NM-PG carried a current share price of $5.22. These preferred shares support a call price of $25 and a quarterly dividend of $0.54 per share. Assuming the shares are redeemed by the company at the earliest call date of January 28, 2019, this provides the upside potential capital gains for the position at 378% over a 3-year term. Additionally, shareholders can expect dividends that would amount to approximately $6.56 per share over the same period. As such, the total return for this investment would be approximately 505% over those three years.
It's worth noting that the income component alone could currently provide a return on investment. Indeed, if investors are able to receive dividends for the next 10 quarters (or 2.5 years), they would still profit based on the current share price. This is before even considering if the company would be able to redeem its shares at the earliest call date. Of course with such a distressed equity, it is clear that the market has already anticipated that the company will not be able to support these dividends going forward.
However, a closer look the company suggests that the market may have overreacted. First of all, it's important to remember that these preferred shares carry a cumulative clause in which the preferred shares' dividends continue to accrue even if they are not paid on a timely basis. As such, there remains limited benefit for the company to halt the payments of these dividends barring its inability to do so.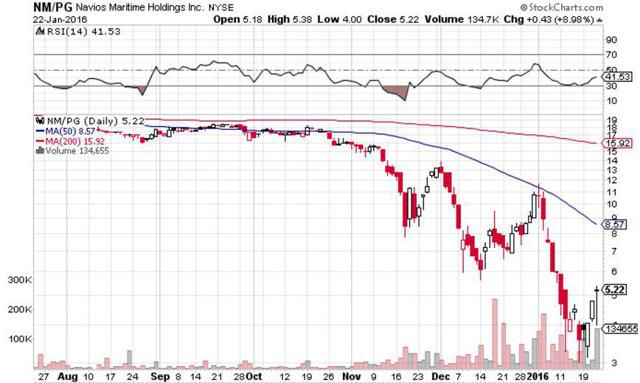 In recent weeks, the preferred shares took a significant dive, and investors found little comfort in the company's halting of common stock dividends announced on the Q3 2015 earnings results. In its place, management announced a $25 million share buyback program over a two-year period. Essentially, this suspended dividend will results in savings of $25.8 million per year. Despite the association of halted dividends, it is important to remember that this action had no effect on the dividend for the preferred shares. Indeed, the company declared the quarterly dividend for its Series G and Series H preferred shares a little less than a month later.
Despite the poor market response to this action, the suspended common stock dividend only bolsters the company's balance sheet and ability to endure the ongoing market downturn. It provides approximately $64.5 million of additional liquidity over the 2.5 years investors would need to in order to turn a profit on income alone from the preferred shares. Yet none of this is to assert that the ability for the company to fund its preferred shares' dividend is reliant upon a suspended common stock dividend. According to the following slide from the Q3 2015 presentation, the company has already covered these dividends from income from its public subsidiaries.
The annual dividend for preferred stock (both Series G and Series H) amounts to approximately $14.7 million. For 2.5 years, this amount would be approximately $36.75 million. I must emphasize that this amount is only 57% of the additional liquidity gained from the suspended common stock dividend over the same period. Nevertheless, as noted in the graphic above Navios Maritime Holdings receives surplus income from its two public subsidiaries found in Navios Maritime Partners L.P. (NMM) and Navios Maritime Acquisition Corporation (NNA).
The income from Navios Maritime Acquisition Corporation alone can almost fund the preferred shares' dividends in their entirety. As I wrote in my article found here, it appears that Navios Maritime Acquisition Corporation is well-positioned to endure this shipping soft patch over the next few years. Investors should bear in mind that the tanker company even has an active share buyback program of $50 million that is simultaneously ongoing with its consistently paid dividend rate.
A look at the company's current operations also fails to reveal any near-term struggles to survive despite the ongoing operational weakness now underway. In the nine months ending in September 2015, operating activities provided the company $22.4 million in cash flows despite the fact the company incurred a net loss of $66 million. Much of this net loss can be attributed to the $76 million in depreciation the company incurred over the same time period. With a young fleet carrying an average age of 7.7 years compared to the 8.8 years of the industry average, there appears to be little short-sighted need to factor in depreciation for the time being.
Additionally, the company controls 65 vessels, but actually charters in 25 of these vessels. This charter-in strategy helps to provide the company with a low cash-flow breakeven point. The company has also fixed much of its entire fleet's revenue days for 2016. With 42.4% of its revenue days fixed for 2016, the company helps to reduce the risk of uncertainty that dry bulk shippers might face on the spot market.
A quick look at the company's liquidity also shows no near-term expirations for income investors to be concerned about. The nearest significant debt maturity would only become due in 2019, which is beyond the 2.5 years that we are immediately concerned about with the preferred shares. As of September 2015, the company's cash on hand was also a comfortable $174.5 million. The company's shareholder equity was also $1.05 billion despite a mere market capitalization of $119 million as of the end of January 22.
While some of fleet's book value may be inflated to its actual market value should the company ever need to dispose of assets, investors should also consider the company's numerous subsidiaries that it also has at its disposal. In particular, the company's public subsidiaries also provide the ability for short-handed liquidity. With an 18.1% limited partner interest in NMM and a 46.5% interest in NNA, the company has access to roughly $195 million in additional liquidity based on its both company's respective market values as of January 22.
Final Thoughts
While I personally believe that Navios Maritime Holdings can survive this market downturn for dry bulk shipping, the point of this article was to show that the company's preferred shares make sense to own right now rather than to debate the company's long-term health. The company's preferred shares currently offer a significant enough discount to be considered on the basis of their income components alone. With only 2.5 years needed before becoming a profitable position, there appears to be limited downside risk having considered the overall health of the company in the near-term.
Navios Maritime Holdings has already secured the liquidity it needs to support the preferred shares' dividends through income received from its subsidiaries. More so, it practically doubles the liquidity it would need if this was not the case through its recent common stock dividend suspension. While there are no certainties in any market, the Series G and Series H preferred shares offer a compelling calculated risk amidst a fearful time for investors. These positions do remain volatile, but the short timeframe needed to make a return should be kept in mind for income investors.
Disclosure: I am/we are long NM-PG, NM-PH, DRYS.
I wrote this article myself, and it expresses my own opinions. I am not receiving compensation for it (other than from Seeking Alpha). I have no business relationship with any company whose stock is mentioned in this article.
Editor's Note: This article covers one or more stocks trading at less than $1 per share and/or with less than a $100 million market cap. Please be aware of the risks associated with these stocks.