Orexigen (NASDAQ:OREX) saw sales of its anti-obesity medication, Contrave, slip by almost 6% this past week. In only the second week of "weight loss season" sales in the sector are already showing signs that growth will be tempered in 2016. Now more than ever, Orexigen needs to get sales volume increased. South Korea is in for approval, and Europe has been approved but not launched. With only Contrave to rely on, increasing sales to levels that keep the street interested is paramount.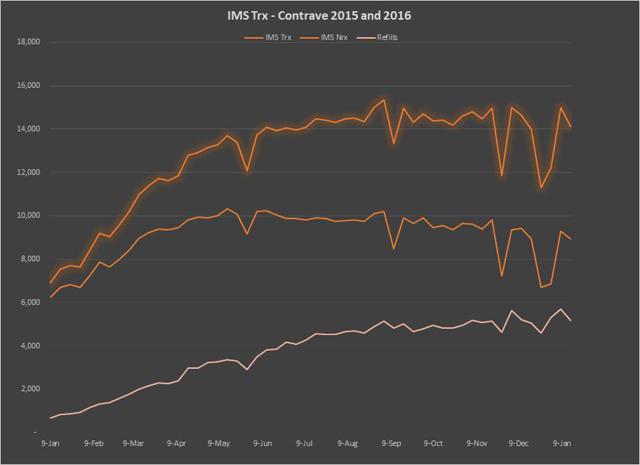 Click to enlarge
Chart Source - Spencer Osborne
On a quarter over quarter basis, Orexigen still enjoys a bit of the "honeymoon" phase where direct comparisons to the previous quarter look good. That being said, we are beginning to see the growth slow down and indeed, the Orexigen "guidance" of low double digit growth in the sector appears to be spot on. At the moment Contrave is pacing 1.19% better than Q4 of 2015. I guess Orexigen can boast being the only player tracking positive on a quarter over quarter basis, but that is not any real consolation for the fact that sales volume is much lower than needed.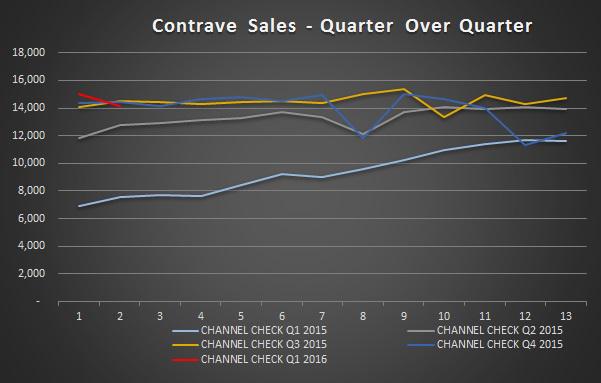 Chart Source - Spencer Osborne
In looking at year over year comparisons, Orexigen likely has a few more quarters where it has the ability to speak about year over year growth. There will be a day in the not to distant future where year over year comparisons no longer show growth. Last year Orexigen was in the neighborhood of 7,000 scripts to start the year. This year, the numbers are double, which is good but expected. Sales this year are pacing 101% better than a year ago. At the moment, growth that is more than double a year ago looks good. The caution is in the guidance of Orexigen, where the company acknowledges that year over year growth will slow greatly.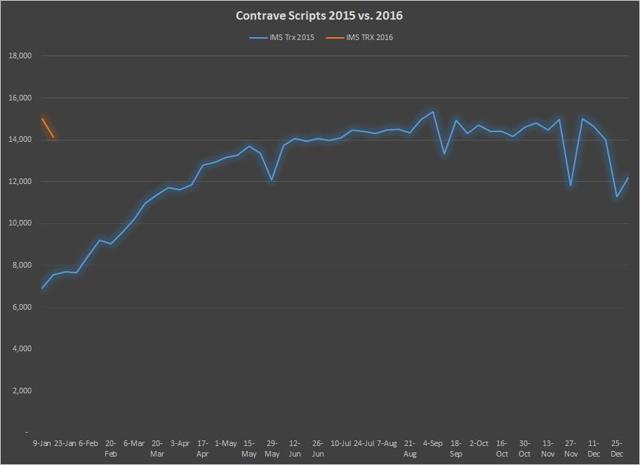 Click to enlarge
Chart Source - Spencer Osborne
From a market share perspective, Contrave remains comfortably ahead of the other branded anti-obesity pills in the space. This past week Contrave saw market share slip a bit to 43.37%. I have long maintained that getting market share above 45% and then 50% are important to this company. That process is going slower than what might be desired. Even with market share dominance in scripts, the script sales levels remain the high concern. Simply stated, the uptake in anti-obesity meds is minimal and seems to have no real fire to be anything above minimal.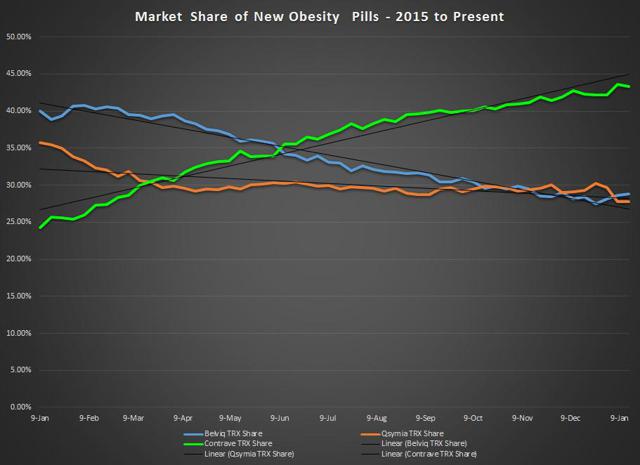 Click to enlarge
Chart Source - Spencer Osborne
What is critical for Orexigen investors to understand is that until the company can create sales volume outside of the U.S., there will be muted excitement surrounding this equity. Contrave is winning a race that is running far slower than needed in the United States. That is enough to claim leadership, but not enough to drive the bottom line in the direction and speed it needs to go. Stay Tuned!
Disclosure: I am/we are long OREX.
I wrote this article myself, and it expresses my own opinions. I am not receiving compensation for it (other than from Seeking Alpha). I have no business relationship with any company whose stock is mentioned in this article.