I have been predicting for months that Under Armour (NYSE:UA) stock would come down to earth. What I did not foresee was Skechers (NYSE:SKX) falling by an even bigger margin. Now that both stocks have produced big losses from 52-week highs, which is the best bet looking ahead to the rest of 2016?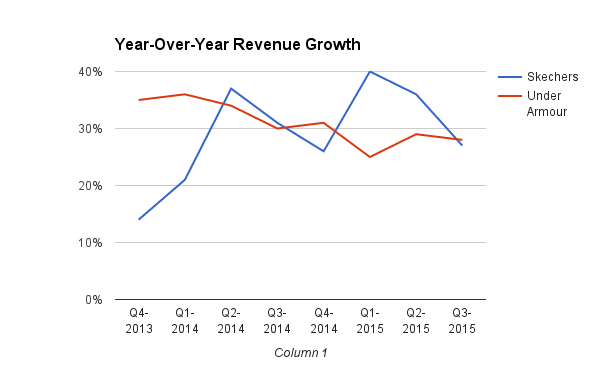 Both Skechers and Under Armour operate in the sports apparel/footwear space, and as evident from the chart above, both are growing very fast.
Like most fast growing companies, Under Armour's year-over-year growth rates have trended lower over the last couple years. While UA is still growing fast, 27.9% during its last quarter, it does not have the 35% growth it produced when it was of smaller size two years ago.
On the other hand, Skechers is quite the opposite. This is a company that was previously growing at an equivalent rate to industry-wide footwear sales. However, Skechers broadened its marketing initiatives, redesigned its lineup of products, and expanded into new product categories. The effect has been an upward trending growth trajectory as it grows larger, something not often seen among retail companies.
The bottom line: Skechers and Under Armour are growing at just about the same rate. For the coming year, analysts expect UA to grow 25% and for Skechers to grow 16%. To be fair, analysts have underestimated Skechers for the last three years. Back when 2015 began, analysts expected Skechers to grow 15%, and it is now on pace for growth of 31% for the full year. Based on this fact, along with Skechers management noting that demand has never been higher, and that it has a slew of product releases ahead in new categories, I think it would be safe to predict that its growth for 2016 exceeds 20%.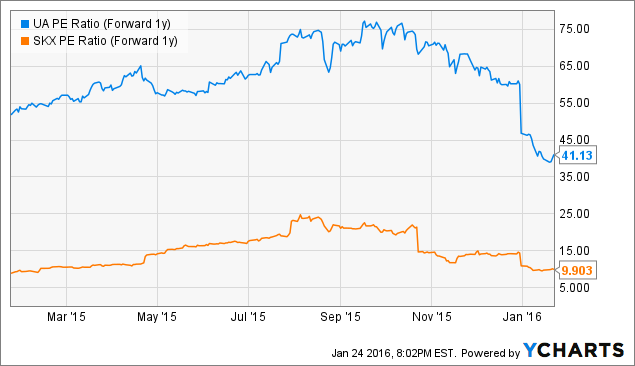 UA PE Ratio (Forward 1y) data by YCharts
With that said, stocks are valued according to their respective growth outlooks. Analysts have high hopes for UA this year with its entrance into wearables and are hopeful that its basketball shoe momentum can stay strong due to its sponsorship of NBA superstar Stephen Curry. For Skechers, the bullish outlook is more about continued market share growth in key categories like walking, running and women.
All things considered, the fact that UA will likely grow slightly faster than Skechers this year, having new industries like wearables to penetrate, one could make a case that it should be the more expensive of the two stocks. However, it is hard to make an argument that UA stock is worth four times greater P/E premium than SKX stock.
At best, UA should be worth a 30% premium to SKX stock, at worst, the two stocks are identically valued. This means one of two things: SKX has a long way to go higher or UA has a long way to fall lower. Or, I suppose there is a third scenario: UA is overvalued and SKX undervalued.
Regardless, the bottom line is that SKX is the best investment moving forward. UA is simply too expensive; even after falling 32% from its 52-week high. Meanwhile, SKX is ridiculously undervalued, a company that is worth far more than 10 times next year's expected earnings.
Disclosure: I am/we are long SKX.
I wrote this article myself, and it expresses my own opinions. I am not receiving compensation for it (other than from Seeking Alpha). I have no business relationship with any company whose stock is mentioned in this article.