Williams Partners (NYSE:WPZ) has had a wild ride over the past few weeks. The stock has sold off alongside other energy related names due to lower oil prices, pushing the distribution yield to at one point above 20%. Though, despite this volatility, the outlook for WPZ operationally has not changed much as it it's a natural gas focused midstream. This view was more or less confirmed given the recently announced 2016 guidance.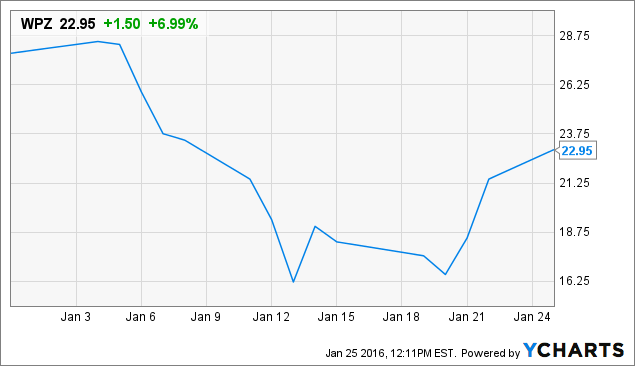 WPZ data by YCharts
Capex budget lowered
For starters, WPZ's capital budget was lowered by 32%, or $1 billion, to a total of $2 billion. The company noted that most of this reduction came from project deferrals, delays, and cancellations due to the weak commodity price outlook.
As for what is not being cut, WPZ is focuses the majority of its capex on building out the Transco pipeline. $1.3 billion is slated to be spent on Transco, with much of this spending focused on expansions and other interstate pipeline growth projects. The company noted that most of these projects are fully contracted with investment grade rated customers.
As for the other $700 million, this spending will be focused on gathering and processing systems. The company noted that this is limited to "known new producer volumes" with wells being drilled and waiting for the connection infrastructure.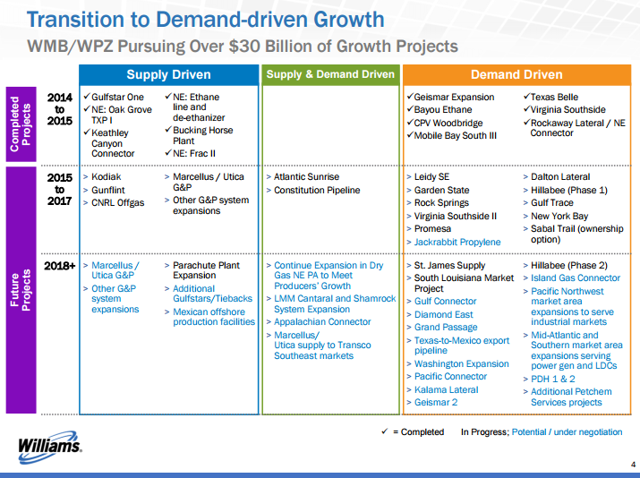 Click to enlarge
Under normal market conditions, these spending plans would be considered fairly low risk. Though, it is likely that a portion of WPZ capex budget will be spent on connecting wells for nearly insolvent producers such as Chesapeake Energy (NYSE:CHK). If CHK goes under, WPZ's contracts may be at risk for a renegotiation.
However, I would caution that anyone who eventually owns these natural gas wells will simply have to use WPZ's systems if they want to get the production to market -- there is no other option for most of these areas as pipeline capacity is limited.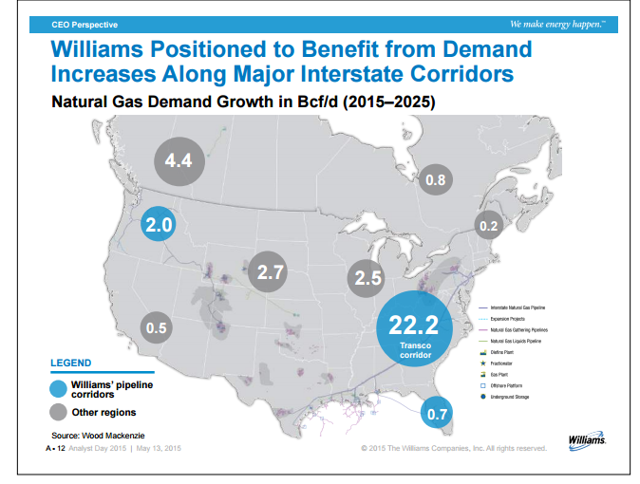 Click to enlarge
Distribution reaffirmed, coverage improving
WPZ also announced a distribution of $0.85 per unit for Q1 2016, inline with last quarter. In other words, no cut. At current prices, the stock yields an insanely high 15%.
Furthermore, the company noted that it expects to post a coverage ratio of ~1.0x for Q4 2015, not including the $209 million IDR waiver from Williams (NYSE:WMB) due to the termination of the merger agreement.
This is good news as it means that WPZ was able to fully cover the distribution for 2 quarters in a row (Q3 was 1.04x). This also marks an improvement coming off fairly poor coverage ratios of 0.89x and 0.97x for Q1 and Q2.
How is WPZ funding its capex budget?
As to how WPZ is funding its $2.0 billion capital budget, the company is using two platforms. The first is debt. Last week, WPZ's Transco LLC subsidiary privately issued a $1.0 billion senior note with a 7.85% interest rate.
While the cost of capital is extremely high, it is much better than the equity -- WPZ noted that it does not plan to issue any public equity or public debt in 2016.
Furthermore, that WPZ was even able to float debt is a testament as to how strong the company is. Most energy firms have been locked out of the capital markets due to low oil prices. WPZ noted that it plans to maintain its investment-grade credit rating, current at BBB-.
As for the other $1.0 billion in capex funding. WPZ noted that it plans to undergo various "asset monetizations" during 2016. The company did not provide much detail into this. Nor is it clear what assets are going to be sold and to whom.
Little new info on Williams
While there was a ton of info released on WPZ, very little regarding WMB was discussed. WMB did not declare a dividend nor was any guidance was given regarding the dividend coverage ratio.
Nevertheless, the fact that WPZ is doing well is good news for WMB given that it owns most of WPZ limited partner interest and 100% of the general partner.
As for the looming merger, a few days back, WMB announced that it remained committed to completing the merger with Energy Transfer Equity (NYSE:ETE). Rightly or wrongly, WMB has been trading in lock-step with ETE ever since ETE made its first unsolicited takeover offer.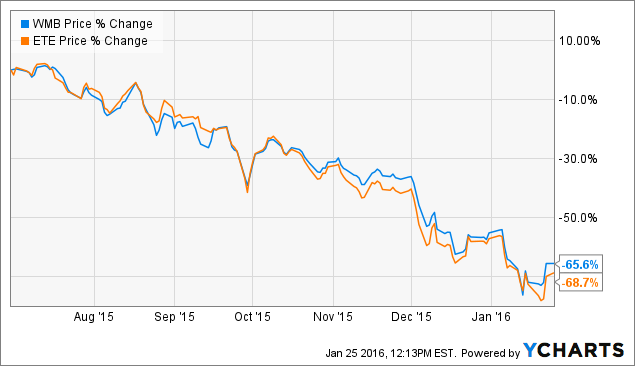 WMB data by YCharts
Conclusion
Overall, it appears WPZ is doing well. While there are some issues, such as the risk of some of its customers going bankrupt, the core fundamentals of the business remain intact. Coupled with the reaffirmed distribution, I expect WPZ to eventually recover-- there is no reason this stock should be yielding 15%. Though, as always, the price action mostly will follow oil higher and lower.
Disclaimer: The opinions in this article are for informational purposes only and should not be construed as a recommendation to buy or sell the stocks mentioned. Please do your own due diligence before making any investment decision.
Disclosure: I am/we are long WMB.
I wrote this article myself, and it expresses my own opinions. I am not receiving compensation for it (other than from Seeking Alpha). I have no business relationship with any company whose stock is mentioned in this article.