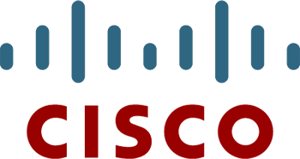 With the recent pullback in stocks, there are several inexpensive dividend-yielding securities out there. One of those names is Cisco Systems (NASDAQ:CSCO), the connections, routing and communications tech giant. Cisco is an "old tech" name. Its heady growth days are long behind it, and so many "tech" investors have abandoned the stock.
In my opinion, and certainly from what I've noticed, tech investors aren't big fans of dividend-paying stocks. To them, a tech company is either ahead of the curve or on its way to obsolescence. That's exactly why shares of Cisco haven't done too much over the last handful of years. Have a look for yourself.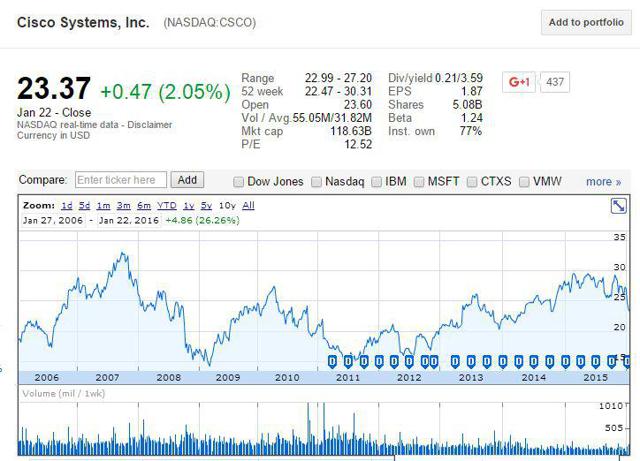 Click to enlarge
Courtesy of Google Finance.
Shares of Cisco have pretty much treaded water since 2008. What's going on here? Well, I believe that growth-minded tech investors are leaving Cisco, and income investors are slowly taking their place. Notice that, since the company started paying dividends in 2011, the share price has been slogging upward? I don't believe that is an accident.
So are the growth investors right to sell? Or are the dividend investors right to buy? Well, I don't know, but as a dividend investor myself, I'm looking at Cisco and really liking the numbers.
Cash machine with a stellar balance sheet
Cisco Systems has a very clean balance sheet with $21.6 billion in long-term debt and a fantastic $59 billion in cash and equivalents. No, that's not a typo. The company's debt is rated A1 by Moody's, and is solidly within the investment grade category. Cisco also is a low-capital, cash generating machine. For example, over the last 12 months the company has generated $12.8 billion in operating cash flow and has spent only $1.2 billion in capex. Last year over 90% of earnings were either distributed as dividends or as share buybacks. Management has an ongoing pledge to return at least half of all earnings to shareholders. Over time, that's going to be a lot of money.
Cisco started paying its dividend back in 2011, starting with 24 cents per share. The company now pays 84 cents per share. Despite slow-to-no revenue growth, Cisco's dividend has quite a long runway of growth ahead of it. Over the past 12 months Cisco has paid $4.3 billion in dividends, only 36% of free cash flow.
Growth prospects and valuation
Cisco's long-term plan involves 4%-6% revenue growth. However, as with most multinational companies these days, Cisco is getting hit hard by a strong US dollar. Expectations for the next quarter have been brought down to 0%-2% revenue growth. Last quarter revenue went up 4%. Earnings per share, however, increased by a much nicer 9.3%. This big earnings increase comes largely from share buybacks and cost management, in addition to modest revenue growth.
Looking at revenue by segment, both wireless and security were up 7% apiece. Switching revenue increased 5%. On the downside, NGN router revenue dropped 8% and service provider revenue declined 2%.
As far as valuation goes, Cisco is downright cheap. Currently the stock trades at 10.4 times expected calendar earnings for 2015. According to data from FAST Graphs, Cisco's average valuation has been 14.4 times over the last 10 years. That puts the stock at a 28% discount to its average valuation. That, in my opinion, makes Cisco worth buying right here. On top of that, you'll get a healthy 3.6% dividend yield.
Conclusion
Of the dividend payers out there, Cisco is a good buy. You might not get the flashy, earnings high-growth stock which Cisco used to be, but I believe that Cisco at least has a long streak of dividend growth ahead of itself. I suspect that Cisco doesn't have a whole lot of upside right here because I just don't see any upward catalysts. After all, everyone already knows about the company's buyback program. However, as long as dividends continue growing, I think that more and more dividend investors will begin paying attention to this stock, whereby I believe the price will rise. Until that time, you'll get a nice, sustainable dividend yield.
Disclosure: I am/we are long CSCO.
I wrote this article myself, and it expresses my own opinions. I am not receiving compensation for it (other than from Seeking Alpha). I have no business relationship with any company whose stock is mentioned in this article.