By Ivan Y.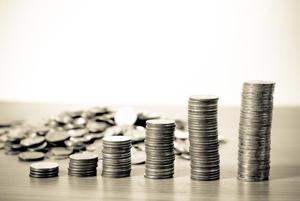 It's been several months since I've written about silver. Since then, silver has continued to drift sideways or lower as it approaches its bear market bottom. Since the middle of November, silver has traded in a tight range between $13.75 and $14.5 and has basically gone nowhere. Traders are probably bored, and so are most people who follow this market. This has happened despite the big announcement by the Fed in December of raising rates and the strong positive seasonal price movements at the beginning of the year that silver usually experiences. More than likely, the rate hike was already priced into the market. That certainly didn't catch anyone by surprise. Seasonally, the silver price has increased in the two-month period of January and February in 10 of the last 12 years with 2010 and 2013 being the only exceptions. In 6 of those 12 years, silver has risen by at least 10% in this two-month period, including a spectacular 33.5% increase in 2008 and a 25.3% increase in 2012. So far this year, spot silver and iShares Silver (NYSEARCA:SLV) are both up by a measly 1.4%.
It's become quite boring and discouraging to see silver treading water at these low prices. Prices that are below the average all-in cost of production at primary silver mines. This boring price movement may be coming to an end soon. Silver could certainly drop to lower lows, but I think the bias should be positive for the short-term and for 2016.
In the short-term, the best indicator of future price movements is probably the Commitment of Traders report released every Friday afternoon. The most recent CoT report shows that the large speculators are net long 28,958 contracts (or about 145 million ounces of silver) and the net speculative length is 22.6%. Since the beginning of 2013, the large speculators have on average been net long about 19,800 contracts and the net speculative length has averaged about 18.3%. These numbers do NOT suggest an imminent rally in silver because the large speculators are holding higher net amounts of silver contracts than the average. So why do I think silver can rally now? It's because of the CoT report for gold. The CoT report for gold shows a completely different picture than for silver. For gold, the net speculative length is about 9.8% compared to the average of roughly 25% since the beginning of 2013. This is extremely positive for gold. So while the CoT report for silver is slightly bearish, the CoT report for gold is very bullish. I believe in this scenario that gold will pull silver up with it due to their strong correlation with each other.
On a technical basis, one should also note that the 20 dma is about to cross over the 50 dma. For SLV, they are separated now by only 9 cents. Note the three previous examples in the past two years where SLV rallied when this occurred (June 2014, January 2015, October 2015). They are circled in green.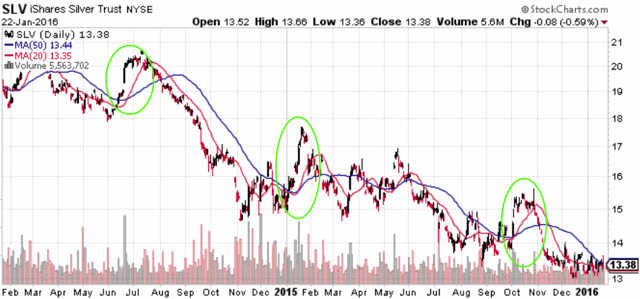 Click to enlarge
Looking ahead for the rest of 2016, I see the bear market for silver ending this year or in early 2017 at the latest. Production by some large silver miners is finally expected to decline this year (e.g. Silver Standard). In the last few years, silver production has stubbornly refused to drop despite lower prices.
The uncertainty of the U.S. presidential elections at the end of the year should also provide a boost to gold, specifically, which should also by correlation pull up silver. Currently, Hillary Clinton has slightly more than a 50% chance of winning the election. That is according to off-shore oddsmakers. This year is certainly not like 2004 when George W. Bush was a stone cold lock to win the election, or 1984 with Ronald Reagan. Gold performs well in times of political uncertainty and this year we have it in the United States.
Another reason why I think the bear market will end this year is due to the fact that, historically, bear markets in silver have only lasted a maximum of 6 years. Since 1980, the longest bear market for silver was from April 1987 to March 1993 when silver fell from a high of $9.44 to $3.56. This current bear market began in April 2011, which puts the ending time in March 2017 at the latest.
Even if the bear market is not over yet, I think silver is low enough and we are close enough to the bottom both on a price basis and a time basis for silver investors with a long-term view to start buying in tranches (i.e. in pieces).
Disclosure: I am/we are long SLV.
I wrote this article myself, and it expresses my own opinions. I am not receiving compensation for it (other than from Seeking Alpha). I have no business relationship with any company whose stock is mentioned in this article.