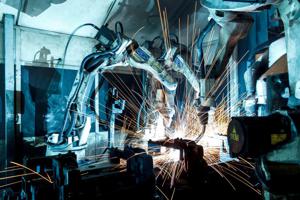 As a millennial investor, who somewhat luckily started out right around spring 2009, one of the more fascinating aspects of the post-financial crisis world has been the current tech (and media) cycle that has ran alongside one of the strongest bull markets on record. Okay, the latter has undoubtedly been helped by some pretty active central bank policy, but the tech cycle has delivered some truly amazing developments over the past seven or eight years. We have seen the rise of smartphones - devices that can be portable computers, cameras, web browsers, maps, music players and video recorders all in one, as well as the development of cloud computing, social media, streaming content on demand and ultra-high speed mobile Internet to name just a few others.
In particular though, what is standing out with the current technology cycle is the huge corporate profits being generated in the sector. Consider the largest four US-based tech/media companies by market cap: Apple (NASDAQ:AAPL), Alphabet (NASDAQ:GOOG) (NASDAQ:GOOGL), Microsoft (NASDAQ:MSFT) and Facebook (NASDAQ:FB). Between them, they are estimated to generate about $92bn of earnings for 2015. In 2014, the figure was $79bn.
While it's clear that there has been a huge amount of profit growth as the sector has delivered new products, and new ways for us to consume our old products, it still offers one of the best bets in terms of growth going forward. As an investor though, what is the best way to capture that in an area that produces very rapid product cycles and disruptive technologies? Unless you're someone who is very confident in identifying and knowing how to react to technological changes (and there are many great contributors right here on Seeking Alpha who offer that kind of insight), it can often be tough to make long-term investing decisions in a way that is much less so in "traditional" sectors.
I've definitely flip-flopped in and out of stocks such as Apple and Microsoft a few times in a way that I would probably never do in other large caps due to this reason. Amazon (NASDAQ:AMZN), Tesla (NASDAQ:TSLA) and Netflix (NASDAQ:NFLX) are all big name stocks that many investors (myself included) have turned away from based on fundamentals, yet they've undoubtedly been outstanding investments for those who backed their disruptive potential. So is tech different, or is it just all part of the usual speculative cycles? More importantly, how can investors put together a coherent portfolio strategy in such a sector, especially those who are naturally more long-term orientated?
Trying out rules-based investing
A big part of taking tech stocks in isolation is whether to apply the same kind of valuation and quality metrics as in other sectors. Amazon is one of the best examples of this I can think of.
Conventional metrics of valuation, such as earnings or free cash flow, would never have really supported an investing case over the last several years. Margins at a quick glance have declined, as has cash return on invested capital, yet the stock has five bagged since 2009, which is roughly in line with sales growth (28.8% CAGR in share price appreciation versus 28% CAGR in sales). So has Amazon largely seen speculative price appreciation, a fundamental change in evaluating stocks or does the market see a clear route to the levels of profitability that will eventually bring fundamentals in line with value (or some combination of those three)? Whichever is ultimately the case, having any set of screening rules would probably screen out a stock like Amazon, which has been a great investment over the last 10 to 15 years. However, at the same time, such a process can eliminate the kind of speculative investments that can and will present a real risk of permanent capital loss going forward.
So in terms of tech and media, what kind of things make sense for a selection strategy? Identifying competitive advantages is a key in an environment that is rapidly changing and innovating, so above-average margins and high cash return on invested capital might make sense as base selection criteria. The purpose being to identify the kind of products and services that are really gaining traction or are already established. Generally speaking, it is a relatively capital-light sector, so low capital expenditures relative to operating cash flow might also be included. Finally, we would want to include some measures of growth and value to make sure we are looking at companies that have seen growing demand for their products or services and are at least trading at reasonable valuations. Quantifying those things and we might generate something like this, which are the kind of factors I'm applying to my own tech portfolio:
Cash return on invested capital > 10%
Five-year average operating margin - top 15% of sector
Five-year sales growth - top 50% of sector
Ratio of capital expenditure to cash flow - less than 30%
Price to free cash flow - less than 25
These don't have to necessarily mean a rigid trading strategy, but what it does hopefully do is to strictly focus attention on the underlying businesses (as well as their stock prices) and remove some of the emotion that can creep into buy-and-hold strategies. Apple, for example, would have passed the screen comfortably in every year since 2010, and so rather than rack up trading costs on my worries about things like declining iPad sales and peak iPhone, it could have provided me the confidence to hold, at least until either the fundamentals deteriorated or the stock started trading at a much more expensive valuation. In retrospect, I wouldn't have been any better or worse off treating the stock in a more logical way, except I would have avoided handing over 3x as much dealing costs to my broker in the process.
It is also worth quantifying ideas about quality, value and growth to be able to compare how these strategies have performed relative to the wider benchmark. Using the NASDAQ as a tech proxy and applying the above criteria to the 25 largest listed stocks by market-cap, and rebalancing annually, would have returned the following performance over the past decade: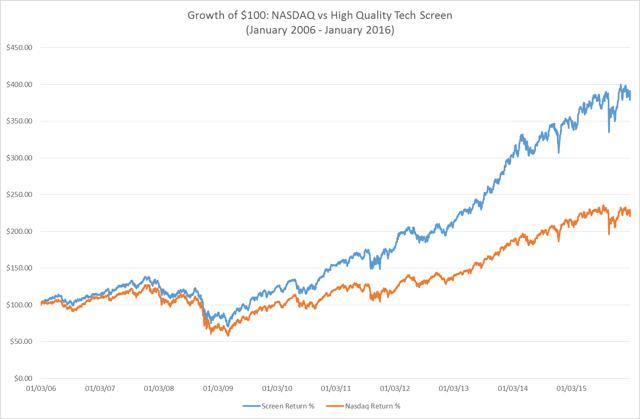 A pretty good outperformance and a slightly lower drawdown, with the screen returning about 14% CAGR versus 8.25% CAGR for the NASDAQ. However extending the start date back by another five years to 2001 and you can really get a feel for the disastrous effects that inflated valuations, rampant speculation and market bubbles (in this case the dot-com bubble) can have on returns: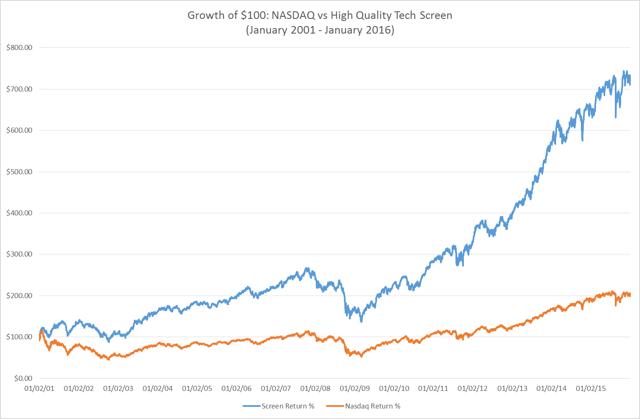 Granted it would have taken an extremely unlucky investor to start investing at the peak of the dot-com bubble. And they would have to have been even more unlucky to sink all their capital, but even so, sticking to general rules on quality, value and growth can help reduce the risk of capital loss and underperformance while still benefiting from the future growth in the sector. This is especially true when picking individual stocks over the wider index funds. Any investor actually unlucky enough to have bought a NASDAQ tracker at those values would only have seen around 4.7% CAGR throughout what has been an amazingly innovative and profitable cycle. The flip-side to that coin is that the high-beta stocks have seen outstanding returns at the start of the cycle.
By playing it safe, you're probably not going to pick up those two-year five-bagger stocks such as Tesla and Netflix, but they are probably the kind of stocks that would give some investors sleepless nights over their business model anyway, especially at the wrong end of a cycle. For every high-beta tech stock that couldn't make the cut in a traditional way though, there are those under-covered diamonds such as Ansys (NASDAQ:ANSS). This company will quietly keep on compounding in the background, generate a ton of cash, require few sleepless nights and will hopefully still be there during the bad times.
Another important consideration is how to get meaningful diversity across the tech and media spectrum. There are many different possible ways to break tech and media down, but broadly speaking, we might go with something like this:
Consumer technology and social media
Corporate and enterprise technology
Traditional media and service providers
Financial technology
There's undoubtedly a lot of different directions to go in here, for example where will the automotive industry feature on the tech spectrum? It's pretty difficult to predict truly disruptive technologies, and things like driverless cars being developed by Alphabet may or may not end up becoming historically significant innovations. At this point, nobody really knows. So, in that sense, it can be helpful to remain broadminded in terms of diversification by trying to capture broad sub-industries rather than very specific product ideas.
Let's consider my own tech holdings in this way. I've got a large concentration in financial tech stocks, which probably tells me I should be looking at media, consumer and corporate/enterprise technology for a bit more diversification.
Stock

CROIC

5Y Operating Margin

5Y Sales Growth

Capex To Cash Flow

Price to FCF

Category

Priceline (NASDAQ:PCLN)

22%

34.2%

29.3%

5%

20.4

Consumer

FactSet Research (NYSE:FDS)

52%

32.8%

9.5%

8%

22.0

Financial

Jack Henry (NASDAQ:JKHY)

22%

24.3%

8.5%

15%

22.4

Financial

MasterCard (NYSE:MA)

38%

53.4%

13.2%

5%

29.4

Financial

Cisco (NASDAQ:CSCO)

14%

20.9%

4.6%

10%

10.3

Enterprise

Visa (NYSE:V)

20%

60.7%

11.5%

6%

29.0

Financial

Average

28%

37.7%

12.75%

8%

22.3
Looking at the averages, the portfolio contains capital-light and very cash-generative underlying businesses, strong competitive advantages and good recent growth rates. The valuations are a bit on the lofty side, but still fine assuming the growth rates remain robust going forward. But on an industry approach, it is too geared towards financial technology, particularly electronic payments solutions, and could be exposed to potential changes in that area. Even within the tech sector, investors can get very broad diversification that will protect them from truly disruptive newcomers.
For a lot of us though, the tech sector can prove a tougher place to invest in due to its rapidly developing nature and in many cases complex products and business models. High-beta stocks can certainly offer outstanding returns, especially towards the start of the cycle, but often these rely on speculation or a deeper understanding of the business and potential routes to reconcile traditional metrics with current value. While employing a rules-based investing approach will often take away the speculation part as well as its associated gains, it also gives you a better chance of protecting capital, avoiding unnecessary risk and still generating excellent returns. This is even more so in an area that has been, and will continue to be, a source of growth and exciting innovation. After all, a lot of people could live with missing out on an Amazon or Tesla as long as they're getting a Visa, MasterCard or Ansys in return.
Disclosure: I am/we are long V, MA, JKHY, CSCO, FDS, PCLN.
I wrote this article myself, and it expresses my own opinions. I am not receiving compensation for it (other than from Seeking Alpha). I have no business relationship with any company whose stock is mentioned in this article.