At the end of each episode of my favorite TV shows, BNN's Market Call and Market Call Tonight, the varied, dignified, professional guests provide three "Top Picks" to be revisited, usually a year later, for the central "Past Picks" segment. Now that I am working more significantly with options, I am daily mining the "Top Picks" for possible options trades. After all, the reputation of the guests rests on their picks, and these are stocks they think have the best chance to appreciate over the next year. This is how Concordia Healthcare TSX:CXR or (NASDAQ:CXRX) came to my attention. It was during the research to write the option that I realized CXR actually might be a great opportunity for far more than just an option, and it has been. Altagas TSX:ALA, or (OTCPK:ATGFF) is one of the companies that is regularly discussed on Market Call and has been chosen as a top pick and identified as a "core holding" by more than one guest.
AltaGas is an company that I think is currently mispriced and misunderstood by the market. It is the baby thrown out with the Alberta Oil and Gas bathwater.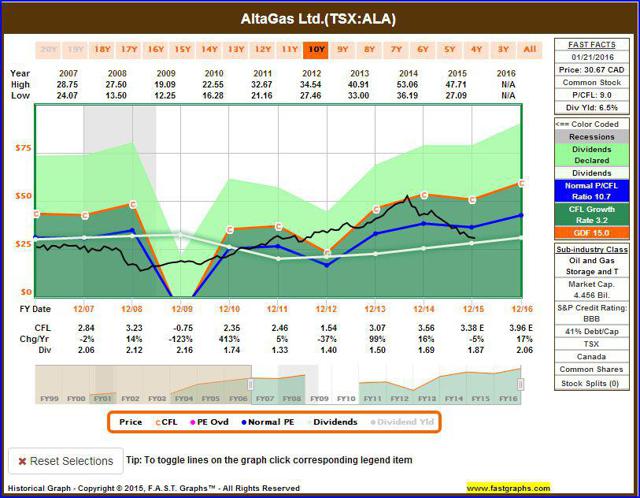 Click to enlarge
David Cornhill has been the CEO of AltaGas since its inception in 1994. After 22 years, he is retiring on April 15, 2016. This was announced far in advance on October 28, 2015. Mr. Cornhill will remain on as Chairman and Founder, and will be succeeded by David Harris who has 25 years in energy infrastructure and 5 years with AltaGas and is currently President and COO.
Their business is dividend into three segments Gas, Power, and Utility. From the company website: "The company's strategy is to execute opportunities created by the renaissance of natural gas and the need for clean energy. Through this strategy the company has built a portfolio of gas, power, and utilities assets. AltaGas' gas segment gathers, processes, transports, stores and markets natural gas and natural gas liquids, touching more than 2 Bcf/d of natural gas in Canada. The power segment is comprised of over 1,400 MW across five fuel types. In the utilities segment, AltaGas owns and operates utilities in Alberta, British Columbia, Nova Scotia, Michigan and Alaska that safely and reliably serve over 560,000 customers."
I think shorter-term investors have mistaken the company for its name, thinking it is only Alberta gas, not realizing it is really an utility and energy infrastructure company with breadth and depth. I will confess to being one of those people. I originally bought ALA back in 2012, buying and selling a few times by mid-2013, still following a bit of swing trading pattern since I did not understanding the company well. Since then I have fully transitioned to a longer-term dividend-growth investor. AltaGas went back on my list of "buy for the very long term" early last year.
Only a small percentage of AltaGas' revenue is directly related to the natural gas commodity, so the 30% drop in the share price is a unique opportunity to pick up a mispriced holding. Almost half of their EBITDA comes from the United States, so ALA will also benefit from the lower Canadian dollar, a convenient way that Canadian investors can effectively earn USD with their CAD. AltaGas also owns unique assets, one of which is the only natural gas pipeline to Canada's west coast. 35% of the earnings come from utilities, 25% from contracted midstream and 40% from contracted power. This is one of the most diverse companies in the Canadian energy infrastructure space.
They have been consistently building new projects and have brought McLymont Creek and Forest Kerr Hydroelectric plants online on time and on budget. The Volcano Creek project is also complete, two years ahead of schedule. These new projects are already fully contracted.
On January 20, 2016 AltaGas announced the proposed Ridley Island Propane Export Terminal, the first propane export terminal on the west coast near Prince Rupert. It is still in early stages. On November 30, 2015, ALA purchased GWF Energy, which has three natural gas-fired electricity plants in northern California. With a strong balance sheet, this is a company on the move, not one shrinking and hiding in the current economic environment. I want to partner with the acquirers.
Dividend
The ex-dividend date is monthly on the 26th of the month (or the next business day if it is a non-market day), paid out on the 15th of the following month. It is an "eligible dividend" which means it qualifies for the Canadian Dividend Tax Credit. It has an advantaged DRIP program at 95% of the average market price.
The five year history of the dividend is as follows:
2011: $1.33
2012: $1.40, an increase of 5.26%
2013: $1.4925 an increase of 6.43%
2014: $1.69 an increase of 13.42%
2015: $1.885 an increase of 11.54%
The five year CAGR is 9%. The two raises in 2015, in May and October show a level of confidence in the company from the Directors and Management. Considering the dividend is currently 6.31%, they may not raise the dividend this year. We will see. There is not a specific pattern of raises at any particular time of the year so the management has not created expectations for a specific time.
It is a pet peeve of mine that most portfolio managers say outright that stock splits are of no value to investors. I find them very valuable in the dividend and options writing departments. It is difficult for smaller retail investors to DRIP shares when shares trade at a high price or to write an option when 100 shares alone represents a large investment. Canadian brokerages do not allow fractional DRIPs, so if your dividend is not enough for whole shares, too bad. You get the difference paid as cash, but with no advantage to it.
It is the same story with companies who pay monthly dividends. As lovely as it is to have regular monthly income, I think quarterly dividends are a better deal. If I am capable of managing investments, please do not insult me by thinking I cannot manage my cash flow on a quarterly basis. In order for the monthly payment to qualify for the advantaged dividend, an investor must have nearly 200 shares of ALA (allowing for some appreciation room) to get one advantaged share. If, just for example, I had 500 shares, I would receive 24 shares a year in an advantaged way on the monthly payment, but if the dividend was paid quarterly, I would receive 28 shares with the advantaged dividend for no more investment! Okay, you are right, I am talking about nickels here and being able to compound the dividends much faster. This is not big money here, but still, with a time horizon from 30-50 years, it adds up!
There is also less administrative cost to the company with quarterly dividends, leaving more income for investors to share. But, no-one asked my opinion on the topic, so I will just happily collect my monthly ALA dividends. You must admit: it is pretty cheerful extra paperwork!
Analysts
Out of ten analysts covering the stock, two consider it a "Hold", one a Strong Buy, with seven rating it a "Buy". 12-month price targets range from a low of $33 and a high of $46, with a mean of $38.40. If it moves from here ($31.38) to the mean, that represents a capital gain of 22% in addition to the dividend of 6.31%. That's a hefty one year gain and I do not have the same expectations. Of course, I wouldn't complain! For me, buying a stock at this kind of discount simply gives me a nice margin of safety in the purchase. My goals have changed from needing specific gains to just wanting to increase the income we will have when we retire. I am confident that a purchase of AltaGas will help me meet my goals.
Earnings
Earnings are expected to increase significantly for each quarter over the same quarter in the previous year as well as year over last year.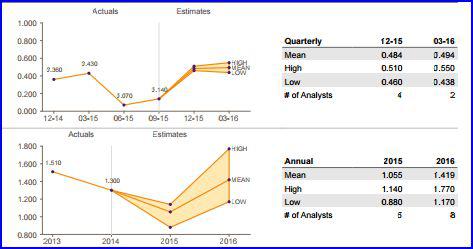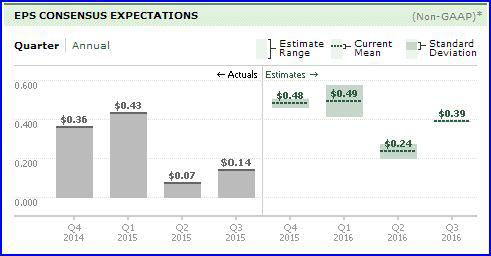 AltaGas is a stock I identified more than a year ago that I wanted to own for the long term in my portfolio, but at that time it was a case of overpaying for a modest yield. At the highest price, the yield was 3.3%. On April 20th, 2015, I bought a small holding, thinking that since the share price had gone sideways for a month, the drop was over. I was definitely wrong and it pretty much continued to fall ever since. Things have changed, though. Now it sells at a discount and is a high yield stock, an accidental high yielder, if you will.
I sold for a fairly small tax loss on September 16th and began to write options to buy back at a lower price. Using options with AltaGas also been a great loss reversal strategy for me. Four cash-secured puts have been written in succession, three expiring worthless. This strategy has recovered twice the amount of the loss just in premiums.
| | | |
| --- | --- | --- |
| Write Date | Expiry Date | Strike Price |
| 15-Sep-2015 | 19-Sep-2015 | $34 |
| 21-Sep-2015 | 16-Oct-2015 | $34 |
| 14-Dec-2015 | 18-Dec-2015 | $29 |
| 21-Dec-2015 | 19-Feb-2016 | $30 |
I wanted some shares, both to have them in the portfolio, but also to average the gains of the premiums into in order to defer the tax bill, so on December 23rd, I purchased a slightly larger small holding for $31.15/share. I still have the fourth put for 19 February $30, and either outcome would be equally acceptable to me, but I really do want to own these shares.
AltaGas is one of the mid-cap Canadian stocks that I have found to be worth the effort of options. Often the safe largest cap stocks do not have enough premium to take on the risk (risk of owning, risk of not owning, plus the opportunity cost).
My strategy for AltaGas will be to continue to keep writing puts until the stock is put to me, at very least. Since I have already bought some of the shares I want, if I get put the shares in February, I will end up with an extra large holding. Instead of trimming it by selling shares into the market, or writing calls, I could donate shares so that I do not have to pay any capital gains tax. With the premiums averaged in, my current ACB is $24.04. The current share price represents a gain of 30% over my ACB. Not a bad result for a stock that is currently down 40% from its July 2014 highs and has lost 30% from the February 2015 highs.
I think AltaGas is a company worth taking a look at. There is more than meets the eye here. The stock and dividend are not as exposed to the Alberta oil and gas market as one would think and the regulated utility side provides a measure of safety to the company's earnings and the currently outsized dividend. I am confident in partnering with this company at this time for the very long term. The market may or may not give a better opportunity to buy in than today's price, but I am convinced that I will not be disappointed in this holding a few years from now.
Disclosure: I am/we are long ATGFF, IPPLF.
I wrote this article myself, and it expresses my own opinions. I am not receiving compensation for it (other than from Seeking Alpha). I have no business relationship with any company whose stock is mentioned in this article.
Editor's Note: This article discusses one or more securities that do not trade on a major U.S. exchange. Please be aware of the risks associated with these stocks.