In the technology sector, investors must differentiate between companies that have high an in-demand, growth product in its pipeline and those who keep promising something new but never deliver. For Himax Technologies (NASDAQ:HIMX), the market is still undecided on its prospects. In the last two years, the stock traded in a narrow range between $6.25 and $8.75. After closing exactly in the middle of that range at $7.21, it is time to check if this year will be Himax's breakout year.
Since signing an investment agreement with Alphabet (NASDAQ:GOOG) (NASDAQ:GOOGL) in July 2013, Himax fell and has yet to reach those past highs. Alphabet did not exercise its right to buy more shares in Himax. On November 2014, the search giant chose instead to invest in Magic Leap (Private:MLEAP).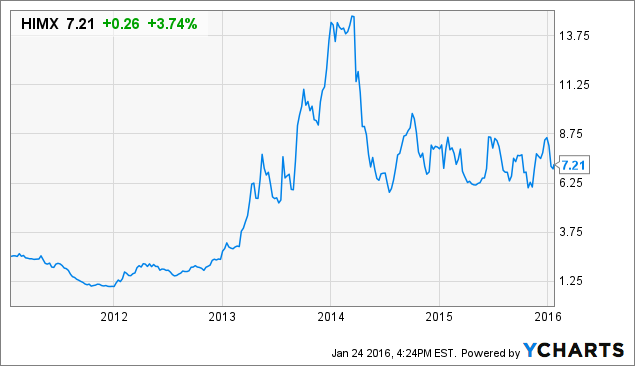 At its current share price, Himax still is not cheap. Its PEG is 2.77 times, while its forward P/E is nearly 30 times. Because Himax operates in a broad range of sectors, these multiples are justified. The sectors include large and small display drivers, CMOS image sensors, LCOS micro displays, and touch panel controls just to name a few market segments.
Few catalysts just yet
The broad selloff so far this year should not have a long-term negative impact on Himax's stock price. Insider ownership is 31.6 percent. Himax also has a 77.5 percent payout ratio, well-within its historical average: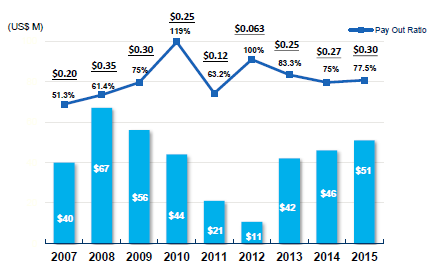 Source: Himax Technologies
Himax's reported steady gross margins in the last two years, although it fell slightly from fiscal 2014 (at 24.5 percent) to 23.8 percent in 2015. This year, firms like Facebook (NASDAQ:FB) and Microsoft (NASDAQ:MSFT) are pushing VR (virtual reality), through Oculus and Hololens, respectively. This will finally give investors the catalysts they are looking for.
There is one hiccup for Oculus' launch: the product will sell for around $600. This is nearly double the $350 Oculus' founder quoted before the launch. The high price will mean lower revenue for Himax. One survey suggests weak initial sales: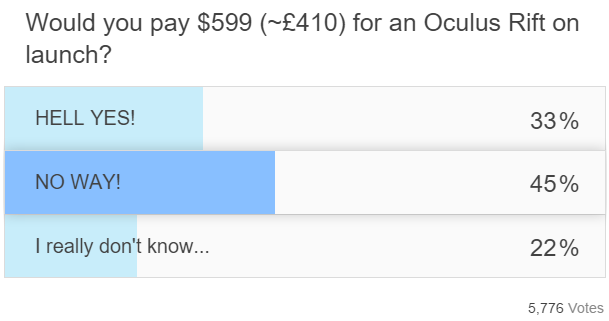 Source: alphr.com
Oculus will give Himax positive exposure to the industry, but the supplier has a healthy list of customers. In the LcOS microdisplay field, Himax's customers include Lenovo (OTCPK:LNVGY), 3M (NYSE:MMM), and Samsung (OTC:SSNLF).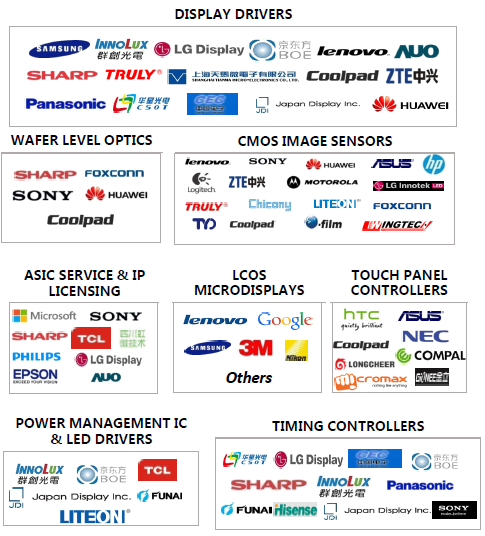 Headwinds in driver IC Market
Himax may face weaker driver IC (integrated controller) sales this year. In its first quarter of 2015, Samsung represented 23.1% of demand. Driver IC market share grew in three of four market - up for large panel, smart phone, and tablet but down for auto. Samsung's weak outlook for 2016 will likely mean Himax will struggle with growth in this market.
Buy and hold
Himax will likely report uneven revenue growth this year given the uncertainties announced by its customers. For next year and beyond, the firm will win more business from customers needing LCOS microdisplays in head mounted technology. Its existing customers began pilot projects for this technology, ordering small volumes by the end of September 2015.
Lower smartphone and tablet sales may hurt Himax this year, but chances are good the company wins disproportionately higher market share for TDDI, or touch controller ICs. It already has some of the biggest firms as its customers. Its customers in Asia include Asus, Sony (NYSE:SNE), Foxconn, and ZTE.
Your takeaway
I expect Himax to report full year revenue that grew over last year, thanks to its technology used in many applications.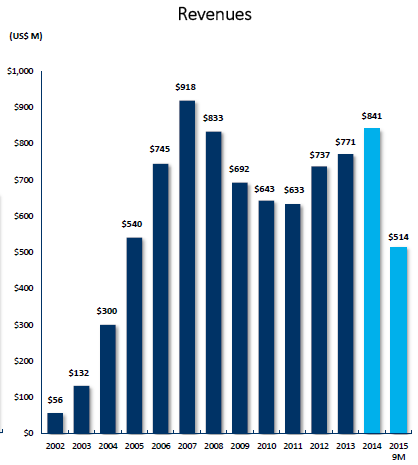 Himax's stock will respond positively once VR becomes mainstream. Since initial demand for VR may start slowly at first for the reasons outlined, shares of Himax will not surge higher in the near term. This gives investors a chance to accumulate shares steadily this year.
Disclosure: I/we have no positions in any stocks mentioned, and no plans to initiate any positions within the next 72 hours.
I wrote this article myself, and it expresses my own opinions. I am not receiving compensation for it (other than from Seeking Alpha). I have no business relationship with any company whose stock is mentioned in this article.
Editor's Note: This article discusses one or more securities that do not trade on a major U.S. exchange. Please be aware of the risks associated with these stocks.