Calamos Global Dynamic Income Fund (NASDAQ:CHW) is a global balanced closed-end fund that was issued in June 2007. The fund primarily seeks high current income with a secondary objective of capital appreciation. The fund managers have maximum flexibility to dynamically allocate among equities, convertibles, fixed income securities and alternative investments around the world.
(Data below is sourced from the Calamos website unless otherwise stated.)
The fund is currently trading at a whopping -17.15% discount to NAV which is well above the average 5 year discount of -10.72%. Here is the history of the premium/discount from cefconnect: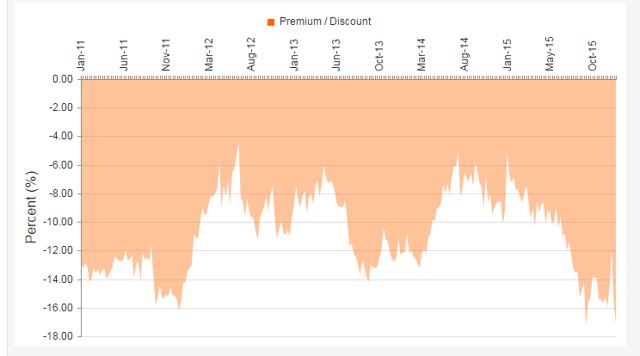 Click to enlarge
Some key features of this fund are:
Seeks a level-rate distribution policy in order to provide stable monthly distributions.
Dynamically pursues areas of opportunity across countries, sectors, credit tiers and market caps.
Invests at least 40% (and up to 100% of managed assets) in foreign securities, including emerging markets.
Can write call options against up to 100% of managed assets to generate additional income.
Will the Trend Toward Wider Closed-End Fund Discounts Finally Reverse?
Many of the sectors in the closed-end fund universe have experienced wider discounts over the last year. Some of this widening has been caused by fears of distribution cuts or further NAV declines.
But most of the factors that have negatively impacted closed-end funds may soon reverse:
Widening credit spreads: High yield credit spreads have significantly widened. The BofA Merrill Lynch US High Yield Spread has increased from 3.32% in June 2014 to its current level of 8.48%.
Fed Funds increase: While the 25 basis point increase in December will have minimal real impact on the economy, there has been a negative psychological on the market since mid-summer when the consensus started factoring in the increase. But the rates on short-term Treasuries and the 10-year Treasury have actually dropped since the announcement in mid-December.
Increased leverage costs: Since mid-December, 3 month rates have only increased slightly. Calamos funds use leverage priced off both overnight and three month rates. The reinvestment rate of high yield and convertible bonds provide a significant positive carry over leverage costs.
Distribution cuts: There have been widespread fears of distribution cuts. But all of the Calamos fund's have maintained their distribution levels throughout 2015.
Tax loss selling hurt many closed-end funds late last year, but this selling is now over.
Here is the CHW portfolio asset allocation as of December 31, 2015:
| | |
| --- | --- |
| Common Stock | 49.9% |
| Convertible Bonds | 22.1% |
| Corporate Bonds | 17.7% |
| Convertible Preferred Stock | 6.9% |
| Cash | 3.4% |
Sector Allocations
The sector allocations as of Dec. 31, 2015 are listed below excluding cash. Note that exposure to Energy and Materials is only 10%: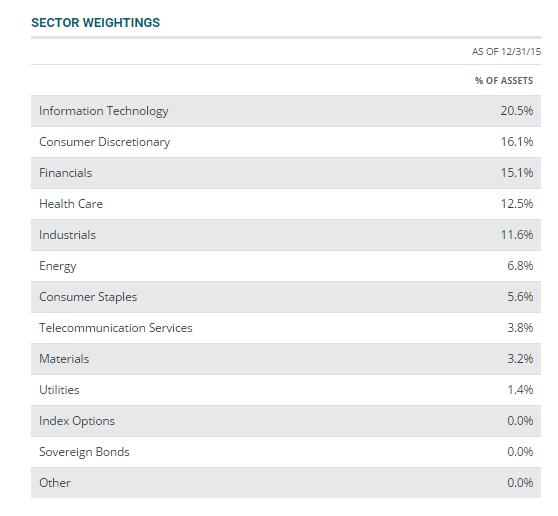 Country Exposure
As of year-end, more than half of the portfolio was US-based. Note that the fund normally invests anywhere from 40% to 100% in foreign securities, and they are currently allocating 43% which is near the lower end of the range.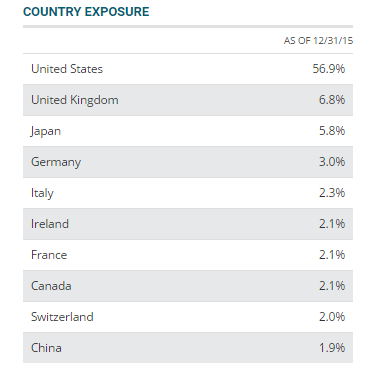 The five year total return NAV performance record has been below the average of its World Allocation peers. Because of this, I would treat CHW as more of a short term swing trade instead of a long term buy and hold.
| | | | |
| --- | --- | --- | --- |
| | CHW NAV Performance | World Allocation NAV Performance | Rank in Category (NYSE:NAV) |
| 1 Month | -8.19% | -5.73% | 100 |
| 3 Month | -11.66% | -9.74% | 75 |
| 1 Year | -11.90% | -11.51% | 62 |
| 3 Years | +0.51% | +1.68% | 71 |
| 5 Years | +3.08% | +4.13% | 83 |
Source: Morningstar
Here are the top ten holdings for CHW as of Dec. 31, 2015:

Click to enlarge
The current discount to NAV as of January 22 is -17.15%. The three month discount Z-score is -2.24 which means that the current discount to NAV is more than two standard deviations below the average 3 month discount of -14.84%.
The four year discount Z-score is -2.69. The current discount is nearly three standard deviations below the four year average discount of -10.0%
Source: cefanalyzer
Alpha is Generated by High Discount + High Distributions
The high distribution rate of 13.27% along with the 17.15% discount allows investors to capture alpha by recovering a portion of the discount whenever a distribution is paid out.
Whenever you recover NAV from a fund selling at a 17.15% discount, the percentage return is 1.00/ 0.8285 or about 20.7%. So the alpha generated by the 13.27% distribution is computed as:
(0.1327)*(0.207)=0.0275 or about 2.75% a year in discount capture alpha.
This is more than the 1.54% annualized baseline expense ratio (Source: cefanalyzer), so you are effectively getting the fund management for free with a negative effective expense ratio of about -1.21%! Note that this alpha capture occurs even when the discount does not narrow, as long as the fund keeps paying out the same distribution.
Ticker: CHW Calamos Global Dynamic Income Fund pays monthly
Total Assets= $682 Million
Common Assets= $451 Million
Monthly Distribution: $0.07 (Annual= $0.84)
Annual Distribution Rate= 13.27%
Fund Baseline Expense ratio= 1.54% (Source: cefanalyzer)
Discount to NAV= -17.15%
Average Three Month Daily Volume= 274,000 (Source: Yahoo Finance)
Average Dollar Volume= $1.7 million
Duration: 3.84 years
Average Portfolio Turnover: 48.5%
Leverage: 30.34%
Debt Coverage Ratio: 324%
CHW appears to be an attractive swing trade here. It is fairly liquid and easy to purchase. It usually trades with a one cent spread, and you can often get price improvement (trading at a price between the bid-asked spread) using actionable limit orders.
For those in a high tax bracket, it may be best to purchase CHW in a tax deferred IRA account since a good portion of the distributions have generally been taxable income. But in the last three months, a majority of the monthly distributions have been return of capital. Because of the dynamic strategy used by the fund, the amount of return of capital paid out has varied over time.
Disclosure: I am/we are long CHW.
I wrote this article myself, and it expresses my own opinions. I am not receiving compensation for it (other than from Seeking Alpha). I have no business relationship with any company whose stock is mentioned in this article.