The Chinese Yuan devaluation is a heated topic of discussion at the moment, and the argument of capital outflows pressuring the Yuan has been widely repeated. The focus on capital flows is due to its undeniable importance - as Peking University economic theorist and financial strategist Michael Pettis rightly points out, China's capital flows and reserve accumulation have overwhelmed their trade flows in the last 30 years, which causes small changes in capital flows to create large changes in trade and current flows.
External Balance Perspective
My graph below shows 1) China's capital account as a percentage of GDP and 2) the historical price of 1 CNY in terms of USD, from 2012 onwards. Readers can quite clearly observe the general correlation between the two data series, and the relatively large divergence towards the end. It is no secret that the Yuan is not a free market currency but instead subject to PBoC interventions. Since August 11 2015, the PBoC has allowed the Yuan to devalue by 5.6%. During the third and fourth quarters, Chinese banks sold US$196 billion and US$164 billion of foreign exchange. The total drop in China's FX reserves for 2015 was US$ 512 billion.
Due to PBoC intervention, the rate of Yuan devaluation is out of line with the rate of capital outflow. The graph lends confirming evidence as the red line is significantly below the blue line.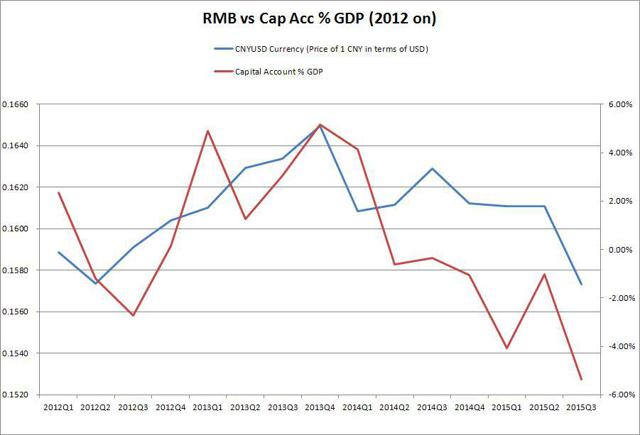 Click to enlarge
Source: Official government data, own calculations
Comments on PBoC intervention
Although the PBoC's "war chest" is sizeable, there is overall acknowledgement that the battle to prop up the Yuan may prove problematic over a prolonged period. The PBoC has sold US$ 360 billion in FX reserves in 2H 2015 and US$ 512 billion for the full year, and despite whatever capital controls still in place, China's capital account is much more open now and definitely porous enough to allow for outflows of sufficient scale. There are a few opinions in circulation hypothesizing that China used part of (if not the entire amount of) the liquidity freed up from RRR cuts towards funding the FX war, instead of aiming to achieve actual easing. PBoC might have confined some of the liquidity released from lowered RRR levels within its FX "war chest", such that easing never reached the banks or the market.(Readers may go here for further reading on this matter)
Whether the theory is true or not, it underscores the tough choice between Yuan preservation and increased stimulus. This is either-or, and there is no having both.
Internal Balance Perspective
China has operated at full or close to full capacity for many years, but now is undergoing the difficult transition away from an economic expansion model led by state investment to that driven by consumption, with rapidly slowing GDP growth as a result.
IMF China Investment as % of GDP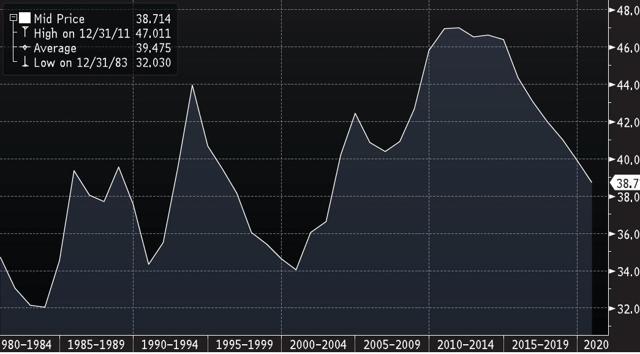 Click to enlarge
Source: IMF, Bloomberg
As China has been enjoying a prolonged boom period, external balance factors have overwhelmed internal balance factors historically when it comes to determination of the Chinese exchange rate. Internal imbalance factors refer to items such as domestic economic health and growth, and unemployment rates etc, which mostly come into play when a country's growth slows and the economy slips below full employment. For example, Europe witnessed a secular rise in unemployment from 2% in the 1960s to 8% in 1990 to 11% in the mid-1990s, which caused European currencies to depreciate against the dollar (even in spite of Europe's rising current account surplus in that period), and is an example of how internal imbalances factor into exchange rate determination. My guess is that we may start to see such internal factors begin to play a more meaningful role in the determination of the Yuan's value.
Conclusion
The situation facing China's leaders is no doubt a conundrum. As China's domestic economic health continues to deteriorate, the government will have to choose between the contradictory targets of either spurring growth or defending the Yuan. PBoC's Yuan interventions are extremely costly (as evidenced by the rate reserves have been decreasing), and China cannot afford to deplete all its ammunition now given the economic rebalancing phase that will take 3 to 5 years to work through which will likely require stimulus support. Let's also not forget that the towering debt burdens - so further leverage is not an option.
Even structural reforms are difficult to implement without cushioning from easing measures. Imagine implementing SOE labour reform such as layoffs of excess employees - such actions will cause rises in unemployment, pushing the economy deeper into recession. The impact on the economy would be very harsh without stepped up easing.
Chinese policymakers should make up their mind. Trying to toe the balance between supporting the Yuan and half-hearted stimulus is not doing any good. In my opinion, the PBoC should let currency market forces do its work, which beats suffering an FX intervention defeat like that of the Swiss National Bank.
Disclosure: I/we have no positions in any stocks mentioned, and no plans to initiate any positions within the next 72 hours.
I wrote this article myself, and it expresses my own opinions. I am not receiving compensation for it (other than from Seeking Alpha). I have no business relationship with any company whose stock is mentioned in this article.