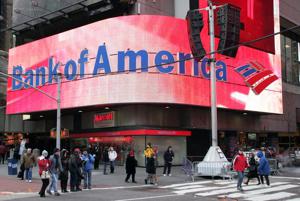 When Bank of America (NYSE:BAC) reported Q4 '15 earnings on Tuesday, January 19th, 2016, the numbers weren't that bad:
EPS beat and revenue slightly missed
Tangible common equity was roughly 7%, lower than some of its peers but still working higher
The bank disclosed that Energy loans were $21 billion or 2% of net loans and leases
Trading was down 5% sequentially, better than JP Morgan's sequential drop.
The day of the earnings report BAC was trading about $14.50 per share.
The Financial sector's action since the start of the year is somewhat puzzling, although most banks today seem to tilted the balance sheet to being "asset-sensitive" to higher interest rates, not surprising with a 2% 10% year Treasury yield, so is the sector slide an interest-rate tell, or possibly a recession (credit) tell ?
It should be no surprise to anyone reading this but the banking system today is taking much less trading risk and holding more capital against it, thus the share repurchases and the dividends should continue to increase, if only at a smaller, more conservative pace, given the regulatory scrutiny.
BAC is levered to the consumer and higher rates and probably needs to be more aggressive in reducing operating expenses and protecting the shareholder.
At a 15% discount to tangible-book-value, for investors with a longer time horizon beyond the first quarter, 2016, buyers of BAC today should be rewarded.
Looking at previous BAC articles over the years, I thought BAC might be able to print $2 "core EPS" growth, but that seems to have slid into the high $1.70's - $1.80's looking at forward estimates.
A trade to $18 over the next year or 18 months, and I might have to call take a victory lap on BAC and move on.
All the banks and Financials have gotten hammered since the first of 2016. If just BAC were 20% lower and the rest of the sector were unchanged, then there might be a bigger reason to worry, but looking at the ETF's, the brokers, the exchanges like CME, etc. it has been a tough way to start the year for the Financials.
Technically, the trade below the 200-week moving average of $13.88 wasn't a good sign. The stock should recover that level of the high $13's and trade back above $14 on any decent rally in the SP 500. (It would not be a good sign for BAC to trade below current levels on heavy volume.)
Disclosure: I am/we are long BAC, JPM, ICE.
I wrote this article myself, and it expresses my own opinions. I am not receiving compensation for it (other than from Seeking Alpha). I have no business relationship with any company whose stock is mentioned in this article.