Delta Air lines (NYSE:DAL) is the world's largest airline carrier by market cap. Although DAL share has appreciated 220% over the last three years, I believe it still represents an opportunity for investors. It has the best operational results, it is the most award-winning airline and its price is appealing.
Airline stocks are usually traded at discount relative to the S&P 500 index, both in terms of P/E and FCF yield, but nowadays the discount is even wider. In the following text, I'll explain why I strongly argue that this discount should be sharply narrowed, as investors still unnecessarily ascribe significant risk to the airline business.
Delta's cash generation is one of the most important indicators for its attractiveness. Delta generated around $4 billion free cash flow in 2015. Impressive, but its robust FCF yield - 11%, is even more impressive. This yield is one of the highest among S&P 500 companies. In comparison, the S&P 500 FCF yield is only 5.5% according to the consensus estimates for 2015. The average FCF yield for DAL during the last 5 years was 10.6% and the comparable S&P yield is 6.8%. This means that a 55% gap is now a 100% difference. Moreover, DAL 2016 P/E is 6.9 while the market is at 15.6 P/E for 2016. The S&P 500 P/E trades now at a premium of 5-10% compared to its 5 year historic average, while DAL's P/E is at 5-10% discount (as presented in the graph below). Delta's share could rerate by almost 20% just from returning to its average discount relative to the S&P 500.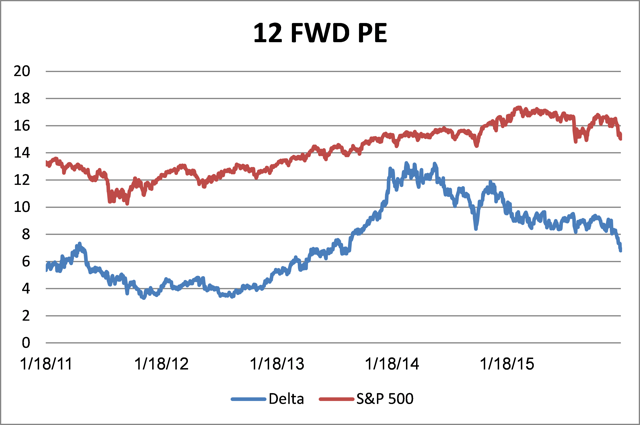 But still, is it logical that the S&P index trades at an almost 100% higher P/E ratio and its cash flow yield is half of that of Delta? We can identify few risks when investing in an airline company today: intensifying competition, terror threats, the industry history and its cyclical nature, and oil prices. One should be aware to all of them, but we can argue that the last two factors are the main reasons for the huge multiple discount airline stocks are traded at, specifically DAL. Competition (PRASM, capacity, etc.) aspects are known, but they exist in every sector. We can expect a stable level of revenues in the years ahead. The company's revenue declined 1.5% y/y in the last quarter, but included approximately 2 points of impact from foreign currency. In 2015 revenues were up 1% and the current consensus estimates are for flat growth this year. That's really ok in such bumpy time when investors are extremely nervous. Moreover, Delta's system capacity is expected to grow by 2% max in order to balance supply and demand needs.
Let's try to mitigate the other concerns. Airline companies are cyclical by nature. People travel less when economy faces recession. Moreover, due to the history of the airline industry, investors still associate the business with low ROIC, lackluster cash flows and elevated risk for bankruptcy. Warren Buffett's disdainful comments, still weigh on investors mind. But today the story is different.
Although you cannot predict when a downturn will hit the market, at this stage, the US economy is robust, interest rates are expected to rise, Europe is gradually improving and China stills grows in decent numbers. Emerging markets are more depressed and volatile but they consist only 10% of DAL revenues.
In addition, in the beginning of the decade, ROIC was about 5% for legacy carriers. In 2014, when the average price for a gallon of oil was still $90, their ROIC was around 15%. Today, the big airline companies' ROIC is above 20%, a result of margin improvements, growing RASM, lower leverage and consolidation activity in the sector. All of them a consequence of a sustained period of elevated oil prices, forcing Delta to become more efficient. DAL has deleveraged its balance sheet during the past years, and is also very friendly towards its shareholders, with massive dividends and buybacks that generate a 7% return. How many companies could present such numbers?
Furthermore, on Delta's investor presentation there were two interesting comments regarding the evolution of the industry over the past decade:
Revenues have increased ~20% on 20% fewer departures, 4% fewer seats and 12% fewer aircraft since the merger.
$4-5 billion annual free cash flow driving process towards investment grade balance sheet and increasing cash returns to shareholders.
Hence, today the industry is more mature and that should uplift valuations. Pricing differences are just ridiculous.
Now let's move to fuel prices. Yes, fuel prices are also a major factor that boosts earnings. No one can predict fuel prices a year ahead, but it seems that investors now start to understand that we face a longer period of low prices. During the last financial results disclosure, Richard Anderson explained that Delta could save additional $3 billion this year from lower fuel prices. But even if prices surge to $60-70 (~100% increase) per gallon, DAL will still be highly profitable. For example, in 2014, a gallon of oil averaged $90 throughout the year and DAL earned $2.7 billion. This could be our downside scenario (oil prices that are almost three times the current price, right?), and still DAL would profit more than 7% of its market cap. This is almost 30% more than the market FCF yield. Absolutely amazing. Delta's average jet fuel price was only ~$2.23 in 2015, implying 22% from 2014, although the average spot price (w/o hedges, taxes) fell 45% last year! So, plenty of room for additional savings, and fuel price continue to deteriorate in 2016.
Another key point is DAL's CEO statement during the company's Q3 earnings call, when he repeated the company's goals:
"In May we outlined the key metrics and specific long-term targets for our business to attain. These include delivering annual EPS growth of greater than 15%, achieving returns on capital of 20% to 25% and generating operating and free cash flow in the range of $7 billion to $8 billion and $4 billion to $5 billion respectively. We have consistently achieved our long-term goals and will continue to do so regardless of the direction of fuel prices."
This was an explicit objective (which Mr. Anderson repeated a week ago), regardless of fuel prices. It takes us back to one of the reasons airline multiples are allegedly so low - the dependence on oil price, a factor they can't control. If DAL sets goals regardless to fuel prices, and management is sure they are achievable, sustainable and stable profits should lead to P/E expansion. It should be noted that Delta has a successful history of meeting its goals.
In conclusion, I believe investors still wrongly associate airline companies with excessive risk. Risks exist, but they are milder than they used to be. Even in a downside scenario, DAL profits are huge compared to its market cap. Revenue should remain in the $40 billion range, and the company's targets are for profits that do not depend on oil price. Meanwhile, DAL is valued among the cheapest stocks in the S&P 500 and yields a decent shareholder return. In this price, risk/reward is very attractive and Delta is a strong buy.
Disclosure: I am/we are long DAL.
I wrote this article myself, and it expresses my own opinions. I am not receiving compensation for it (other than from Seeking Alpha). I have no business relationship with any company whose stock is mentioned in this article.