The "data driven" Federal Reserve raised short-term interest rates because they believed the economy was strong enough to keep growing with little assistance from them. Indeed, data pointed to a stronger economy.
However, the "strong economy" is not having the intended effects on sectors such as department stores.
Macy's, Inc. (NYSE:M) has tried to grow margins through cutting costs by closing stores (margin expansion initiative) and to bolster investor confidence by looking into the possibility of unlocking potential value of its real estate (potential arbitrage opportunity). Ideas that normally excite investors but this time they did not. Macy's is currently trading at ~44% below its 52-week high with a forward FYE January 31st, 2017 P/E ratio of 10.97, which is ~57% below the industry average.
Kohl's Corporation (NYSE:KSS) trades at undemanding valuations. It has purchased 50% of its outstanding stock since 2006 ($9 billion cost) and its market cap is half its 2014 sales. Kohl's Corporation is currently trading at ~39% below its 52-week high with a forward FYE January 31st, 2017 P/E ratio of 10.45, which is ~59% below the industry average.
The whole retail industry seems to be in disarray. The data suggest something else. The data suggests a better and robust retail spending. The unemployment rate for December 2015 in the United States was recorded at 5%. Unchanged from November of 2015. The 5% unemployment was last seen in April of 2008. Such news is meant to bolster investor confidence in the market. In addition, the University of Michigan's consumer sentiment for January of 2016 came in at 93 (consensus). This was a 0.8% rise from the December 2015 sentiments of 92.6. The forecast for February of 2016 is projected at 93.17. According to Trading Economics, the January of 2016 sentiments came in above market expectations. They were driven by "improved future expectations."
This begs the question of whether or not department stores have bottomed given the low valuations? Is this the level to buy? Are consumer sentiments going to keep rising?
Implications and Consequences - A Leaner, Stronger & Consolidated Oil & Gas Industry
Low oil prices are having the reverse effect. Normally, low oil prices create savings that consumers can spend elsewhere but this time it is different.
We are likely going to see rising unemployment due to falling oil prices. In the mist of blaming OPEC and hoping prices of oil and gas will rise, cash flows have continued to diminish and balance sheets have continued to weaken in the oil and gas industry. This has caused a rise in unemployment as companies cut on CAPEX, headcount and defer major capital projects. It has also caused margin compressions as the oil and gas companies push suppliers for better pricing in an effort to minimize costs.
This might eventually lead to an oil and gas industry that is built to last - leaner but stronger. But to get there, a lot of companies are not going to survive and a lot of jobs are going to be lost.
This could be fine if the oil and gas industry was an insignificant portion of the United States total GDP, but it is not.
Findings in the "Manhattan Institute's Power & Growth Initiative" report showed that the number of oil and gas jobs has grown 40% since 2008 and in the 10 states at the epicenter of oil and gas growth, overall statewide employment have greatly outpaced the national average.
"In recent years, America's oil & gas boom has added $300-$400 billion annually to the economy-without this contribution, GDP growth would have been negative and the nation would have continued to be in recession." Manhattan Institute for Policy Research.
The report went on to state that "overall, nearly 1 million Americans work directly in the oil and gas industry, and a total of 10 million jobs are associated with that industry." The United States Labor Force Statistics showed that they were 149.929 million employed people in the United States. Meaning that the industry affects ~7% of the total number of people employed.
The U.S. Energy Information Administration reports that ~50% of the workers employed in crude oil and natural gas production are in the support category of oil and gas industry employment. The support category includes exploration, excavation, well surveying, casing work, and well construction. The type of work positioned to see material cut-offs as oil and gas companies try to stay afloat.
(Source: U.S. Department of Labor, Bureau of Labor Statistics - The Employment Situation - December of 2015)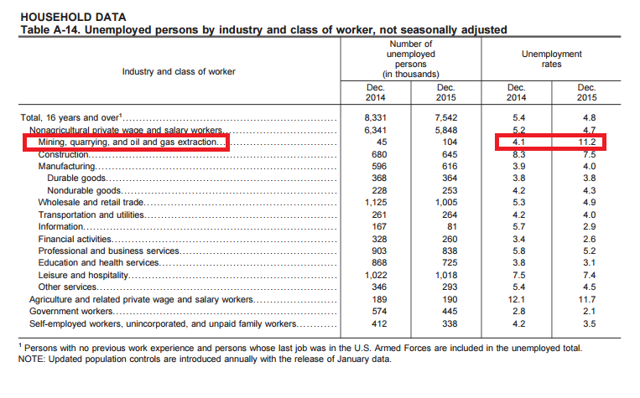 Click to enlarge
Lastly, between December of 2014 and December of 2015, the unemployment rate in mining, quarrying, and oil and gas extraction jumped by more than 100%. The unemployment rate increased by ~173% from 4.1 in December 2014 to 11.2 in December 2015. This is problematic on two reasons: First, if this continues unemployment is going to rise, consumer sentiments are going to fall and spending will likely diminish. Secondly, because the oil and gas industry is an old industry, most of these employees might not have transferable skills to other industries. This will eventually lead to more people who cannot find work.
Fear Created By Presidential candidates
Fear created by a typical election year can drive spending down. Whether its Donald Trump's "let's make America great again" or Bernie Sanders "a political revolution is coming," the message is always that of unstable incumbent regime and a declining economy.
In every election year, there are issues that people hold dear. Issues that enable candidates to connect with the masses. And this election year is not an exception. You do not win an election by telling people that everything is good. On the contrary, you point to the flaws (even exaggerate most) and offer yourself as the solution.
But politicians are not hoping for actual economic solutions but rather a vote. The fear generated during an election year is enough to drive consumer sentiments and subsequently consumer spending down.
But as electorates get a clear understanding of who the next president will be and what the future might hold, consumer sentiments will start to rise again.
Rising Credit Card Debt Amidst Rising Interest Rates
Stricter spending habits due to rising household debt amid rising interest rates are going to follow.
Key findings from the NerdWallet Report:
Why debt has risen: The rise in the cost of living has outpaced income growth over the past 12-years. Median household has only grown by 26% since 2003 while medical costs have risen by 51% and food and beverage prices grew by 37% in the same time period.
The psychology of debt: Consumers vastly underestimate or underreport how much debt they have. As of 2013, actual lender-reported credit card debt was 155% greater than borrower-reported balances.
The cost of debt: The average household is paying a total of $6,658 in interest per year. This is 9% of the average household income being spent on interest alone.
Because the cost of living is rising faster than income, consumer debt is growing while interest rates might rise, consumer are less likely to spend a lot.
(Source: NerdWallet - Nominal Income vs. Cost of Living)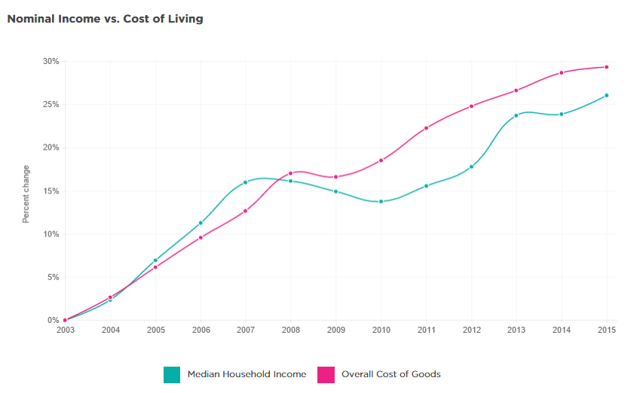 Click to enlarge
(Source: NerdWallet - Real Household Income vs. Household Debt)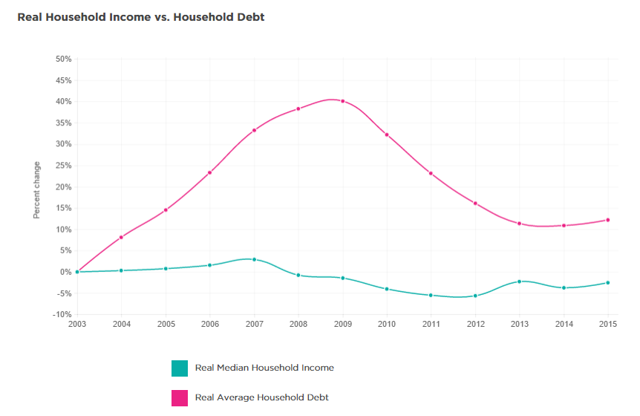 Click to enlarge
Key Takeaways for Investors
This is not another 2008 or anything similar - we simply do not have that kind of leverage. We currently do not high enough debt to cause a crisis. Household income and corporate earnings have slightly gone down over the last seven years but overall debt is not as high. Household are not leveraged up to cause another catastrophic meltdown.
Might see more depressed earnings in Q216 especially in the retail space and energy sector. People will not be spending as much and those who will, are likely to be bargain hunting. Retailers will need to advertise more to attract consumers. This will help surge revenues but it will depress earnings. Therefore, even though the retail space looks attractive right now, it might not have bottomed yet.
The Fed might not end-up rising rates: Unemployment might not surge, consumer sentiments are likely going to decline and consumer debt might rise as people borrow now in anticipation of rising rates in the future and while wages might slowly grow medical and food expenses are not going down anytime soon. The Fed is data driven. The data suggests a foot on the brakes not on the accelerator.
The revenues losses in the oil and gas production might be picked up by airlines. But this pick-up will be by investors and not consumers. The airline sector for example, is an oligopoly, they are less likely to suddenly decrease the prices of air tickets.
Brick & Mortar is very much alive. It's no longer bricks-and-mortar versus e-commerce, it the successful integration - omnichannel - of the two which is the path to success. E-commerce will help consolidate brick and mortar stores but e-commerce will not kill brick and mortar. Brick and mortar is the victim of its own success. There is a mantra which developed, especially during a DCF Analysis, that the number of stores/square foot is directly correlated to revenue growth. E-commerce will never replace the human factor - experience. Plus not everyone has a constant size and not everything fits as you want. In addition, some people do not like returning goods. There is a high chance you will return something bought online than something you bought after trying it out. It's the experience that cannot be mimicked or replaced even by 3D fitting apps. Department stores might experience some headwinds but do not mistake it for a fall of brick and mortar.
Final Remarks
Consumer sentiments are going to decline. Affecting purchasing power. Consumers will need discounts to drive traffic and many will be reluctant to spend. This will depress margins in industries like department stores.
When consumer confidence is low, lower oil prices, low interest rates do not automatically translate into higher demand. But consumer confidence is not purely data driven, it is all about perception. Elections create the perception that the government is at the verge of collapse, low oil prices create an actual unemployment problem and rising debt amidst rising rates forces people to spend less and when they do spend, they look for discounts. The prevailing hurdles suggest high volatility and uncertainty, not permanence. The risk averse instincts kick-in and people save for a rainy day, causing sentiments to decline.
Disclosure: I/we have no positions in any stocks mentioned, and no plans to initiate any positions within the next 72 hours.
I wrote this article myself, and it expresses my own opinions. I am not receiving compensation for it (other than from Seeking Alpha). I have no business relationship with any company whose stock is mentioned in this article.