There has been considerable volatility in the world markets recently and Brazil has been no exception. We believe it's important to relentlessly analyze companies in beaten down markets to see if there is some unlocked value. A large company in Brazil that is worth a look for income-focused investors is Ambev (NYSE:ABEV). It can be difficult to project the dividend yield for foreign companies so this article is meant to help investors decide if Ambev meets their yield requirement and we will analyze this source of potential return in relation to the company's ability to continue paying its dividends.
Company Overview
Ambev is a brewing company with its headquarters in Brazil and it derives its revenue from 18 countries across the Americas and has ADR shares listed on the NYSE. While Ambev and Anheuser-Busch Inbev (NYSE:BUD) are independent companies, BUD is the majority shareholder of Ambev and held nearly 62% of Ambev's outstanding shares as of June 30, 2015. There was talk about Ambev helping to finance BUD's SABMiller (OTCPK:SBMRY) deal, but we believe that is unlikely now that BUD has sold $46 billion in bonds to purchase SABMiller and we haven't come across any additional news that Ambev would incorporate SABMiller's Latin American assets.
According to Ambev's website, the company estimates that it is the largest brewer in Latin America by sales volume. The company produces, distributes and sells beer as well as carbonated soft drinks and other non-alcoholic and non-carbonated products. While they do have operations in many countries, they are heavily dependent on Brazil for generating revenue. Per Ambev's website, Brazil accounts for over half of Ambev's sales volume and EBITDA.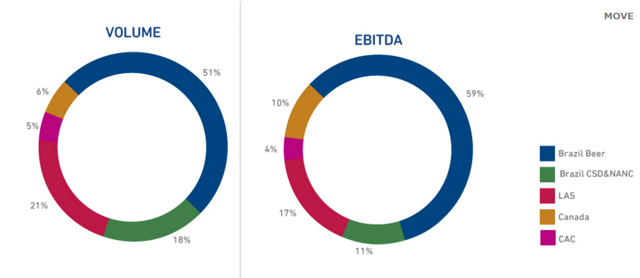 Click to enlarge
Source: Ambev Website
Payouts to Shareholders
As a company headquartered in Brazil, Ambev does not only do share buybacks and pays dividends, but it also distributes earnings to shareholders under the concept of interest on shareholders' equity. Per Ambev's website, the company can get tax related benefits (to a certain limit) and there are rules on what payments are deductible for Ambev's income tax and social contribution and how the deductible amount is calculated, but to an investor, interest on shareholders' equity is similar to a dividend. The important difference mentioned is that there is a 15% withholding tax due by non-exempt shareholders.
Looking at Ambev's history of dividend and interest on shareholders' equity over the last two years, we will notice the gross and net value is different when the distribution is categorized as interest on capital which is due to the withholding tax. Keep in mind that these values are in Brazilian Reals. The exchange rate on 1/22/16 was approximately 4.10 BRL per one USD and we will assume this is the exchange rate in other areas of this article.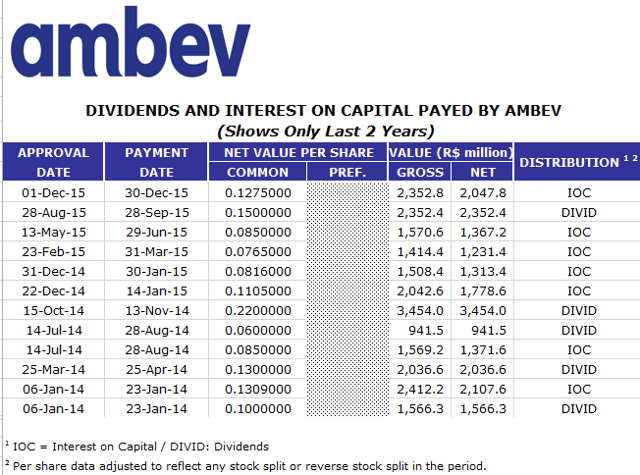 Click to enlarge
Source: Ambev Website
When considering the amount of dividends we may receive, we must be aware that payments of cash dividends to the custodian are made in Reais. The custodian will then need to convert these Reais to U.S dollars (for U.S investors) to distribute the moneys to holders of the ADRs. What this means is there is a risk that exchange rate fluctuations will cause these dividend payments to be adversely affected. Naturally, any exchange rate fluctuations can also negatively (or positively) affect the U.S listed share's value.
Over the last six years, it appears Ambev has engaged in few share buybacks and has focused on distributing earnings via dividends and interest on shareholders' equity. Going forward, let's treat interest on shareholders' equity as a dividend since they are similar from an economic perspective for an investor. Looking at the payout chart below, dividends in 2015 and 2014 where R$11.3 billion ($2.8 bil.) and R$11.9 billion ($2.9 bil.), respectively.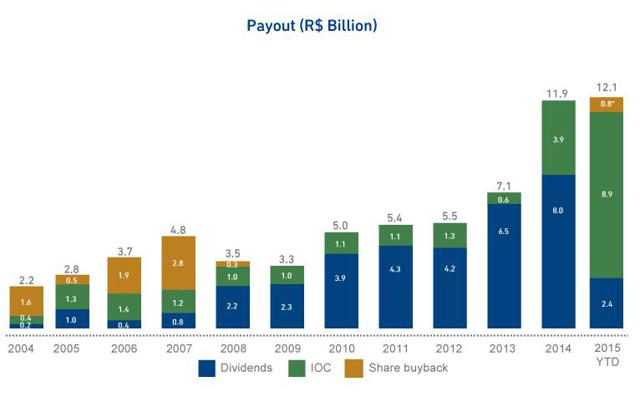 Click to enlarge
*Value refers to the "2015.1 Share Buyback Program", beginning on February 26, 2015 and ending on August 28, 2015. This value does not consider the new share buyback program, still opened, approved by the Board of Directors of the Company held on August 28, 2015.
Source: Ambev Website
As of 1/22/16, Ambev's NYSE listed shares are priced at $4.11 and the company has a market cap of approximately $64.44 billion. Taking the 2015 dividend of R$11.3 billion and estimating that the payout will be similar in 2016 and assuming these dividends were converted at R$4.10 per 1 USD ($2.8 bil.), the shares would yield close to 4.34%. It is unlikely that the exchange rate stays at R$4.10/USD and it's true that the actual payout in 2016 will likely be dependent on business operations, but we don't believe that a yield in the 3.75% to 4.50% range is unreasonable at these prices.
Risks to Estimated Future Dividends
One risk to the dividend payout is a slowdown in business operations which would ultimately affect the company's ability to generate cash flows (or net income). In 2014, Ambev recorded net income of R$12.4 billion ($3.0 bil.) and had about R$11.4 billion in free cash flow. Financial statements covering the entire year of 2015 have not been released yet, but YTD (to 3rd quarter) net income is about R$8.6 billion per their 3rd quarter earnings release. Per Ambev's annual report, they mention that sales of beverages in their markets are seasonal and that sales in the 4th quarter are usually stronger in the Southern Hemisphere. As we have previously mentioned, the majority of the company's sales are in the Southern Hemisphere (i.e. Brazil) so we are estimating that net income (and free cash flow) for 2015 will increase from 2014 levels.
Since 2015 dividends have already been paid out, as investors, we are more concerned with how the business will perform in 2016 and beyond. Therefore, the negative headwinds being experienced in Brazil (and globally) could adversely affect Ambev's cash flows and cause 2016 dividends to come in at a lower level than in 2015.
Since dividends are not required and are paid out at the discretion of the company, but interest on debt is a required payment, it's helpful to look at companies' leverage levels and required interest payments to analyze how likely it is to continue receiving dividend payments. Per the 3rd quarter earnings release, Ambev had total liabilities and total equity of R$37.7 billion and R$50.3 billion, respectively. This equates to a 0.75 ratio of liabilities to equity. In our opinion, this an acceptable level and implies that the company is not heavily levered. Also, since a company doesn't have to pay dividends, it's beneficial to look at a company's history of paying dividends. Per Ambev's payout chart, they have paid out dividends over the last 12 years.
Next we will look at Ambev's interest coverage ratio. We will define interest coverage as earnings before interest and taxes divided by interest expense. For interest expense, we are using the interest expense category in Ambev's net finance results so this number excludes interest income, gains/losses on derivative and non-derivative instruments, taxes on financial transactions, and other financial income/expenses. Looking once again at Ambev's website, we will see that interest expense of R$897 million ($219 mil.) was reported over the trailing twelve month period (up to 3rd Q 2015) and normalized EBIT came in at R$18.1 billion ($4.4 bil.) over the same period. Using these numbers, the EBIT to interest expense ratio is 20.17. While we could compare this ratio to other companies in the same industry to get a sense of an acceptable level of interest expenses, a ratio of 20 is high and implies that Ambev should not have much difficulty covering their current interest expenses. If Ambev were to issue more debt for potential acquisitions or other capital expenditures, this ratio could decrease and they may have a more difficult time covering their interest expenses. However, we believe Ambev has a strong balance sheet and could add more debt due to their high interest coverage ratio. How much debt could they add? That is largely dependent upon the expected incremental increase in cash flows due to any potential acquisitions or capital expenditures.
Conclusion
In our opinion, Ambev's dividend looks safe and could yield 3.75% to 4.50% at the current price level. We think interest expense payments are manageable and are not currently a cause for concern and that the company will be able to generate enough cash going forward to continue to make, at least, a similar payout as they did in 2015.
Disclosure: I/we have no positions in any stocks mentioned, and no plans to initiate any positions within the next 72 hours.
I wrote this article myself, and it expresses my own opinions. I am not receiving compensation for it (other than from Seeking Alpha). I have no business relationship with any company whose stock is mentioned in this article.
Additional disclosure: Disclaimer: Information in this article represents the opinion of the author. Opinions expressed herein are not an investment recommendation and are not meant to be relied upon in investment decisions. The author is not acting in an investment, tax, legal or any other advisory capacity. The opinions expressed herein address only select aspects of potential investment in securities of the companies mentioned and cannot be a substitute for comprehensive investment analysis. Any analysis presented herein is illustrative in nature, limited in scope, based on an incomplete set of information, and has limitations to its accuracy. The author recommends that potential and existing investors conduct thorough investment research of their own, including detailed review of the companies' SEC filings. The information upon which this material is based was obtained from sources believed to be reliable, but has not been independently verified. Therefore, the author cannot guarantee its accuracy. Any opinions or estimates constitute the author's best judgment as of the date of publication, and are subject to change without notice. The author explicitly disclaims any liability that may arise from the use of this material.