Our central belief is that in a low interest-rate world, retirees are experiencing dwindling incomes from their risk-free assets (e.g. government bonds and cash equivalents). With ultra easy monetary policy the Federal Reserve will continue to "pick the pockets" of savers by keeping rates low.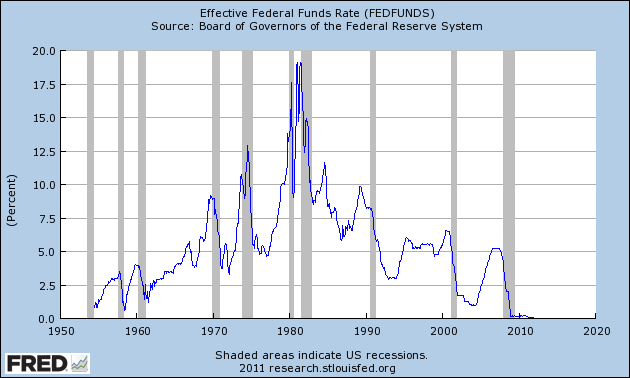 We do not foresee interest rates at the short end of the curve rising any time soon as U.S. debt burdens are simply too high.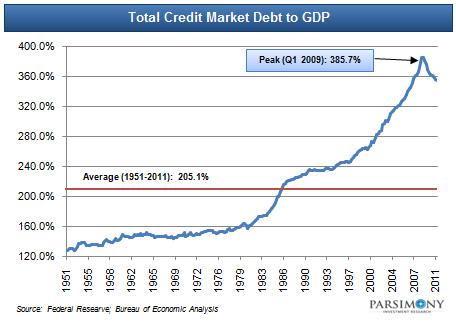 Stable Income Streams
With a diversified portfolio of high-quality dividend paying stocks (like the ones on the list below), retirees can generate a stable income stream that will perform well in bull or bear markets.

While this is not an exhaustive list of high-quality dividend stocks, this sample portfolio would yield 7.1% with an average beta of 0.40. In addition, all of these stocks are in defensive industries and they have P/E ratios below 20.
Tactical Strategy
Due to the current market rally (which we believe will be short lived), investors should consider waiting for a pullback in these stocks to enter a new position or to add to an existing position.
Most of the stocks above are currently in a positive uptrend. As such, investors should be looking for near-term areas of support as potential entry points.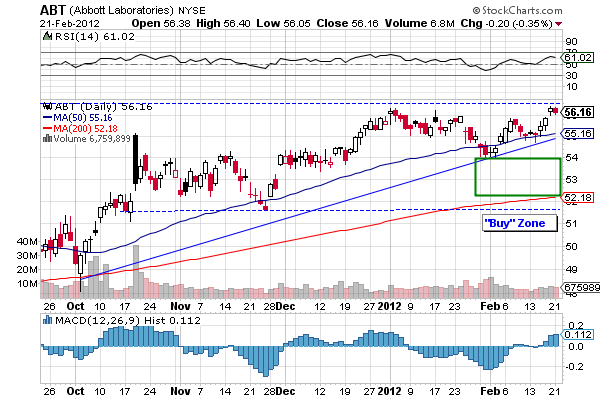 Abbott (NYSE:ABT) should get some decent support at the $54.00 level (which is the recent low). As shown in the chart above, the stock recently bounced off of the 50-day moving average and it is attempting to make a new high. Strong support on a general market pullback will likely be found at the 200-day moving average ($52.18).
Buy Zone: $52.00-$54.00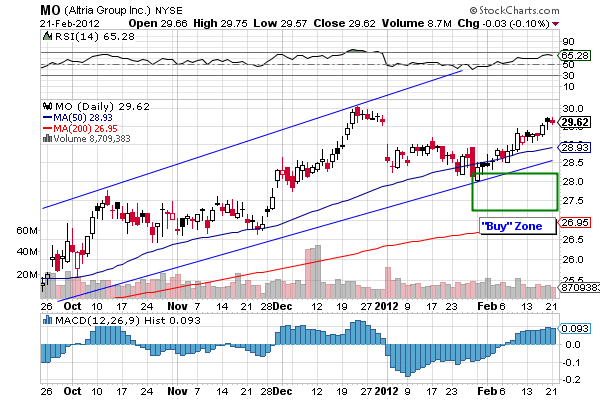 Altria (NYSE:MO) has been trading in an upward range the past few months, and we believe that this trend will continue for the stock as investors continue to seek good risk-adjusted yield in a low interest rate environment. That said, the stock should get downward support around the 50-day moving average ($28.93), and we think that investors should consider buying MO on any further dips.
Buy Zone: $27.25-$28.25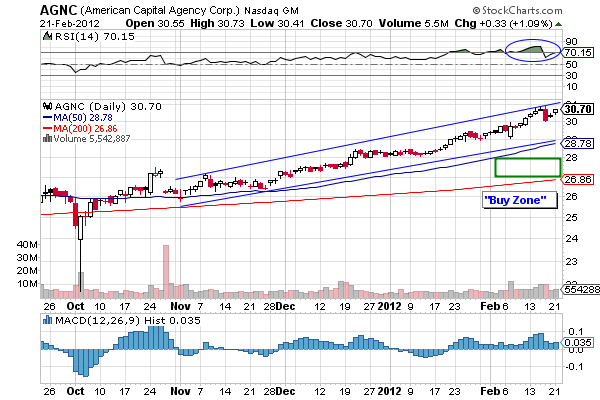 American Capital Agency (NASDAQ:AGNC) has been one of the best performing mREITs over the past 12 months and we think that trend will definitely continue in 2012. The stock is technically overbought right now though and we would wait for a better price if you are putting new money to work in the short term.
Buy Zone: $27.00-$28.00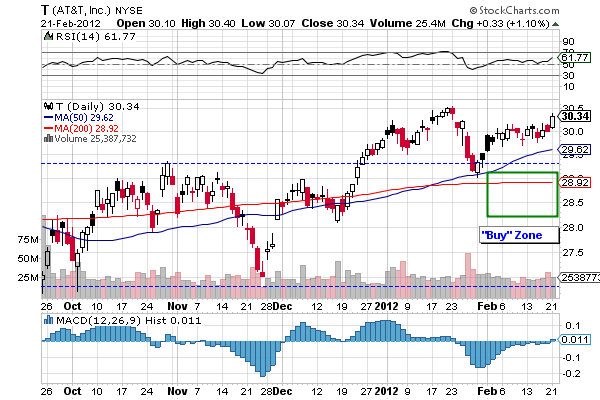 While AT&T (NYSE:T) was range bound for most of 2011, the stock has been hovering around $30.00 for the past few months. The 50-day moving average recently crossed above the 200-day moving average and we think that the stock will get very strong support at the 200-day on a pullback.
Buy Zone is $28.25-$29.25.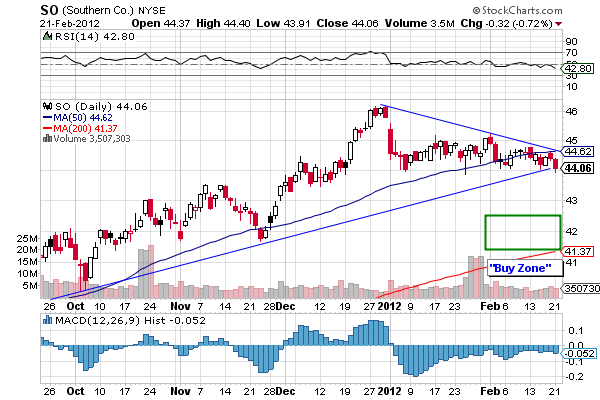 Southern Company (NYSE:SO) is in a very strong long-term uptrend, and we think that it should continue on this path for the foreseeable future. The stock is currently consolidating around the 50-day moving average ($44.62) and we would be a buyer on any further pullback.
Buy Zone: $41.50-$42.50