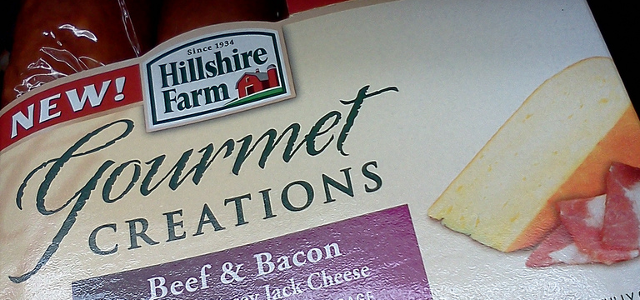 Tyson Foods (NYSE:TSN) is a company with which many of us have direct experience. Through its own eponymous branded meats products as well as brands such as Wrights, Lady Aster, Tortilla Land and many more besides it features in many kitchens.
It is therefore an ideal company to make-up the sixth part of my Food Fight series as I compare various food sector companies against their peers (to see the full "Food Fight" series look here).
So let's start by taking a look at the basics of how the business is constructed.
Breakdown of Revenue
Tyson is mostly focused on "as is" meat products both direct to consumers and through the food service sector and thus is exposed to the price of those animals in a far more direct and dramatic way than many other covered in the "Food Fight" series: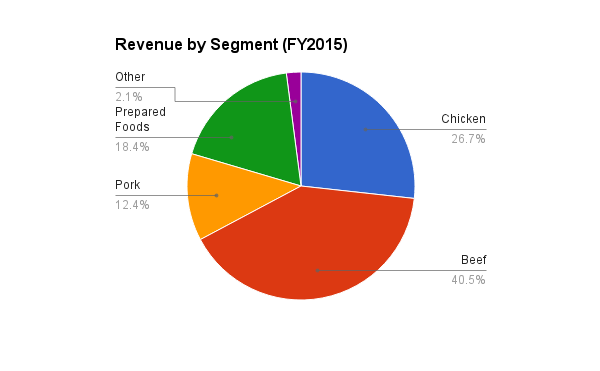 However, prepared foods now makes up a far larger segment of the company's revenues. When compared to FY2014, you can tell that Tyson had dramatically adjusted its business: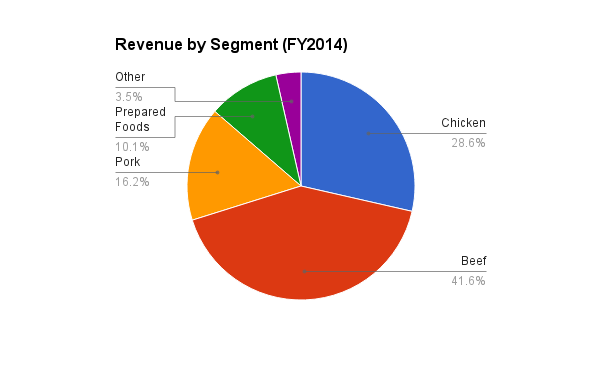 Although still dominated by the beef and chicken segments, its revenue from prepared foods had almost doubled since 2014. This is chiefly due to its transformational Hillshire Brands acquisition.
Hillshire Brands Acquisition
In 2014 it purchased Hillshire Brands which added a number of well-known prepared food brands to its portfolio: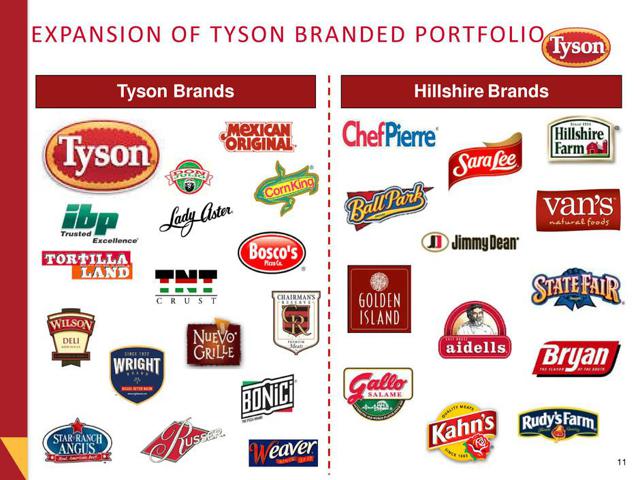 Click to enlarge
This is part of a broader policy in which they are looking to shift towards these higher-margin segments. The Hillshire purchase was, as they noted at the time, a key part in this policy and accelerated the move:
Part of our strategic growth plan has been to shift toward higher-margin prepared and branded foods. [The Hillshire] transaction gives us a portfolio of complementary, proven brands as a new springboard and accomplishes in a short time what would have taken us years to build on our own.
Elsewhere the company has emphasized this point further:
Hillshire Brands as a company is a catalyst for a transformation that's happening at Tyson Foods. We're moving from a commodity portfolio to one that is a portfolio of high-value brands.
I like this move. Companies such as Hormel (NYSE:HRL) which I have analyzed elsewhere have shown how lucrative this particular segment of the meat industry can be. If Tyson can leverage its own position as one of the largest meat and food producers in the world to make synergies work with regards prepared food it could help turbocharge its growth going forward. Of course, there is an execution risk, but even the moves they have made so far seem effective and welcomed for investors.
So what about the fundamentals of the business itself? Let's take a look.
Revenue
First, let us take a look at revenue. Tyson has seen consistent revenue growth over the last five years: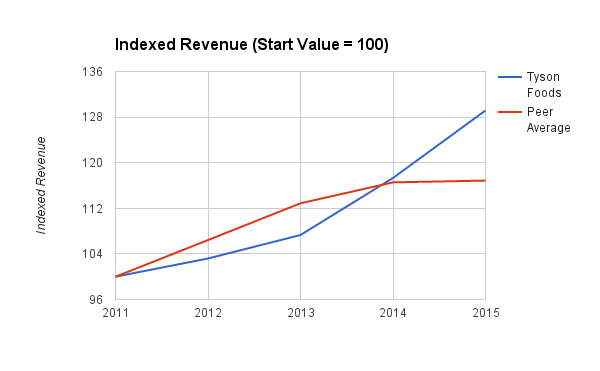 Unlike its peers, many analysts think it likely that Tyson will struggle to continue this revenue growth over the next couple of years with fairly flat revenue: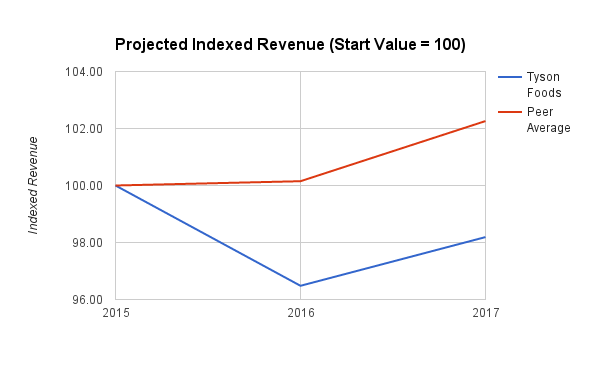 Despite this, a mixture of share repurchases and synergies from the Hillshire Brands integration should see earnings continue to grow pretty rapidly over the next couple of years. Indeed, by FY2017 they expect synergies of about $500 million to have been set in motion.
Operating Profit Margins
The food industry tends to attract strong operating margins. In the case of Tyson Foods, though, its particular focus on commoditized meat means it margins historically have been lower and more volatile. Certainly over the last five years their margins have been far lower than their peers: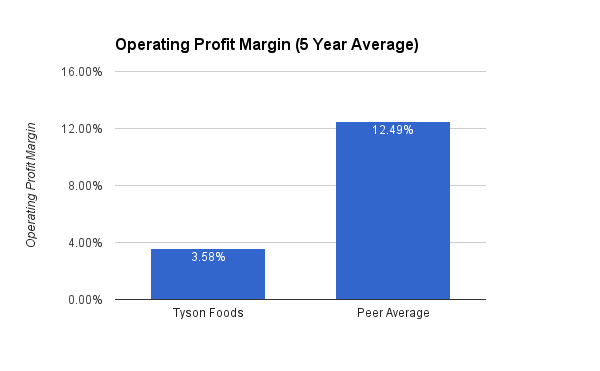 In FY2015, however, they managed to improve their margins noticeably: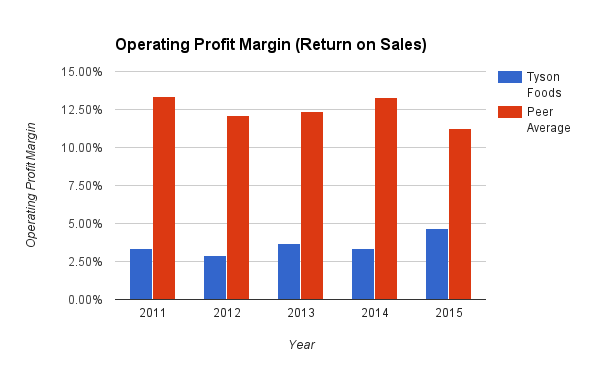 This was helped by a sharp improvement in the margins generated from the prepared foods segment. They expect this to continue as the integration of the Hillshire Brands continues in the future. Although they achieved margins of 7.5% in this segment at FY2015 time, they expect to get this up to the 10% to 12% range in future.
Margins were chiefly pressured from the Beef segment which dropped into negative territory in 2014 after sitting at a lowly 2.1% for the previous two years.
The reality is that the more Tyson moves into the packaged foods segment the more control it will be able to have over pricing and thus margins control.
Cash Flow
Despite its dependence on commoditized markets, Tyson has managed to consistently produce strong cash flows. This has been enhanced in 2015 courtesy of the positive effects of--amongst other things--the Hillshire Brands acquisition:
| | | | |
| --- | --- | --- | --- |
| | OCF | CapEx | FCF |
| 2011 | $1,046 | $643 | $403 |
| 2012 | $1,187 | $690 | $497 |
| 2013 | $1,314 | $558 | $756 |
| 2014 | $1,178 | $632 | $546 |
| 2015 | $2,570 | $854 | $1,716 |
Clearly, post-Hillshire it saw its FCF grow rapidly. I expect to see this operating cash flow conversion continue to expand especially if they continue to expand into the prepared food industry. Already, with FY2015 the first full year with Hillshire part of the business the FCF/ECF ratio has jumped significantly: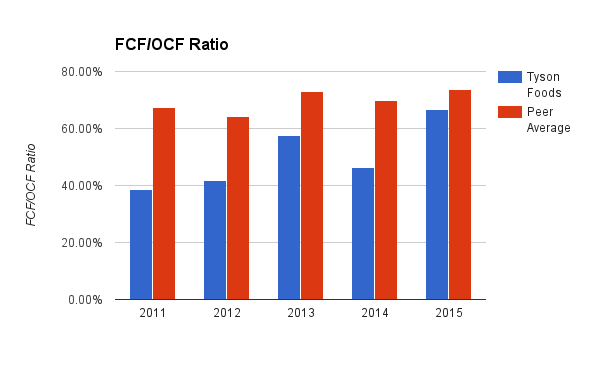 Indeed, Tyson has largely closed up the gap between itself and its peers in this regard. Yet it still has some scope for improvement still. All good signs.
This strong cash flow position has also been reflected in its cash-generating efficiency. This I judge using its CROIC (cash return on invested capital). This is calculated by dividing its FCF by the sum of its debt and equity. Historically, Tyson has lagged its peers in this regard: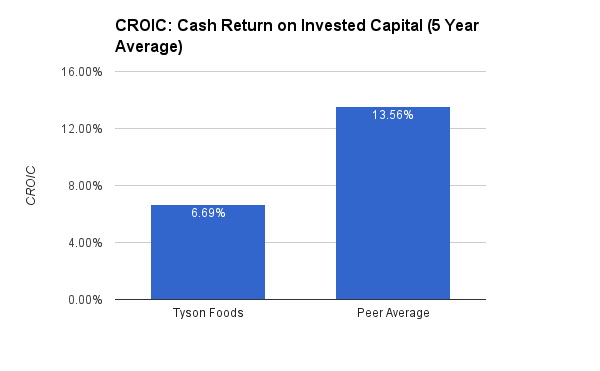 However, FY2015 showed that this historic underperformance may well be starting to close up on the back of the shift to a heavier prepared foods portfolio: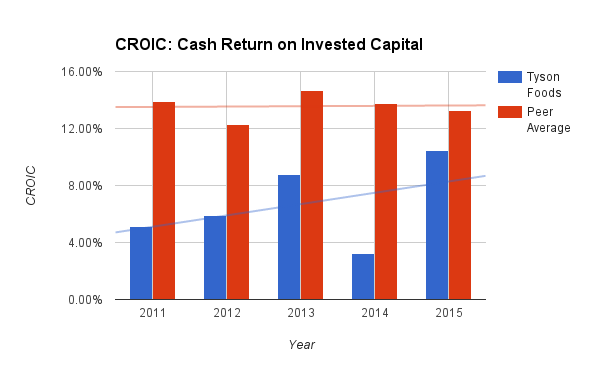 In 2015, Tyson saw a CROIC of 10.45%. What this means is that whereas in the last five years it has averaged a cash return of less than $0.07 on every $1 of invested capital last year it managed over $0.10.
This is encouraging to see. It will be interesting to see as we get quarterly updates how able Tyson is in continuing this progress in FY2016.
Strong Debt Position
Tyson also maintains an impressively strong debt position. From a debt to equity perspective it continues to present a peer-beating profile even after the Hillshire deal: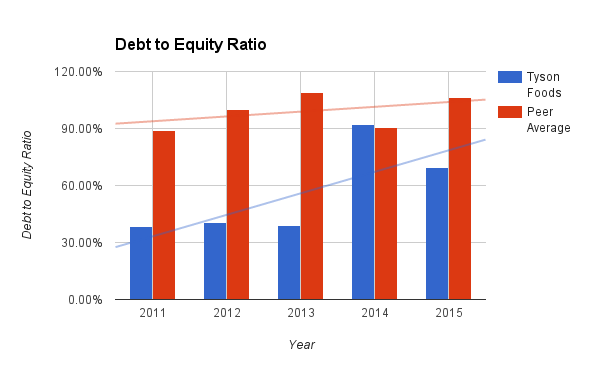 But what I really care about is the amount of FCF coverage of this debt. Here, again Tyson looks good: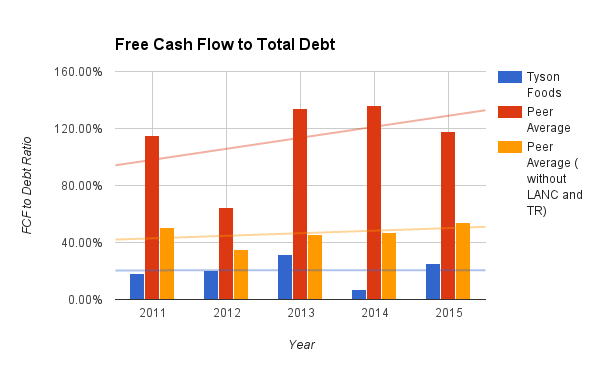 Now, when compared against its peer average generally (the red columns) it does not look that impressive. However, here I adjust the results by extracting Lancaster Colony (NASDAQ:LANC) and Tootsie Roll (NYSE:TR) due to their zero/low debt situation distorting the average significantly.
Even with them omitted (the yellow columns), Tyson does lag behind its peer group noticeably. Nonetheless, this is amongst a high-performing peer group. In fact, Tyson's FCF/Debt ratio of over 25% is very good indeed (especially in light of the sizable Hillshire purchase it undertook recently). What this would suggest is that Tyson could, theoretically, repay the entirety of its debt using only FCF in about 4 years.
For me, this is a healthy coverage and bodes well for the company.
Certainly, looking at its debt levels it has managed this very competently:
| | |
| --- | --- |
| | Debt |
| 2011 | $2,182 |
| 2012 | $2,432 |
| 2013 | $2,408 |
| 2014 | $8,178 |
| 2015 | $6,725 |
After the spike in debt to purchase Hillshire in 2014, it has already managed to reduce its debt load by over $1,400 million. It should be able to pay down this debt at quite a quick pace in the future as well.
It is little wonder that it attracts a solid credit rating (for more on how I normalize credit ratings see here):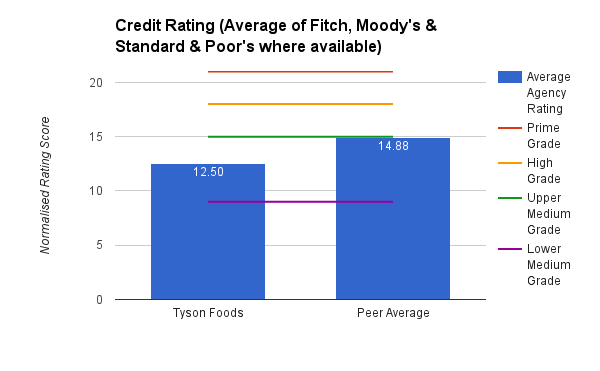 Although comfortably in the lower medium grade credit rating, it does lag behind its peers. This reflects the more commoditized nature of its core meats business and its recent debt risk raised by the Hillshire Brands purchase. Nonetheless, it is a solid debt position.
Dividend
It has also managed to handle the purchase of Hillshire Brands whilst taking a charming stance with its shareholders. On the face of it, Tyson's 0.8% historic yield is hardly eye-catching. But it only tells a small portion of the story: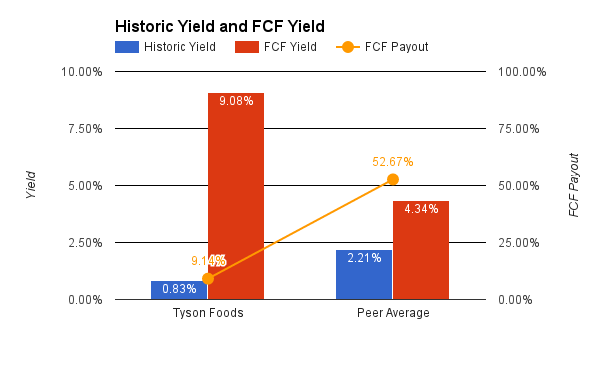 Its rapidly evolving FCF position means that it now presents a FCF yield (the dividend yield if they decided to pay out all FCF as a dividend) of over 9%. Its historic yield therefore represents a lowly FCF payout of about 9%. The scope for dividend growth whilst also paying for its other obligations is therefore significant.
Indeed, in December last year it hiked its quarterly dividend by 50% to $0.15 rather than $0.10. With this set to continue throughout the rest of the year a dividend of $0.60 or thereabouts is likely. This would be a yield of nearly 1.2%: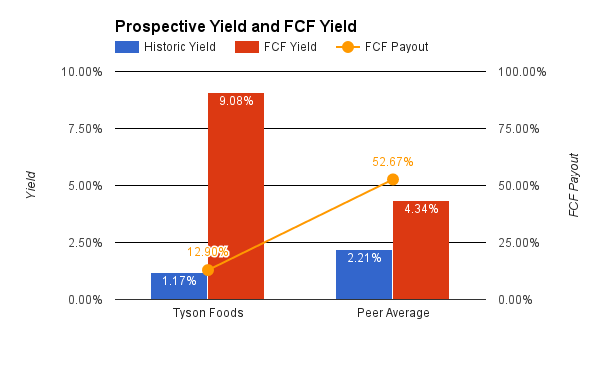 Maybe still not setting the world alight, but it is certainly more generous and still (at a FCF payout of under 13%) leaving plenty of space for growth.
Valuation
Tyson is also still running at a significant discount to its peer group. Despite its shift in emphasis towards the more attractive prepared foods segment and prospect for growth over the next couple of years it is running on a much lower PE to its peers: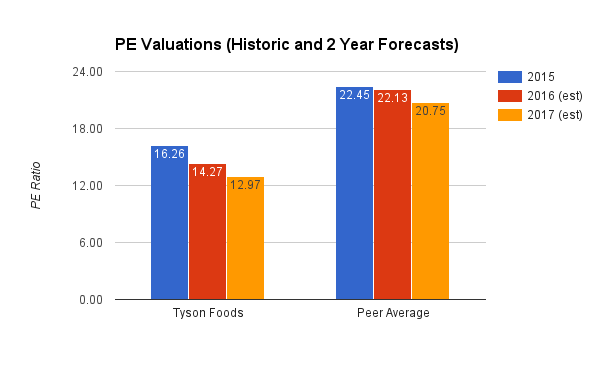 Now I agree that its continued exposure to more volatile meat prices through its beef, chicken and pork segments which make up about 80% of revenues does require a discount to its peers. Similarly, although now more exposed to the attractive prepared, value-added food segment it does carry heftier debt and execution risk as a result. Nonetheless, I would argue this discount is a little too deep in light of its moves into this latter segment.
But what should its fair value be?
Fair Value
I judge my fair value by taking the historic PE valuation for the company over the last five years and multiplying this by the average from the EPS predictions for the next two years.
In Tyson's case, it historic average PE has been 14.3. Using this figure to calculate Tyson's fair value would provide us with a:
Basic fair value of $54.14
I then adjust this by the amount of cash held on their books. Doing so provides a:
Cash-adjusted fair value of $56.
However, as noted above, I do think that--in light of the changes occurring at Tyson--they deserve a slightly higher valuation than they have historically received. In the last two years they have had an average PE of 17.5.
I think this is a fairer reflection of both the risks and opportunities of the moves the company has made in recent years in moving more fully into the prepared foods market. Using this as a modified fair value figure would give us a:
Basic fair value of $65.98, and a
Cash-adjusted fair value of $67.84
Conclusion
I like the moves that Tyson is making. I expect to see margins, cash-generation and much more besides to improve in time as the Hillshire Brands acquisition becomes fully integrated.
With Tyson currently trading around the $51 mark it is possible to pick up its shares at a discount to both my fair value based on its historic average and what I consider a fairer valuation based on its changed portfolio.
Similarly, with its dividend still with plenty of scope to grow and its debt and FCF situation looking very healthy indeed, it represents a tantalizing purchase. I will be waiting to see what kind of performance comes out of its Q1 2016 results later this month.
Based on the above analysis, I am pretty bullish on the company's long-term prospects. If it continues to make attractive moves into the brand-led prepared foods market it could see a future of sustainable and stable revenue growth in the future as well as stronger fundamentals. All of this strikes me as highly attractive. Now we just have to wait and see what Q1 2016 has to offer us.
Notes
The companies compared are: McCormick & Co (NYSE:MKC), Unilever (NYSE:UL), Hormel, Campbell Soup Company (NYSE:CPB), Mondelez (NASDAQ:MDLZ), Lancaster Colony, Hershey (NYSE:HSY), Nestle (OTCPK:NSRGY), Kelloggs (NYSE:K), J. M. Smucker (NYSE:SJM), ConAgra (NYSE:CAG), Mead Johnson (NYSE:MJN), Danone (OTCQX:DANOY), Tootsie Roll and General Mills (NYSE:GIS). In each comparison, the company being specifically analyzed is not included in the peer average.
Unless otherwise stated, all graphs and tables and the calculations contained within them were created by the author. Creative Commons image reproduced from Flickr user mommiedaze.
Disclosure: I am/we are long UL.
I wrote this article myself, and it expresses my own opinions. I am not receiving compensation for it (other than from Seeking Alpha). I have no business relationship with any company whose stock is mentioned in this article.