Every now and then there is an oil company with few constraints from the lenders and not a lot of hedging. This is usually a sign that the company has some very low costs, and it may have a relatively low loan amount as well. In the case of Murphy Oil (NYSE:MUR), both assumptions look pretty good.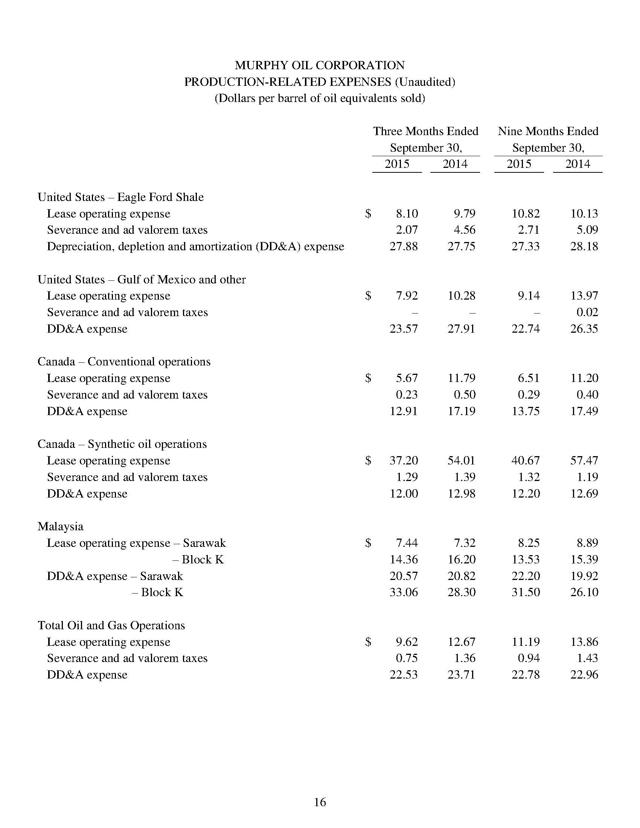 Click to enlarge
Source: Murphy Oil Third Quarter 2015 Financial Statements
From the cost per unit statement, this company has some of the best lease operating expenses in the industry, except for the synthetic oil operations, which the company has already admitted it needs to work on the costs. During the conference call, the president stated that the Eagle Ford leases were projected to have a little more than $8 BOE next year which is excellent.
Depreciation costs are a summation of historical well costs and writedowns from the cost ceiling calculation divided by the possible production related to those costs. As such, they represent history only and not costs going forward, particularly they cannot be a part of the break even costs going forward. At times like the present, with costs dropping very rapidly for a number of reasons, the depreciation can be expected to run high and the cost ceiling calculation will bring that cost down. Although the depreciation may still run high if costs and prices continue to drop after the writedowns.
The biggest thing to remember is that depreciation, depletion, and amortization all represent sunk costs. Therefore for wells already on production, the big cash costs are lease operating expenses, selling expenses, general and administration expenses, transportation expenses, and financing costs.
Going forward, the investor needs an estimated BOE cost for dry holes, exploration and acquisition costs and anything else relevant. Those going forward costs are not on the balance sheet or any of the other financial statements. They are only available by way of management projections. Once costs stabilize for a while, the investor may be able to use some of the financial costs to estimate future costs, right now there are too many cost changes happening for that to be anywhere near reliable.
On G&A, the company stated costs were around $365 million last year and that management was aiming for about a $300 million rate this year (they were a little below that in the third quarter) and to try and drop that figure another five or six percent next year. If production runs around the middle of the forecast for the year (2015) then the G&A is roughly $4 BOE and could drop to about $3.80 next year.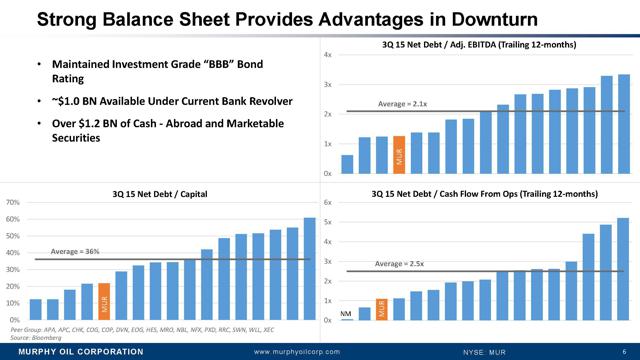 Click to enlarge
Source: Murphy Oil Presentation at Wells Fargo Securities 14th Annual Energy Symposium December 9, 2015
From the conference presentation (click on the Wells Fargo Presentation), the company has extremely low debt when compared with the cash flow. The long term debt on the balance sheet is $3.3 billion. Cash flow from operations was $381 million in the latest quarter and $1.097 billion for the nine month period. With revenues of $715 million in the latest quarter the cash flow was 53% of revenue, so there is clearly some room for the latest decline in oil prices for the company to service its debt and maintain some level of production.
The company sold 207,661 BOED for revenue of $714.949 million. That is roughly $38 BOE. That average could well drop $9 in the fourth quarter leaving cash flow of about $11 BOE (as 53% of that figure was roughly $20 BOE for cash flow). At that $11 using the sales guidance of 197,000 BOED the cash flow would be $195 million for the fourth quarter. While that is not a great figure compared to previous years (to say the least) it can still service the debt of $3.3 billion. The projected long term debt to cash flow figure is roughly four-to-one when annualizing that latest cash flow figure. Plus the company is likely to do better than that as it does have a little hedging and it does sell natural gas liquids, and gas, both of which did not have nearly the price changes that oil had.
Most companies can survive with a cash flow figure such as that indefinitely. Plus when management was asked about the Eagle Ford drilling prospects that were profitable using the third quarter commodity pricing figures, the management replied ten to twenty years at least. While those figures will definitely come down with these lower prices, the company both offshore and onshore has enough projects to easily survive the currently low commodity pricing.
The company has a fair amount of infrastructure already in place that was constructed during times of higher oil prices. So adding some wells to what is already there is not nearly as expensive as starting from scratch. The same goes for reworking producing wells as reworking tends to be a low cash high IRR kind of project. Admittedly if prices remain this low for a few years, the company may be hurting, but right now no one projects the current prices to last a few years. Therefore, the company should be able to live within its reduced cash flow and maintain production reasonably well.
Management has already stated that major projects anywhere will be deferred until commodity prices rally sufficiently for management to be comfortable enough to front the cash needed to start a big long term project. Management will be working to get the synthetic crude costs under control, however, that project is fairly small for this company and not a significant drag on earnings. Management has also stated that they do not have really any significant lease commitments at this time.
Interestingly, $1.5 billion of the latest impairment charges came from Malaysia, where gas selling prices are higher compared with the United States. However, the company has clearly got the costs going forward under control as they are drilling more wells on that project. This project is a long term project with high up front costs and far lower costs going forward. High costs in the beginning are not that unusual as the company explores for the location of the resources and determines the most efficient low cost method to produce the resource. The average cost of this project will probably prove to be low (as that is the company track record). Unfortunately, lower commodity prices came too fast to adequately depreciate those beginning costs and therefore the excess cost was written off.
So what does all this mean for the dividend? Well dividend expense has been roughly $60 million a quarter and that will be about 30% of the annualized projected fourth quarter cash flow (conservative case scenario). While that is a far higher percent than the company normally spends on dividends, it is certainly a maintainable dividend with the projected reduced cash flow should commodity prices remain this low longer than expected. It could be in danger though should the realized price per BOE drop below $25 and stay there for more than six months. That is very unlikely to happen for a significant period of time, however, it is not a bad reference point to keep in mind, just in case.
Since the company has a priority of maintaining the balance sheet, investors can expect the company to use excess cash flow to pay down debt, a reduced capital budget next year, and in extreme cases a reduced dividend. The company has also repurchased stock, although with current commodity pricing, it will probably not repurchase any stock.
Therefore, compared to many oil and gas companies in the current industry environment this dividend is relatively safe and should provide a nearly eight percent yield until commodity prices recover. However, management will be shuffling priorities according to the latest commodity pricing as it should, and balance sheet strength is probably the first priority along with maintaining production at a certain specified level. While investors should not expect an absolute commitment to maintaining the dividend, it should be noted that the company has liquidity of $1.0 billion available from its revolver and $1.2 billion in cash located in various places around the world. That liquidity could pay a lot of dividends if the company chooses to use it to pay dividends and maintain a minimal capital budget for at least a year or two.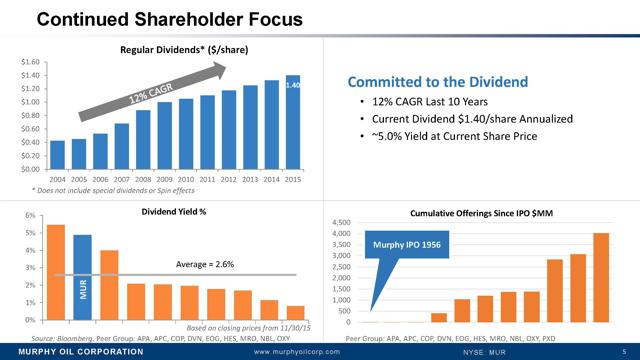 Click to enlarge
Source: Murphy Oil Presentation at Wells Fargo Securities 14th Annual Energy Symposium December 9, 2015
From the conference presentation (click on the Wells Fargo Presentation), the company has grown its dividends and has stated that it has paid its dividend for more than thirty years. However, the payment of dividends started after prices began recovering in the 1980's from some of the lowest pricing seen in recent years. Frankly, the industry has not seen a downturn this severe and this fast in several decades, although is company is as well prepared for that downturn as any company in the industry.
Based upon the closing price on Friday, January 22, of $17.59 for the common, that dividend has a yield of nearly 8%. Since this company has a very low cost of production, an investor can bet that this company will achieve at least its fair share of further production cost decreases one way or another going forward. When looking at the average return on investments, this dividend is the average return on investments before any capital gains are added in. As such, an investment grade company paying this kind of dividend, with the cash flow support shown above, should merit consideration as an above average return investment, with considerably less risk than the average equity investment.
Over the next five year period, oil prices should rally into the fifties with cash flow increasing accordingly (from $11 BOE currently projected to about $30 BOE which would triple that projected fourth quarter cash flow figure roughly). Should the dividend be decreased or even eliminated, a company like this with an investment grade rating and low costs would be expected to restore the dividend and even increase it sooner than most companies in the industry.
While things look fairly grim in the industry right now, this is probably the bottom of the current commodity pricing cycle. As such, investments purchased at or near the bottom usually do better than average in the long term provided the company is financially strong. It may be a little bit bumpy though in the beginning and investors are well advised to diversify and pick a batch of these companies rather than focus on just one or two.
The current market cap is $3.03 billion which along with $3.3 billion in debt dividend by the annualized fourth quarter projected cash flow gives a ratio of eight-to-one. However, the current dividend, along with the low LOE expenses, and that cash hoard give this company an edge over many other companies in the industry. The company believes it can bring its cash home in a fairly low cost way if it needs to (from the other countries it operates in). From its current low pricing there is a significant possibility that this stock could triple in five years should commodity prices rally. Even if commodity prices don't rally the chances of the stock decreasing much are slim as the projected cash flow supports the current pricing and the dividend. Should prices remain low for an extended period of time, the dividend may be reduced, but its highly unlikely to be eliminated.
Plus going forward, the company has the ability to grow production once oil prices reach the mid-forties. There is a big chunk of the industry that cannot make that claim.
Disclaimer: I am not an investment advisor and this is not a recommendation to buy or sell a security. Investors are recommended to read all of the company's filings and press releases as well as do their own research to determine if the company fits their own investment objectives and risk portfolios.
Disclosure: I/we have no positions in any stocks mentioned, and no plans to initiate any positions within the next 72 hours.
I wrote this article myself, and it expresses my own opinions. I am not receiving compensation for it (other than from Seeking Alpha). I have no business relationship with any company whose stock is mentioned in this article.