Back in December, I continued to warn investors that the lack of production cuts by large oil producers like ConocoPhillips (NYSE:COP) would have a huge negative impact on oil prices and hence the stock price. Now that both have taken big hits, lets review the situation again to see if any value exists in the stock.
ConocoPhillips now trades below $38 after collapsing to $33 last week. The stock rebounded with oil prices, but one has to wonder if investors got ahead of the oil price on that $5 rebound. After all, ConocoPhillips had big cash flow problems when oil was at $45 that is only compounded by the collapse in oil to the low $30 range.
Previous Standing
When ConocoPhillips last updated the market with the 2016 operating plan in December, the energy exploration firm provided a plan that included increasing production and closing the gap on cash flow neutrality.
The inability to selectively cut production with oil and natural gas prices so low is creating a self-destructive loop of lower prices. In order to keep covering the dividend, the company grows production, borrows money, and sells non-core assets.
Both of the above moves, ensures that production stays at near peak rates as even the non-core assets move to groups that will push production growth.
ConocoPhillips provided the following playbook for the different scenarios of energy prices.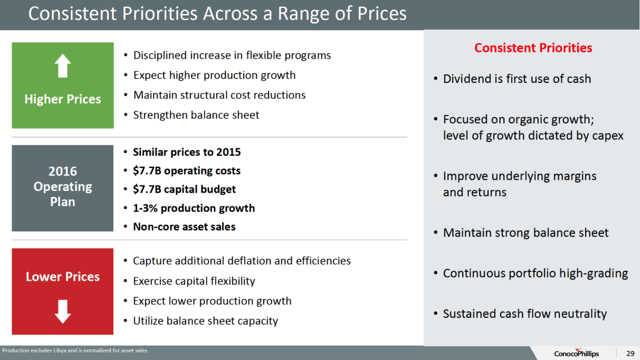 Click to enlarge
Source: 2016 Operating Plan presentation
The prescribed plan by the company was to lower production growth, but ConocoPhillips made no indication that it would actually reduce production. At the same time, the energy producer suggested the company would again utilize the balance sheet to cover the dividend as a top priority. Paying a dividend only helps to sustain the problem.
What Great Balance Sheet?
Even Cowen confirmed last week that ConocoPhillips remains committed to the dividend. The balance sheet is always mentioned as being strong, but the company already has a large amount of debt.
The company ended Q3 with $2.4 billion of cash and around $25 billion in debt leaving limited flexibility for paying dividends without negative actions. This balance sheet is actually very similar to the hated one at Freeport-McMoRan (NYSE:FCX). Freeport has limited cash and about $20 billion in debt.
Sure ConocoPhillips has better leverage ratios, but Freeport-McMoRan is actually closer to cash flow neutral then ConocoPhillips. Freeport is definitely closer to covering quarterly cash requirements with the insistence that ConocoPhillips pay the large dividend each quarter.
ConocoPhillips is only surviving from turning on the oil spigot to generate short-term cash flows that are harmful to long-term objectives. In addition, the forecasted asset sales of $1 to $2 billion in 2017 are not ideal with energy prices at basement levels. On top of that, the company increased borrowings by $2.4 billion through Q3 last year before this last collapse in oil prices.
Takeaway
Until the scenario changes in the industry, ConocoPhillips isn't interesting even with the nearly 8% dividend yield. Some major oil producing firms have to blink and reduce production while also cutting dividends to see stocks and oil prices hit the lows. Until that point, stay away from ConocoPhillips other than a trading bounce like over the last couple of days.
Disclaimer: The information contained herein is for informational purposes only. Nothing in this article should be taken as a solicitation to purchase or sell securities. Before buying or selling any stock you should do your own research and reach your own conclusion or consult a financial advisor. Investing includes risks, including loss of principal.
Disclosure: I/we have no positions in any stocks mentioned, and no plans to initiate any positions within the next 72 hours.
I wrote this article myself, and it expresses my own opinions. I am not receiving compensation for it (other than from Seeking Alpha). I have no business relationship with any company whose stock is mentioned in this article.