International Business Machines (NYSE:IBM) recently released fourth quarter and full-year 2015 earnings. The media headlines were filled with negative tidbits from the report. While that's completely understandable, there were positives underneath that are important to the company's shifting business. But Mr. Market's glass half full reaction is opening an opportunity for dividend investors.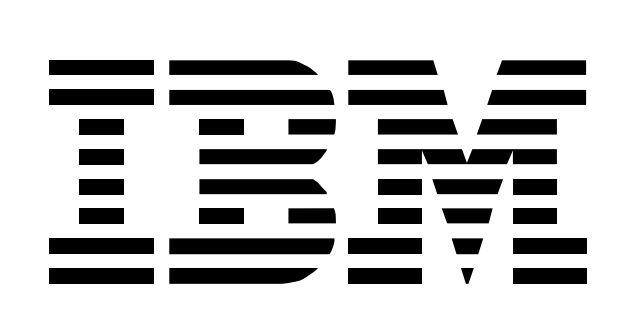 Growth and income

IBM's history goes back nearly 100 years. It has traversed good markets and bad, changing shape along the way to keep up with the trends in the technology space. It's impossible to predict which companies can stand the test of time, but IBM has proven it has the chops to do so. In fact, I think the changes it's making today are in its DNA.
Which is one of the big reasons why the company passes my most important screen: Would I be happy with my wife owning this company if I were to die. I'm confident IBM will continue to reinvest itself time and time again, as it has in the past. So my wife wouldn't need to worry about it. And, as one of the largest and most profitable technology companies, she shouldn't have to worry about solvency.
But that's just one screen. Like many income investors, I have minimum requirements for yield. And until recently, IBM didn't pass muster. Now, with a yield of more than 4%, it does. That, of course, is backed up by a long history of regular dividend increases - another requirement. So not only would I expect my wife to be safe holding IBM, but I'd expect her to get regular "pay hikes" along the way.
And, perhaps more important right now, I think this is a fleeting opportunity. Will it be weeks, months, a year? I don't know. A lot depends on how well IBM executes its business shift and how Mr. Market reacts. But IBM is yielding more than it historically has and that makes now a good time to step aboard, in my opinion, especially compared to other income options today.
It isn't going well

But what is good execution? There's no doubt about the fact that some of IBM's core businesses are under pressure. And that's flowing through to results. For example, revenues were down 9%, net income was down 19%, and earnings were down 17% in the fourth quarter. For the year, revenues declined 12%, net income fell 15%, and earnings declined 13%.
To be fair, currency changes were a big headwind in the quarter and for the year. But, still, these aren't good numbers, even though the company actually beat analyst expectations. The numbers are, however, eye catching and continue a negative trend. Worse, the company put out guidance for 2016 that was below analyst expectations, which helps explain why the media jumped on the glass half empty bandwagon. And why investors continue to sell IBM's shares, opening up an opportunity for long-term income investors. But IBM's changing business is exactly the undercurrent that supports the glass half full view.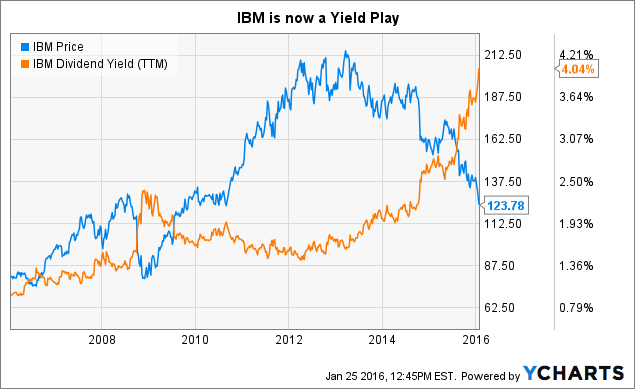 Things are getting better

IBM has been investing heavily in what it's calling strategic imperatives. These are cloud, analytics, mobile, social, and security. You don't have to follow technology all that closely to know that these are increasingly important markets in the world today. The fact that IBM is targeting these areas for growth shouldn't be surprising.
But as the older businesses within IBM decline, or are sold off, the new ones have to pick up the slack. They clearly aren't doing that as quickly as some investors hope. But the numbers are fairly impressive, with this group of five areas now representing roughly 35% of revenues and growing 17% for the year (26% if you take out one-time items). That's pretty impressive growth and a big piece of the overall pie.
Moreover, the company is clearly dedicated to its chosen path. It spent $3 billion on acquisitions and roughly 6% of revenue on research and development - largely in support of the strategic imperatives. So more growth in 2016 is likely as those assets get integrated and expanded. Note, too, that the purchase of Weather Channel assets will happen this year. So there's already some acquisition growth built in before the year starts with an asset IBM knows well since it already works with the Weather Channel. (It announced another acquisition after earnings were released, too.)
IBM over REITs?

So, if you take the glass half full view, what's an investment in IBM competing against? The answer is income investments like REITs. For example, top-notch REIT National Retail Properties (NYSE:NNN) sports a yield of around 4.2%, roughly in line with IBM's yield. But IBM has grown its dividend at nearly 20% annually over the past decade. NNN's growth? A less enticing 2.5%.
Realty Income (NYSE:O), often viewed as the gold standard for REITs, is a similar story. It has a yield of around 4.4% and its dividend has grown around 6% annually over the past decade. Simon Property Group (NYSE:SPG) yields 3.4% and has grown the dividend around 7% annually over the last 10 years. I could keep going. Yes, I'm cherry picking REITs to some degree, but these are all high-quality names that are investor favorites. And in comparison, IBM stands out well.
Yes, IBM is going through a difficult transition. But that's exactly why this opportunity exists. And, in my opinion, compared to other dividend paying options, IBM is paying you pretty well to stick around while it works through this process. But perhaps you're worried about the safety of IBM's dividend.
Take a look at the numbers and the dividend seems pretty secure. IBM returned roughly $4.9 billion to investors through dividends. Added to that is another $4.6 billion in share repurchases. Those stock buybacks are an important component of IBM's strategy today, but also represent a safety valve for the dividend. In other words, despite the yield and the concerns about IBM's business, the dividend looks pretty secure.
But that's only worthwhile if you think the new businesses will eventually be big enough to support a return to growth at IBM. That's the glass half full. If you don't buy that, then IBM is a glass half empty. This is the same story that's been told for a while now, which basically means the quarter and year were less newsworthy than you may think. That's true even with the dour 2016 outlook, driven partly by continued currency headwinds and, likely, continued weakness in the software division.
I'm in

At this point, I'm a shareholder of IBM and I no longer own O and a couple of other big-name REITs. I see the glass as half full at IBM. And I'm concerned Mr. Market's love affair with REITs will end badly, taking the value of even the best run businesses down along the way.
Will it get worse before it gets better at IBM? It might. However, IBM passes my key tests. It is a company that I would be happy for my wife to own if I were dead. It has survived the test of time. And it has a long history of returning value to shareholders via dividends.
Most important right now, I believe the current troubles will, in the long run, turn out to be a blip making IBM's current price a relative bargain. Particularly for income investors facing other options with similar yields and nowhere near the record of dividend growth.
Disclosure: I am/we are long IBM.
I wrote this article myself, and it expresses my own opinions. I am not receiving compensation for it (other than from Seeking Alpha). I have no business relationship with any company whose stock is mentioned in this article.