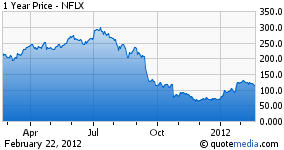 For the past couple of years gravediggers have stood frustratingly idle with shovel in hand anxiously waiting to be contracted out to bury streaming movie giant Netflix (NASDAQ:NFLX). While the company has shown to have had more lives than 24's Jack Bauer, it has also had the dubious distinction of being the most widely anticipated death on Wall Street. Only Sirius XM (NASDAQ:SIRI) has had to deal with more bearish bets. However, for Netflix, there is now more reason (among many) to think that escaping its morbid fate may not come as easily as it once did.
The beginning of the end
With the news that Comcast (NASDAQ:CMCSA), the top cable operator in the U.S., plans to take Netflix head-on with its own Internet movie streaming service, the only question for Netflix is how much time does it realistically have left? The disappointing part of all of this is that, at one point, an M&A acquisition was a possible alternative, but any company willing to take on its disastrous books in the face of so many competitive forces would be reminiscent of News Corp. buying MySpace at the same time that Facebook and Twitter were hitting mainstream - It doesn't make much sense and only spells the beginning of the end for Netflix.
Comcast's service is said to be called Xfinity Streampix, and will offer a library of TV shows and movies. The service will be made available only to Comcast's cable TV subscribers. But the service could also operate as a standalone service outside of the cable subscription package under programming agreements it has with some of the partners that supply it with shows and movies. Streampix will come free with Comcast's top video packages and for an extra $4.99 a month in lower tiers while offering TV shows and movies from partners including Disney (NYSE:DIS), Time Warner (NYSE:TWX), Sony Pictures as well as from its own studio, NBC Universal.
Remarkably, this news arrives on the heels of Verizon (NYSE:VZ) which one week ago said it would create a joint venture with Coinstar's Redbox to offer online video and DVD rentals separate to its FiOS service. And we have not even mentioned Apple's (NASDAQ:AAPL) highly anticipated iTV as well as Amazon's (NASDAQ:AMZN) Prime streaming service nor Google's (NASDAQ:GOOG) own plan for online video. Though Netflix has built a great business and can hang its hat on having built a subscriber base of 24 million users, the writing has been on the wall for quite some time.
There is huge demand for the convenience of only streaming and everybody wants a piece of the buy for as little cost as realistically possible. As noted, it is hard to find a way for Netflix to survive since it is unable to control the enormous content costs - which was the reason that it instituted its price increase last year and the very same reason that caused it to report a loss of 1 million subscribers the following quarter. But unfortunately for Netflix, this was the event that leveled the playing field for its competitors, who then immediately exploited the opportunity.
It is no coincidence that shortly after, rumors of iTV started increasing and created an immediate buzz as to Apple's re-thinking of the idea. Analysts have raved about the re-launch of the product that is predicted to be much more marketable, web-based and easily integrated into Apple's existing portfolio of products since (this time) they will actually make the TVs themselves.
If you want evidence of just how real of a threat this can be for Netflix, Apple has recently acquired a considerable amount of land in a North Carolina region to support two data centers that exceeds its storage needed for standard data such as apps and music. The project is said to exceed $1 billion. The rumor is that the second storage facility is the one that will be used for its video unit - this according to Peter Misek, an analyst with Jeffries.
Summary
There is little doubt that Netflix was the king of online content. But content is not always enough as competition, innovation and costs are typically the drivers of any market. This same competition allows the content creators themselves to either figure out a way to become their own means of distribution as Comcast plans to do or they shop around for whoever is willing to pay them the most money for their content. There is a lesson in there also for Sirius XM since it is always being compared to Netflix. As much as I enjoy both services, content is not "always the king" that it is said to be, but rather, the true king is whatever drives customers to your product.