The year started challenging for most stock investors. In case you're invested in the S&P 500 Index by means of the leading SPDR S&P 500 ETF (NYSEARCA:SPY), you're down 6.5% already (as of Jan. 22 closing prices). The sour start follows on a weak 2015 that delivered a mere 1.2% (including dividend). Technology investors are down a bit more this year, with the PowerShares QQQ ETF (NASDAQ:QQQ) losing 7.2% year-to-date. However, QQQ, tracking the Nasdaq-100 Index, had a solid year in 2015 and returned a net 9.4%. Actually, since the bull-run starting in 2009, QQQ outperformed SPY each year as the table below shows. The tech-ETF outperformed the broader market tracker eight out of the 10 recent years. More strikingly, during this period, the net performance of QQQ reaches over 200% ($100 invested at the start of 2006 is now worth $300.81). SPY yielded "only" 101% ($100 invested at the start of 2006 is now worth $201.03) This raises the question whether investors should prefer QQQ over SPY.
Please note: although heavily technology-oriented, the NASDAQ-100 lists non-tech shares as well, such as Kraft Heinz (1.8% of total assets). For the lack of simplicity, we consider QQQ as the technology alternative to SPY. In general, ETF-investors may choose SPY for the broader market, QQQ for technology exposure and iShares Russell 2000 ETF (NYSEARCA:IWM) for small-caps. These 3 ETFs are the most heavily traded stock market ETFs.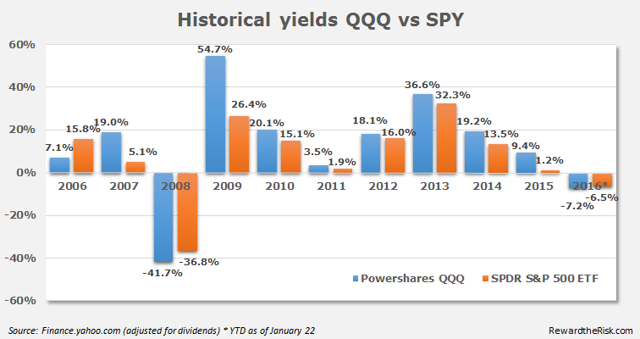 Click to enlarge
Now there's still some distrust toward the strong performance of tech shares during recent years. Critics point to the .com-boom, noting that over a 16-year period, technology lagged the broader market, as author Debbie Carlson made a case on ETF.com. However, the article notes as well that during a 13-year period, the annualized rate on the S&P 500 is 9.3% compared to 14.6% for the Nasdaq (as of August 31, 2015). Let's make it a bit more interesting. It's also good to know which ETF is an outperformer in bull markets and which one in bear markets. In this millennium, we can identify two strong bull and bear markets. The two bull markets lasted from 2002 until 2007 and from 2009 until last year's all-time highs. The bear markets lasted until 2002 and from 2007 until March 2009. During the summer of 2011, there were some headwinds for the bulls. Remarkably, during this correction there was some divergence in the development of the SPY compared to QQQ. Overall, the SPY was (yet again) an underperformer during this period. The table bellows shows the performance during abovementioned periods.

Click to enlarge
As we all know, past performance is not indicative for future results. But there are a few indicators that would argue for a continuation of QQQ's outperformance compared to SPY. First of all, 2016 earnings for SPY are dragged down by the energy sector. Although the sector only accounts for 6.34%, a fall in earnings causes the average EPS for the S&P 500 Index to decline to $120, according to Deutsche Bank. Earnings for the energy sector could drop 25%, compared to an EPS increase of 6.1% for the S&P 500 ex-energy. The tech sector could see EPS-growth of 6.7%, according to the same DB analysts.
A large part of the 2015 outperformance for QQQ is often attributed to the so-called FANG-group, consisting of Facebook (NASDAQ:FB), Amazon (NASDAQ:AMZN), Netflix (NASDAQ:NFLX) and Google (now Alphabet) (NASDAQ:GOOG) (NASDAQ:GOOGL). This group of shares contributed a yield of 13.8% to QQQ's total performance during 2015. For 2016, the group cut 1.5% from QQQ's value. As of 22 January, FANG has a weighting of 20.6%. The distribution of QQQ is much less equal-weighted as SPY. The top three holdings of QQQ take approximately 25% of total assets. Moreover, 50% of QQQ is allocated toward the top 10 holdings. Top holding is Apple (NASDAQ:AAPL) with 11.5% (3.2% in SPY). The high exposure to a small number of companies could imply higher risk. Therefore, it may be prudent to make a comparison based on the top-10 holdings.
To assess whether another year of outperformance is in the cards, it's necessary to take a look at the valuations. However, there is an important issue with a comparison based on price/earnings ratios. The high P/E ratio of AMZN (5.7% of net assets) causes a distortion. Based on 2016 EPS of $5.53 (Thomson Reuters median consensus), the company's shares are trading at a P/E of 107.8. This pushes the average 2016 P/E of the top 10 holdings to 27.3. However, excluding AMZN, the top 10 holdings have an average 2016 P/E of 16.2. This is in line with the broader market. Based on above mentioned 2016 EPS expectations, the S&P 500 is currently trading at a 15.9 P/E (as of Jan. 22 closing price).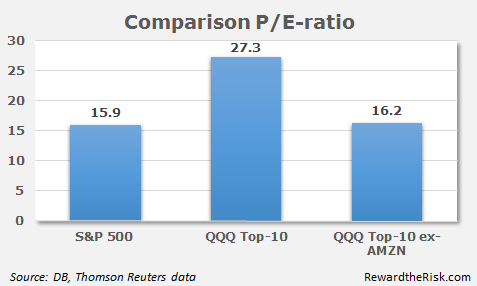 Nevertheless, valuations should be viewed in the light of potential growth. Compared to the broader market, QQQ has superior EPS growth expectations, as the graph below shows.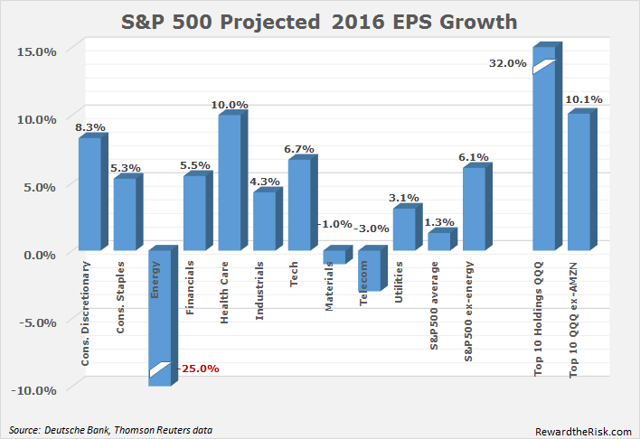 Click to enlarge
Overweight QQQ vs SPY
Concluding, historical yields show that tech-oriented QQQ outperformed SPY in bull and bear markets. The better EPS-growth perspective for the tech sector indicates that this trend may continue in 2016. Regardless of an investor's impression of the market direction in 2016, an overweight of QQQ compared to SPY sounds reasonable.
Disclosure: I/we have no positions in any stocks mentioned, and no plans to initiate any positions within the next 72 hours.
I wrote this article myself, and it expresses my own opinions. I am not receiving compensation for it (other than from Seeking Alpha). I have no business relationship with any company whose stock is mentioned in this article.