General Electric (NYSE:GE) is in the process of selling off major business units, such as GE Capital and GE Appliances. Several assets have been sold off already, such as its private equity lending business, its healthcare financing business, and most recently, the complete sale of GE Appliances to Haier for $5.4b. The theory behind this strategy is that a smaller company focused on selling higher margin products will fetch a richer valuation. This is a good strategy, and is likely the best way to increase value for shareholders since the company operates in a mature industry.
I believe that GE should add its GE Healthcare group into the mix of subsidiaries being sold off. As the company becomes less diversified, subsidiaries not directly related to GE's core industrial profile distract from its mission to be a high-margin industrial producer. However, if GE doesn't wish to sell off this operation, they should make a strategic acquisition to enhance synergies and eliminate competitors.
Operating Difficulties
GE Healthcare produces a wide array of imaging, information system, diagnostic, and pharmaceutical technologies. It is split into eight primary business units: Detection and Guidance Solutions, Healthcare IT, Life Care Solutions, Life Sciences, Magnetic Resonance, Molecular Imaging & Tomography, Surgery, and Ultrasound. In 2015, this group made up $17.6b of GE's total $115.2b revenue.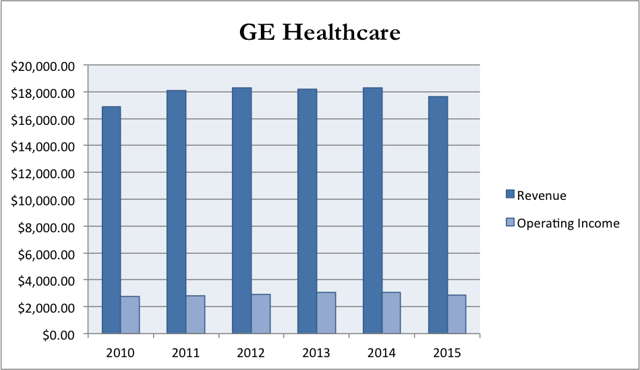 Click to enlarge
The business group has struggled to substantially grow revenues or net income, with both numbers staying relatively stagnant over the past five years. If management expects this growth profile to continue, it would be wise to sell off the business group in a time of relatively rich valuations, low interest rates, and a high volume of acquisitions in the healthcare space.
On the contrary, if management is forecasting high levels of growth in this space, it should double down. Instead of share buybacks, GE should substantially expand this business unit, as capital markets will award a strong valuation to a growing growth profile. A source of growth in this space could come from aging population in developed countries and a larger population of ensured individuals as a result of healthcare regulation.
Product Diversity
Both a sale of GE Healthcare and an expansion of the division carry substantial benefits to GE with regard to profit diversity.
A sale of the asset would concentrate revenues into its higher-margin businesses such as Aviation, Power & Water, and Transportation. These business groups fetch historical operating margins of 18-20%, while Healthcare fetches 15.5-16.5%. Higher operating margins mean higher valuation, so shareholders would benefit from such a move.
Expansion of the Healthcare group would limit volatility in revenues and earnings, more equally spreading revenue sources across business units. This falls more into the old GE business model, which management is trying to get away from. I primarily advocate sticking with this approach, but if management does see such high potential in the Healthcare group that they do not want to sell it, it makes sense to expand it. There is plenty of capital available to make a strategic acquisition, and I will expand on targets later.
GE Digital
If you've seen the advertisements on TV, you know GE is rebranding itself as "GE. The digital company. That's also an industrial company." The Healthcare group, which falls into GE's base of highly advanced products, may serve a key role in this marketing strategy.
While a sale of GE Healthcare could potentially damage this campaign, an expansion of the group would certainly boost it. If GE were to take over a competitor in the space, it would fortify the belief that the company is truly expanding into a technology-centric approach to doing business.
Siemens Healthcare
This is not the first time this argument has been made in the Industrials space. Siemens (OTCPK:SIEGY), a direct competitor to GE in many product spaces, possesses a healthcare group that many argue should be IPO'd or sold. Siemens Healthcare sells diagnostics, imaging, therapy, and clinical products to hospitals and medical providers around the globe. It's trying to grow its healthcare sector through sales of imaging technology as well as digital health services, but proponents of a sale make the case that it doesn't share enough similarities to the rest of the company. Given the synergies between the two subsidiaries, and the amounts of cash GE has on hand, Siemens Healthcare would be a strong target. If not, it stands as a compelling example of why GE should also sell its Healthcare group.
Conclusion
GE Healthcare blocks GE's goal of becoming an industrial, margins-based company. In that role, it depresses the potential valuation GE could fetch in the open market, while limits shareholder potential with stagnant revenue and earnings. However, if management sees growth potential in the business group, it should make a strategic acquisition of a competitor to capitalize on that growth.
All data is from taken from a Bloomberg Terminal unless mentioned otherwise.
Disclosure: I/we have no positions in any stocks mentioned, and no plans to initiate any positions within the next 72 hours.
I wrote this article myself, and it expresses my own opinions. I am not receiving compensation for it (other than from Seeking Alpha). I have no business relationship with any company whose stock is mentioned in this article.
Editor's Note: This article discusses one or more securities that do not trade on a major U.S. exchange. Please be aware of the risks associated with these stocks.