Last week Key Private Bank, the investment, trust and wealth management arm of KeyCorp (NYSE:KEY), established Key National Trust Co. of Delaware to provide trust services for wealth clients and prospects to take advantage of Delaware's favorable trust laws.
If you note in the chart below, KeyCorp had the second highest percentage of its revenue come from brokerage and investments, which generated 8.8% of its revenue from those business.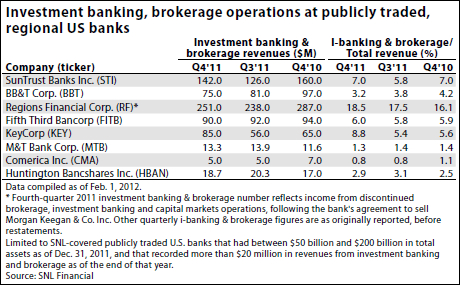 These products are not only very profitable to the banks, but also bring in the wealthy individuals and other entities, such as trusts, with their cash deposits, as often other business with companies and friends who also have deposits and all types of loan requirements. They are great income producers with little actual losses today.
KeyCorp has stated it is looking to grow its investment banking relationships with customers in the middle market.
Christopher Gorman, who is now president of Key Corporate Bank and chairman and CEO of KeyBank NA, told SNL Financial the corporate bank, which includes institutional and capital markets, real estate and equipment finance businesses, has identified 7,000 businesses within the company's footprint and industry focus that generate between $25 million and $1.5 billion in revenue.
These products also have other advantages, such as helping the super-regional bank Regions Financial Corp. (NYSE:RF) of Birmingham, Alabama, which owes $3.5 billion, the most of any U.S. bank under the Treasury department's Troubled Asset Relief Program. It may have $500 million to $700 million of excess cash and could tap $1 billion from its bank subsidiary with regulators' approval, in an effort to pay back the money. Regions will also get $1.18 billion from the sale in January of its Morgan Keegan for $1.2 billion to Raymond James Financial, Inc. According to SNL Financial chart above, Morgan Keegan generated 18.5% of the company's total revenue.
Last year, with $251 million in the fourth quarter, followed by SunTrust Banks (NYSE:STI) at $142 million, then Fifth Third Bancorp (NASDAQ:FITB) at $90 million, and coming up from behind, KeyCorp at $85 million.
While SunTrust was second in percentages (also second in actual dollars), Hugh Cummins III, who leads the corporate and investment banking operations at SunTrust, explained to SNL Financial that its SunTrust Robinson Humphrey Inc. has been able to capitalize on efforts to increase its market share in syndicated loans. "We targeted [syndicated loans] as a way to get a foothold and become more important to our clients," Cummins told SNL.
SunTrust's investment banking income has also risen in recent years. In 2011, SunTrust's investment bank income increased to $317 million, up about 38% from 2006. Cummins believes SunTrust will continue to win new business. He expects to take more syndicated loan market share especially as European banks retrench from the market, and another goal is to grow the leveraged finance business, which includes leveraged loans and high yield bonds.
Perhaps some of the European bank problems may come from its arranging or involvement in syndicated loans, whose main goal is to spread the risk of a borrower default across multiple lenders (such as banks) or institutional investors like pension funds and hedge funds. These loans can also be split into dual tranches for banks (who fund standard revolvers or lines of credit) and institutional investors (who fund fixed-rate term loans).
It is one of the major elements that brought down the mortgage industry in the United States which lead to the current "great recession," as well as the current fears in Europe from several banks sharing syndicated loans with banks in countries having serious financial troubles.
Let's hope all new investments, especially syndicated loans, are more prudent.
Disclosure: I have no positions in any stocks mentioned, and no plans to initiate any positions within the next 72 hours.