Chalk up another great quarter for McDonald's Corp. (NYSE:MCD). The company reported fourth quarter earnings of $1.31 per share, beating Wall Street estimates by 8 cents and causing the stock to trade up to a new all-time high.
U.S. same store sales were up 5.7%, while global same store sales advanced 5.0%. These figures handily beat analyst expectations for 2.7% and 3.2%, respectively.
In short, the fourth quarter report from McDonald's was nothing short of exceptional.
The company is growing sales both domestically and internationally, and McDonald's October launch of the "All Day Breakfast" menu was a major success. Simply looking at the reported headlines gives investors reason to celebrate. But what you may not realize is that McDonald's fourth quarter performance had some hidden areas of strength that point to future growth in 2016.
Headwinds? What Headwinds?
According to Forbes, McDonald's has the world's sixth most recognized brand, behind Apple, Microsoft, Google, Coca-Cola and IBM. As a truly global company, McDonald's operates in more than 100 countries and relies on customers around the world to generate revenue.
The company reported particular strength in its U.K. Canada and Australia markets, along with expansions in "High growth" economies such as Russia and China.
Strength from international markets is particularly impressive because McDonald's is currently fighting a major headwind related to the strong U.S. dollar. For the majority of the last five years, the U.S. dollar has been increasing in value compared to a basket of other international currencies. Below is a chart of the trade-weighted U.S. dollar, showing the dollar at the strongest level since 2003.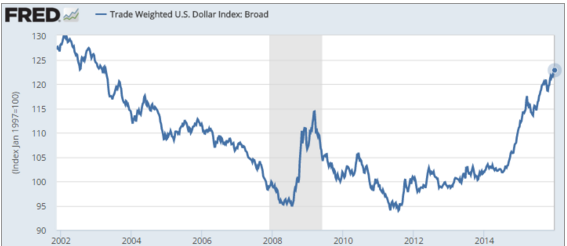 (Source: Federal Reserve Economic Data)
Why does this matter for McDonald's?
Because as the value of the dollar increases, the relative purchasing power of other currencies decreases. This makes U.S. goods and services more expensive worldwide, causing companies like McDonald's to either cut prices in dollar terms or see revenues drop as customers find it more difficult to afford McDonald's food.
From a reporting perspective, this is also a challenge because McDonald's reports earnings in U.S. dollar terms. To do this, the company must tally revenue and profits in multiple currencies and then report these revenues and profits in U.S. dollar terms for investors.
We can see this force at work when looking at McDonald's operating earnings in its "High Growth" markets. For the fourth quarter, operating income increased 27% as reported, but without the affect of converting income to U.S. dollars, this metric would have been 45% higher.
This currency conversion is a major challenge for international companies based in the U.S. Earlier this month, we wrote about how the strong U.S. dollar has been a challenge for Procter & Gamble (NYSE:PG). It will be interesting to review PG's quarterly report tomorrow before the open.
The fact that McDonald's was able to report a 27% expansion in operating income for its "High Growth" markets, and a 16% increase in earnings per share, despite the strong U.S. dollar was a major win for the company and its investors.
So based on this strong momentum heading into the new year, what can investors expect from McDonald's in 2016?
Diminishing Challenges With Capital Returns To Shareholders
This year there are two primary reasons I believe McDonald's will trade higher. These reasons go above and beyond the headlines of 5% same store sales growth and the 16% EPS increase from the fourth quarter.
The first reason is that the headwind of the strong U.S. dollar may very well be peaking this quarter. If the dollar were to simply stabilize on a trade-weighted currency basis, McDonald's would likely to see earnings growth increase all the more. This is simply because the company will not have to discount operating income from growth economies because of currency fluctuations.
If the U.S. dollar were to weaken compared to other currencies, this would actually cause a tailwind for McDonald's and accelerate reported growth in emerging markets.
There is reason to believe that the dollar could soon reverse course. For the last several quarters, investors have been gearing up for a cycle of interest rate hikes by the U.S. Fed. In December, the Fed increased its target interest rate by 25 basis points and led markets to believe that it would increase by another 100 basis points over the course of 2016.
But with global markets weakening, inflation statistics below expectations, and the potential for contracting economic growth, it now looks very unlikely that the Fed will be able to justify more than a single rate hike in 2016. As traders get used to the idea of lower rates in the U.S., the relative strength in the U.S. dollar could reverse, providing a headwind for McDonald's.
The second reason I believe shares of McDonald's should advance this year is the massive return of capital to shareholders. McDonald's has set a three-year goal of returning $30 billion in capital to shareholders through share repurchases ad dividends. The three-year period for this goal is set to end at the end of 2016, and so far the company has successfully returned $15.8 billion.
This leaves $14.2 billion to be returned to shareholders during the course of 2016. I believe the company will stick to this goal as management continues to mention this goal in quarterly reports.
McDonald's has been buying back shares for years, as you can see in the chart of shares outstanding below. Note that the decline has accelerated over the last year and one would expect McDonald's to buy back even more shares in 2016 in an attempt to meet its $14.2 billion goal.

(Source: YCharts)
Unfortunately, buying back shares may not be the most efficient use of capital at this point. That's because as MCD hits a new high, shares are trading at a valuation above historic norms. I would rather not see MCD pay a premium price to buy back its own shares, and would instead prefer to see the company announce a special dividend.

(Source: YCharts)
GE will likely have to raise capital in the bond market to finance the remaining $14.2 billion that will be returned to investors. But with interest rates still very low and MCD's healthy growth, the cost of capital should be relatively low.
The bottom line is that continued organic growth for McDonald's business, along with potential for a shift in currency headwinds and a major return of capital to shareholders should reflect favorably on the stock.
Despite the stock's 52-week high and a premium forward valuation, McDonald's is a buy as future EPS growth and income paid to investors justifies the higher price point.
Disclosure: I/we have no positions in any stocks mentioned, and no plans to initiate any positions within the next 72 hours.
I wrote this article myself, and it expresses my own opinions. I am not receiving compensation for it (other than from Seeking Alpha). I have no business relationship with any company whose stock is mentioned in this article.