The Vanguard Dividend Growth Fund Inv (MUTF:VDIGX) has been playing strong defense at times throughout its history and has managed to do so again in this current bear market. The fund's defense is such that Morningstar has featured it in a recent piece entitled "6 Funds That Stand Tall Amid 2016's Market Rout".
Currently, this fund is a five-star rated Gold Fund by Morningstar. In 2015, the fund's performance held its own against the S&P 500 and Morningstar Growth Category Average. The Vanguard Dividend Growth Fund Inv posted a 2.62% return total in 2015, outpacing the S&P 500's return of 1.38% and the Morningstar Growth Large Blend Category of -1.07%.
In terms of historical performance, the Vanguard Dividend Growth Fund Inv has had a steady run of outperforming the S&P 500 and its Morningstar benchmark. The outperformance cannot be considered significant in any way. One can see that the fund has even held its own in the bear market of 2016. However, it is noteworthy that the outperformance of these benchmarks spans fifteen years. This can be seen in the chart below:

Click to enlarge
According to Morningstar, the fund manager for the Vanguard Dividend Growth Fund Inv has only decided to invest portfolio weight exclusively in giant-cap and large-cap stocks. The reduced volatility may have had the potential consequence of limiting the fund's upside in market upswings. After all, the fund has trailed the S&P 500 in the years 2010, 2012, 2013 and 2014. No weight in mid-cap stocks, small-cap stocks and micro-cap stocks will produce such results. However, this strategy also leaves the fund poised and ready for market downturns.
| | | | |
| --- | --- | --- | --- |
| Size | % of Portfolio | Benchmark | Category Avg. |
| Giant | 61.26 | 44.41 | 70.27 |
| Large | 38.74 | 33.02 | 9.98 |
| Medium | 0.00 | 20.26 | 16.72 |
| Small | 0.00 | 2.27 | 2.92 |
| Micro | 0.00 | 0.05 | 0.1 |
In terms of sector weighting, the fund's defensive stance can be seen in its lack of tech sector exposure as compared to the S&P 500 and Morningstar benchmark. On the other hand, the fund has enhanced exposure to the defensive health care and consumer defensive sectors.
| | | | |
| --- | --- | --- | --- |
| Sector Weighting | % Stocks | Benchmark | Category Avg. |
| Technology | 8.42 | 17.93 | 17.64 |
| Health Care | 17.66 | 14.99 | 15.1 |
| Consumer Defensive | 15.29 | 9.18 | 9.77 |
It is quite plausible that I would recommend this fund if the fund's expense ratio was on the same level as the Morningstar category average. However, the fund also has the added perk of being a very inexpensive purchase for investors.
The fund's expense ratio is less than 1/3rd of the expense ratio of the Morningstar Category Average and has been so for the past five years. This can be seen in the chart below: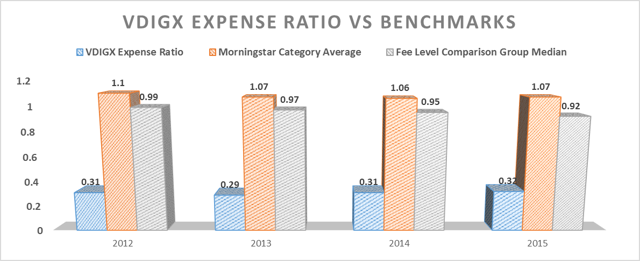 Click to enlarge
BOTTOM LINE:
The Vanguard Dividend Growth Fund Inv is a reliable mutual fund to invest in at this time. While the fund may never be characterized as a significant outperformer of its benchmarks, it is poised to handle a bear market such as the one that we are currently in. In addition, the fund's cheap expense ratio is almost impossible to ignore and puts the attractiveness of this fund way over the top.
Disclosure: I/we have no positions in any stocks mentioned, and no plans to initiate any positions within the next 72 hours.
I wrote this article myself, and it expresses my own opinions. I am not receiving compensation for it (other than from Seeking Alpha). I have no business relationship with any company whose stock is mentioned in this article.