Wikipedia defines "retirement" as "the point where a person stops employment. A person may also semi-retire by reducing work hours." There's an increasing number of individuals who are choosing to put off "total retirement" by choosing to exist in the emerging state of "pre-tirement".
I ran across this new term while reading a white paper suggesting that "changes in life expectancy, economic circumstances and government legislation are prompting a seismic shift in the way people retire in the UK." According to the research report,
A new trend towards 'pre-tirement' has meant that retirement in Britain is no longer a single event, but a gradual process which takes place over a period of years or even decades. Almost half of respondents (49%) agreed that 'retirement is now a more fluid process than it was in the past' and one in five (21%) didn't or don't want to stop working as soon as they reach 65.
No matter the shades of gray (retirement, semi-retirement, or pre-tirement), the mere utterance of the word "retirement" can cause people to shudder - almost becoming like a deer in headlights.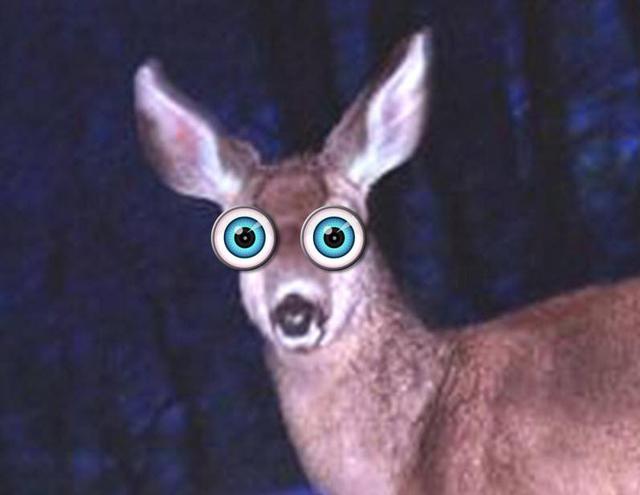 Click to enlarge
Don't Worry, Sustainable Paychecks On The Way
One common theme I have noticed among investors is the desire to create a sustainable income stream during their retirement - in effect, making the fruit of their labor cash flow as it did when they were still working (or working more as is currently the case with many folks).
The following is a seven security portfolio that can help form the core of your retirement portfolio. The securities were selected based on their sector, assets and payment dates in order to create a portfolio that pays an investor every two weeks - just like being back on the job, but without the commute.

Click to enlarge
Obviously, the portfolio has to generate a strong enough yield to create the requisite cash flow. The securities included have the following stripped yields: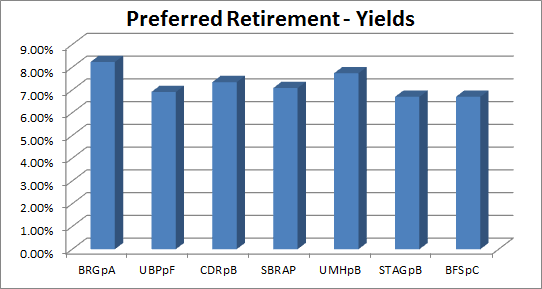 The portfolio could be constructed using "higher beta" issuers or preferred stocks, but the core of the portfolio has to be stable and dependable. The following are the payment dates for each of the selected securities:

Again, we are trying to replicate the cash flow characteristics of employment in order to help ease the transition into a less structured lifestyle as well as create a stable consistent "paycheck".
Taking the above portfolio and showing it differently, here is each security's contribution to our bi-weekly paycheck:

Click to enlarge
To show the cash flow characteristics, the first scenario we will use is a $7k portfolio - $1k in each name. We have equal weighted them for the consistency of cash flows; this could obviously be tweaked to best fit an investors unique circumstances or requirements. At current prices, we have the following characteristics: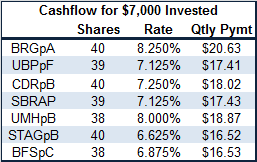 Now we will translate that into the portfolio's cash flows by month and security:

Click to enlarge
Finally, a graphical representation of our retirement portfolio's cash flows: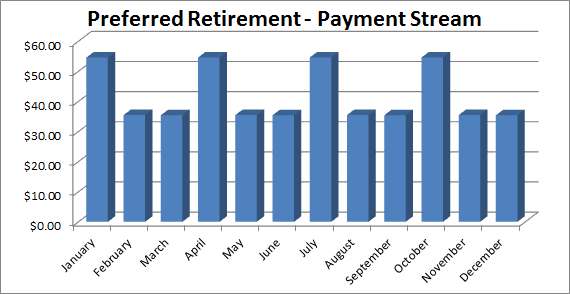 Nice and stable across time, just what we were looking for. We have also added one security (Bluerock Residential) that is designed to help pay off the holidays and put a little cash in your account going into the April tax deadline (better safe than sorry).
Now let's take that sample portfolio and ramp it up to $105,000 - $15,000 each security (again, equal weighted). At current prices we have the following allocations:
Again, we will translate that into the portfolio's cash flow by month and security:

Click to enlarge
The graphical representation of our portfolio's consistency: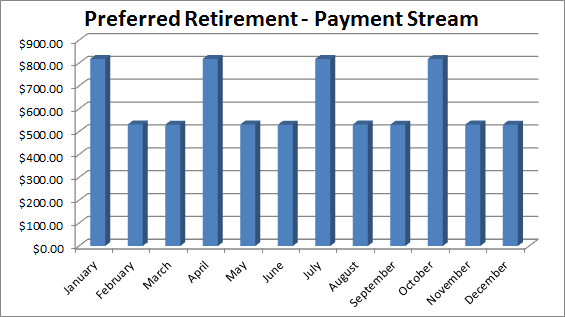 This portfolio can also be supplemented with other REIT equity in order to capture the dividend growth as well as capital gains (I provide both SWAN and SALSA portfolios to my subscribers) as well as other income producing investments in order to create a robust sustainable retirement paycheck.
In my upcoming newsletter (Forbes Real Estate Investor) I plan to include an on-going Retirement Portfolio aimed to provide investors with sustainable preferred REIT income that can be counted on.
As I see it, one of the most fearful events related to retirement is the end of a paycheck and it is my hope that this new portfolio will empower investors to enjoy the fruits of labor (protecting principal at ALL costs) while also collecting bi-weekly paychecks. After all, that's a recipe we all know quite well and one that helps us all sleep well at night!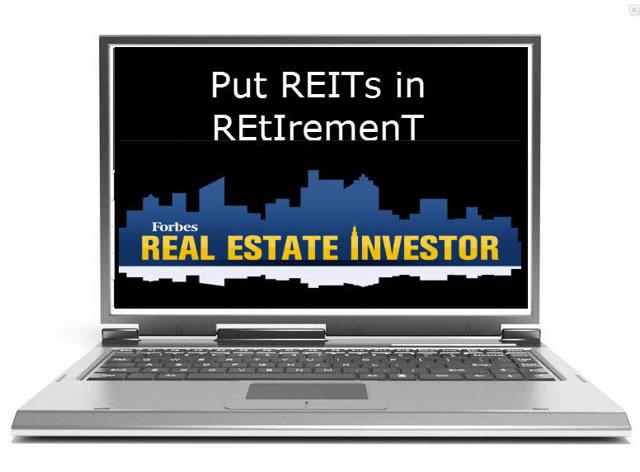 Click to enlarge
Author's Note: I'm a Wall Street writer, and that means that I am not always right with my predictions or recommendations. That also applies to my grammar. Please excuse any typos, and I assure you that I will do my best to correct any errors if they are overlooked.
Finally, this article is free, and my sole purpose for writing it is to assist with my research (I am the editor of a newsletter, Forbes Real Estate Investor), while also providing a forum for second-level thinking. If you have not followed me, please take 5 seconds and click my name above (top of the page).
The only guarantee that I will give you is that I will uncover each and every rock I can in an effort to find satisfactory investments that "upon thorough analysis promises safety of principal and satisfactory return. Operations not meeting these requirements are speculative." (Ben Graham)
Sources: SNL Financial.
REITs mentioned: (NYSEMKT:BRG), (NYSE:UBP), (NYSE:CDR), (NASDAQ:SBRA), (NYSE:UMH), (NYSE:STAG), and (NYSE:BFS).
Disclaimer: This article is intended to provide information to interested parties. As I have no knowledge of individual investor circumstances, goals, and/or portfolio concentration or diversification, readers are expected to complete their own due diligence before purchasing any stocks mentioned or recommended.
Disclosure: I am/we are long O, DLR, VTR, HTA , STAG, GPT, ROIC, HCN, OHI, LXP, KIM, WPC, DOC, EXR, MYCC, BX, TCO, SKT, UBA, STWD, CONE, BRX, CLDT, HST, APTS, FPI, CORR, NHI, CCP, WSR, CTRE, WPG, KRG, SNR, LADR, HCN.
I wrote this article myself, and it expresses my own opinions. I am not receiving compensation for it (other than from Seeking Alpha). I have no business relationship with any company whose stock is mentioned in this article.