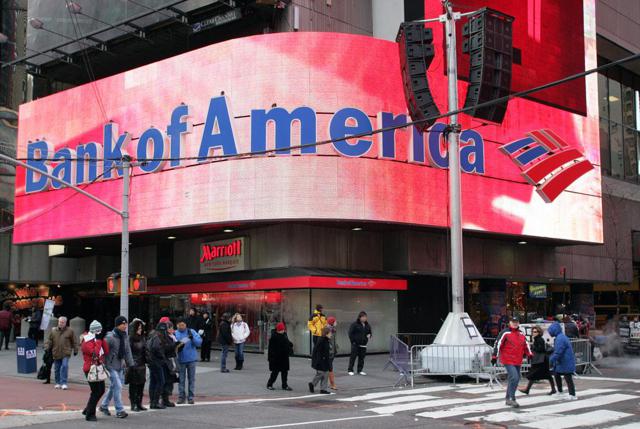 Stocks don't seem to be able to catch a break these days. On Monday stocks slid across the board on the back of falling oil prices, again. This has been an all too familiar story for the last three weeks, really, and one that investors should not get upset about anymore.
Yesterday, U.S. stocks declined sharply in the last hour of trading. Major U.S. stock market indices like the Dow Jones Industrial Average slid 1.3%, or 209 points and closed below 16,000. The S&P 500 shed 1.6%, or 30 points and ended the day at 1,877. Crude oil fell below $30 a barrel once more on Monday, after oil (and stocks) staged a strong rebound at the end of last week. It's the same old story, really.
Some companies have taken such a beating in the stock market lately that investors with a sense for bargain hunting may want to take notice. One such company is Bank of America (NYSE:BAC), whose sell-off, frankly, is nothing else but stupid.
Bank of America released fourth quarter earnings at the beginning of last week. Q4 earnings were impacted by higher provisions for credit losses, which shows that the bank is more carefully managing its energy loan exposure, but it saw its revenues tick upwards, and it managed to beat the consensus earnings estimate. Fourth quarter earnings themselves did not give investors any reason to run for the hills.
But with the stock effectively being in free-fall since the beginning of the year, three reasons stand out why investors may want to go fishing for BAC in the coming days now that the bank is on sale again:
1. BAC is down ~23% over the last three weeks, even though the outlook for Bank of America to grow NII has not changed in the slightest.
Bank of America has not only collapsed in value YTD, but the stock is also very much oversold according to the Relative Strength Index.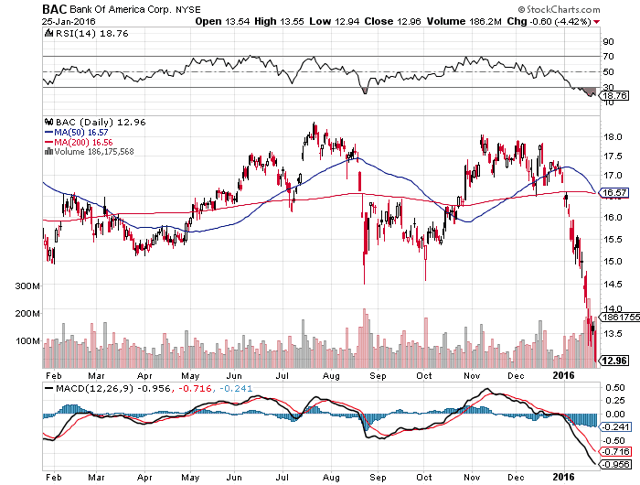 Source: StockCharts.com
2. BAC has been unable to catch a break in 2016 due to persistent selling pressure in the stock market which is why the stock dropped like a rock. But this meltdown has made Bank of America a real bargain: It now sells for just 58 cents on the dollar. You read that right: 58 cents (!). At the end of the December quarter, Bank of America said it had a GAAP book value of $22.54/share. The risk of overpaying for Bank of America at 58 cents on the dollar is very, very low over the long haul.
3. Bank of America's NII growth outlook is as attractive as it has ever been. According to Bank of America's latest investor presentation, the bank would see net interest income increase ~$4.3 billion over the next twelve month if the interest rate curve shifts 100 bps.
Your Takeaway
Bank of America's sell-off is nothing short of stupid. Bank of America has lost an excessive amount of value in 2016, ~23% to be precise, through no fault of its own, but the investment case hasn't changed at all.
BAC is now WAY oversold, which makes an investment interesting on technical grounds alone. Further, Bank of America sells for a VERY low valuation even though the bank has squeezed out another GAAP book value gain in the last quarter. BAC is in the bargain bin, and I am going to be a buyer at these prices.
Disclosure: I am/we are long BAC.
I wrote this article myself, and it expresses my own opinions. I am not receiving compensation for it (other than from Seeking Alpha). I have no business relationship with any company whose stock is mentioned in this article.