After a disastrous holiday performance Tiffany & Co. (NYSE:TIF) shares have now dropped by over 17% since the turn of the year. We look to see if this drop is now enough to justify making an investment today in one of the most iconic American companies.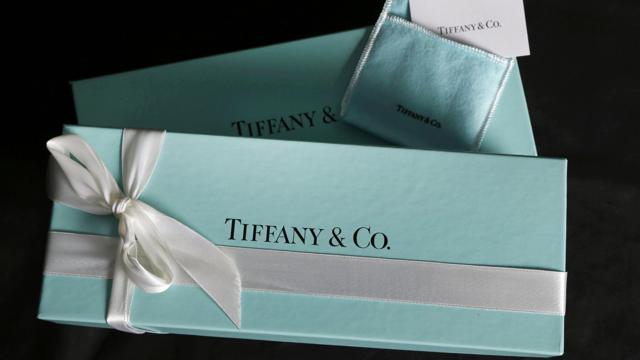 Click to enlarge
It has been over 178 years since Tiffany opened its first store in Lower Manhattan. Since then it has grown to 307 stores worldwide and become synonymous with diamonds and engagement rings. Its little robin egg blue boxes are incredibly recognisable by consumers of all ages and demographics.
In the company's third quarter release it reduced its outlook for fiscal year 2016 and stated it was now expecting full year earnings per share to be down by 5% to 10% from last years' figure of $4.20.
But since they stated this the holiday season has been and gone and disappointingly for Tiffany, was one to forget. The Americas were down 7%, Asia-Pacific down 11%, and Europe was down 4%. The strong US dollar was of course a factor, but of these segments only Europe increased on a constant-currency basis. The Japan segment performed well and increased by 9% in US dollar terms. But it is worth pointing out that a year previous this segment had a tough holiday season posting declines of 16%. We find this to be very worrying.
Has Tiffany lost its shine with the younger generations? Well, there are concerns that Generation-Z, those born between the mid-1990s and 2010, are shying away from luxury items. It is believed that they value experiences and technology over items like those Tiffany sell. If they are the future of the brand this doesn't bode well.
We unfortunately believe this to be a very accurate view. On social media platforms like Snapchat (Private:CHAT) we believe it is more about sharing your experiences, what you're currently doing, rather than sharing a photo about a piece of jewelry you own. The same can be said for Instagram and Facebook (NASDAQ:FB). We also believe that Millennials share similar traits too.
We still think that when it comes to engagements and other special occasions Tiffany will be at the forefront of their minds. But for the smaller occasion-less purchases we feel they are less likely to consider Tiffany as an option. You can buy jewelry from Forever 21 for just a few dollars. This jewelry is of course a very different quality to that of Tiffany's jewelry, but aesthetically it is pleasing and suits the short term need of matching fast fashion that the consumer has.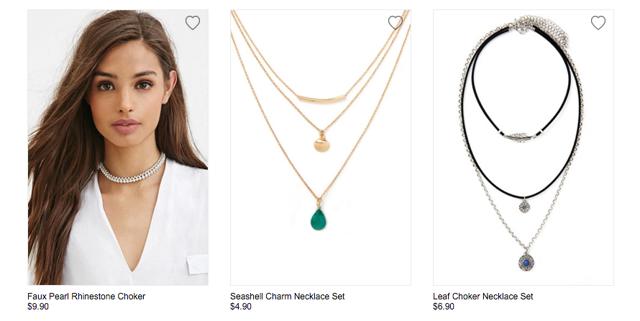 Click to enlarge
Source: Forever21.com
This for us is a big problem for Tiffany's future growth prospects. We saw China as being a major catalyst also due to its rising middle class. But the crackdown on corruption and gift giving by the Chinese government appears to have had an increasingly negative effect on the company leading to flat result this year to date.
If the China segment fails to offset the slowdown in the United States then we could see a negative earnings trend occur. This would not be good for shareholders and is a key reason we're not opening a position despite the shares trading at such an inviting level.
As you can see below revenue has actually decreased for the first time since the global financial crisis.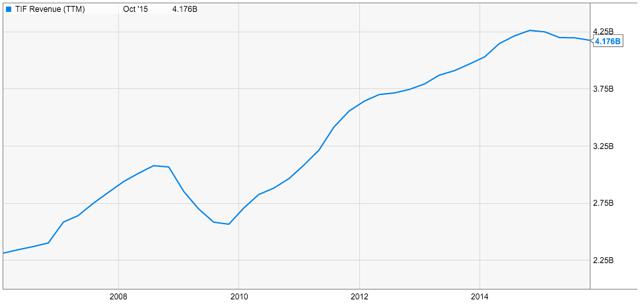 Click to enlarge
Source: Ycharts
This decrease in revenue is part of the reason the shares are currently trading on a price-to-earnings ratio of 16.10 times trailing earnings. Trading at this level makes the shares immediately looks cheap compared to the average level they've traded at in the last ten years of approximately 20 times earnings. But with earnings predicted to come in 10% lower than the year previous, and no clear plan in place to combat this frightening decline we don't believe we would see the shares trading at 20 times earnings for a while.
A long-term investment in this great company at present is a little too risky for us as we suspect there is a chance that earnings could continue to decline next year dragging the share price lower still.
The company is in its 179th year of operation. It has weathered many storms in its time and we feel sure it will find its way out of this one in future and patience will be the key here. In the meantime the stock is yielding a reasonable dividend of 2.6% and the company has signed off on a new $500 million share buyback program, which will offer some comfort to current investors. For now, we are going to sit on the sidelines and watch this one unfold a little more before making an investment.
Disclosure: I/we have no positions in any stocks mentioned, and no plans to initiate any positions within the next 72 hours.
I wrote this article myself, and it expresses my own opinions. I am not receiving compensation for it (other than from Seeking Alpha). I have no business relationship with any company whose stock is mentioned in this article.