On January 22, Reuters published an article asserting that according to anonymous sources, AIG (NYSE:AIG) made a decision to partially spin-off its mortgage insurance business. The spin-off is expected to be discussed on Tuesday when the management presents its strategic development plans.
The mortgage insurance business accounts for 7.4% of company's nine-month pre-tax operating income and brings $791 million of total revenue. However, it will not be enough for the shareholders, who already seem worried by the company's incapability to deliver value. If the rumours are to be believed, it means that AIG is embarking on a path to fully restructure the business, following MetLife.
Financial Results
The rumours on the spin-off are a result of MetLife's (NYSE:MET) plans to break up, which subsequently begot unrest amongst the shareholders of AIG. The primary aim of such undertakings is to avoid strict SIFI regulations, thus allowing itself to get more freedom in risk-taking.
The second biggest competitor of AIG - Prudential Financial (NYSE:PRU) - didn't reveal any plans to separate business units. However, it may do so as well in pursuit of higher margins.
Over the last year, AIG stock showed the best performance, relative to its peers. Moreover, it raised dividends from $0.125 to $0.28 per share.
Diagram 1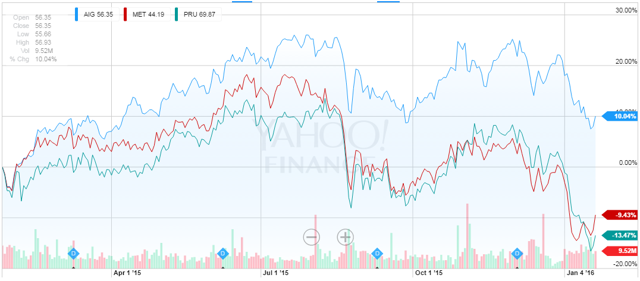 Click to enlarge
Source: Yahoo Finance
A bitter point is that over the last nine months, AIG showed worse financial results than its peers.
Diagram 2

Click to enlarge
Source: AIG, MetLife, Prudential Financial Q3 reports
Total revenues declined by 9%, whilst net investment income shrank by 10%, putting AIG in last place. Generally, the net income is down 41% relative to the same period of 2014.
Diagram 3

Source: AIG, MetLife, Prudential Financial Q3 reports
Takeaway
Obviously, during 2015, AIG didn't manage to make operating activities more profitable, that's why I suppose that the mortgage insurance business spin-off is a very good start of 2016. The other choice for the management would be the authorisation of a massive buyback to unlock value for investors. The shareholders should wait at least for the discussion to be held on Tuesday. Another crucial moment will be the annual report, which will draw a perfect picture of the company's performance.
Disclosure: I/we have no positions in any stocks mentioned, and no plans to initiate any positions within the next 72 hours.
I wrote this article myself, and it expresses my own opinions. I am not receiving compensation for it (other than from Seeking Alpha). I have no business relationship with any company whose stock is mentioned in this article.